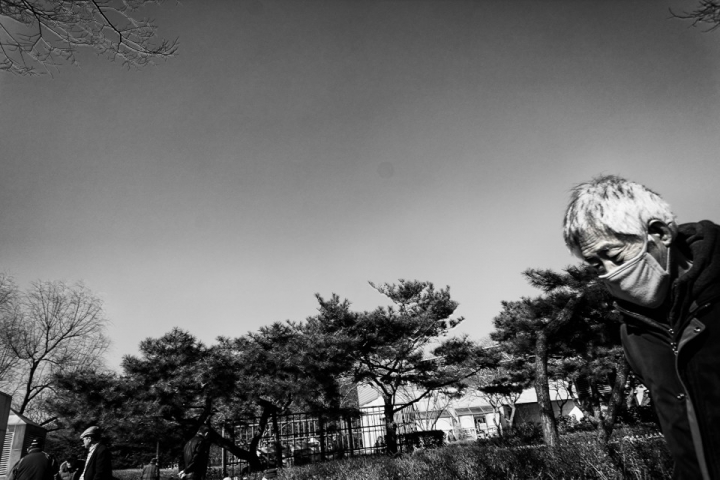 Everyday for the past twenty years, 78-year-old Kim Yun-sik has been going to Jongno in central Seoul. Around noon, he eats free lunch at the cafeteria where a Buddhist temple used to stand until the 1500s; until 5 p.m., he whiles away the time in Tapgol Park, and in the evening returns home to Gangbuk district in northeastern Seoul.
"It's nice to come here," he said. "One meal costs 2,000 won (around $1.80); I sometimes go to a karaoke room; I can chat with old people who get me. Where else would an old man like me go? I have nothing else to do. This is the only place I can rest without having to be mindful of other people."
Jongno, a historic area in Seoul, is full of seniors like Kim, there 'just to spend the day.' According to the Green Park Department at Seoul's Jongno District Office, a daily average of 3,000 elderly citizens, mostly men, frequent Jongmyo and Tapgol Park — hotspots in Jongno where the elderly gather.
Most of these visitors are in their late sixties to eighties, a generation that in its youth has experienced Japanese colonialism and the Korean War. Their youngest years were South Korea's poorest years. As part of the labor force during the country's meteoric economic growth in the 1960s to 80s, the men and women of this generation were briefly glorified as 'the pillars of Korean industry.' But not for long. The Asian financial crisis in 1997 left South Korea bankrupt, and many from this generation, at the time in their 40s to 50s, were fired or left vulnerable against the absence of an 'eternal job' — a myth many had been taught to believe in, but never got.
The elderly visitors of Jongno traversed through the lowest and toughest valleys of modern South Korean history. But when they finally became society's oldest members, there weren't enough places to rest. Jongno is one of the few harbors.
It's a Man's World
It's not hard to see why so many seniors would frequent the Jongno area. Central subway lines intersect here — which those older than 65 can take for free — and they can enjoy cheap meals with many of their contemporaries.
It's not just the accessibility. Many male visitors seem to come because they feel pushed out of home, having lost their status as the patriarch post-retirement.
"At home, I just end up walking on eggshells around my wife and daughter-in-law," said 79-year-old Park Gyu-sang, who was playing the board game baduk, or Go, in Jongno. "They keep telling me that I'm leeching on the house without making any money."
Sitting next to Park, 76-year-old Lee Ho-young clapped his hands in agreement. "Men have larger voices when they're young. When they get old, their voices get smaller. If they fight with their wives, they lose. For me, it's more convenient for me to just lose and get out of the house."
Curiously, visibly absent from this elderly crowd are women. The majority of Jongno's seniors are old men.
There's no clear answer why older women don't come to Jongno. The overwhelming sentiment seems to be that Jongno has unofficially become the exclusive property of men. The rare female visitors I talked to said, "There's no room for old women to come on the scene; neither do I feel the reason to," "Women usually stay at home, or go to coffee shops to meet friends. There's no reason to sit around pathetically here," or "I'm not interested in talking about politics, playing baduk or smoking."
Unfortunately, the elderly women that are famous — or infamous — for coming to Jongno are the ones that offer themselves as prostitutes to the old men. These women are called bacchus ladies, after a cheap energy drink they use to approach the customers under the auspices of selling the bottles.
There is no official study on who exactly these bacchus ladies are — but they are most likely resorting to prostitution to alleviate their own poverty. In the 2016 film Bacchus Lady, the elderly protagonist offered blowjobs and sexual intercourse to elderly men at rates as low as 30,000 won (around $27), in order to pay for her hospital bills.
Since the 2014 BBC report on "The Korean Grandmothers Who Sell Sex," Seoul has strengthened crackdown on the bacchus women. According to the Jongno police station, around 70 women were arrested in 2015 alone, the most recent statistics. If you walk around Jongno today, it is not likely you'll come across too many bacchus ladies.
A day in the life of Jongno
Jongno is a fascinating area for history buffs and tourists; it was the heart of the Joseon dynasty since the 14th century; now the district is one of the most crowded centers in modern South Korea. The skyscrapers tower over the architectures of the past — mostly reconstructed after the Korean War — and it is in Jongno that the bibimbap of South Korea's past and present is showcased as a uniquely interesting landscape.
Perhaps that's why so many seniors find solace in Jongno; some of what they remember still remain, which is often not the case for many of Seoul's rapidly redeveloping neighborhoods.
The old man's Jongno can be divided largely into three areas: Tapgol Park, Jongmyo and the alleyways of Nakwon-dong.
Built in 1898, Tapgol Park is Seoul's first modern park, in that it was a public space specifically created for citizens. Situated between Jongno 2-ga and 3-ga (-ga is a suffix referring to a street or area), the area is replete with historic memories. In 1919, activists read out loud the Independence Declaration against Japanese colonialism. After liberation in 1945, the park was a hub for political rallies, and an agora for politically-minded citizens, especially the elderly. In 1998, during the peak of the Asian financial crisis, the unemployed and homeless flocked to the free cafeteria nearby.
Tapgol was always a hotspot for old men. But the crowd you see today is a significantly diminished one; in 2001, the Seoul Metropolitan Government implemented the 'Tapgol Park Sanctuary Project' to better preserve its merits as a historic site of independence activism — essentially cleansing the park of unwelcome activities. This meant all the wooden benches, where old men sat on, were removed. Officials cracked down on the booze-drenched picnics and the gambling games on baduk boards. An increasing number of old men stopped returning to Tapgol Park.
When I visited in early November, fall was cooling into winter. Still, there were around 200 elderly citizens in the park. Many of them were sitting side by side, looking in different directions, or flipping through newspapers. 75-year-old Lee Jeong-seok, who lives in the nearby city of Suwon, was one of them.
"I've been coming here for three years, but I don't talk to anyone. But being in the company of other old men puts my heart at ease. The Tapgol area is relatively cheap, and it's familiar to me because I used to pass through this neighborhood often as a young man."
About a ten-minute walk northeast from Tapgol Park is Jongmyo, the old ancestral shrine of the royal family during the Joseon dynasty. Designated as a UNESCO world heritage site in 1995, Jongmyo is where many old men of Tapgol Park migrated to in the early 2000s.
Most of the seniors in Jongmyo have their familiar, designated corners and cliques, playing baduk and/or debating politics in marginal areas within the historic site that are not always visible to tourists.
80-year-old Kim Ki-soo, who has been coming to Jongmyo for the past fifteen years, spends his entire day talking about politics. "We're the leftists, supporting Moon Jae-in," he said, and pointing toward Jongmyo's parking lot, "Some people over there supported Park Geun-hye during her presidency, as members of the Korean Parent Association. But they can't come outright and say that anymore. The world has changed."
Conservative president Park Geun-hye was ousted from power in March of this year, after a corruption scandal starting with her confidante Choi Soon-sil, stretching to the country's biggest conglomerates and key government sectors. Park, now in jail and undergoing trial, has been replaced in May by the left-leaning Moon.
In the parking lot, about 50 board games, including baduk, were taking place. Spectator Jo Woo-young, 75, told me, "You can join if you pay 1,000 won (less than $1). Some people are going around to collect the money." When asked if the seniors here are more right-leaning, Jo seemed cautious: "There's nothing like that. We don't talk about politics these days."
Right next to the crowd was a banner from Jongno District Office, saying "No Illegal Commercial Activity Allowed," but nobody seemed to be cracking down on these gamers.
Like in Tapgol, illegal pop-up stores and political rallies continued to flood the area, which prompted Seoul to take similar "cleansing" measures since the mid-2000s. Like in Tapgol, pop-up stores and some wooden benches were removed, leading to a decline in the number of elderly visitors.
Most of the men inside Tapgol and Jongmyo have a home to return to, a warm dinner and bed. But those that live below the poverty line hang around the alleyways in Nakwon-dong, Jongno, which show the darker, grim reality of senior poverty in South Korea.
Here, stores sell porridge for 2,000 won; those who can't afford porridge fish for food waste in the trash; and the homeless lie outside on the street. Sometimes, police would pass, waking the homeless up without forcing them to stand up and leave. An old man, who refused to be named, said, "These homeless people have no family or relatives. There's nowhere for them to return, so the police let them be."
Trash and vomit mix with daytime drinking and gambling. Pedestrians sometimes look down on the Nakwon-dong area because it's dirtier and poorer. 67-year-old Yoon Seok-gi, who frequents the barber shop in the neighborhood, said, "People here don't go home, don't clean; they just gamble with baduk. Don't associate with people like that."
Around 200 people eat every day in the free Wongaksa cafeteria in Nakwon-dong. Next to the cafeteria is a recycling center, where old people pull in with hand carts full of paper and boxes. An employee at the center, who agreed to disclose her surname Jeong, said contributors are paid 120 won (around 10 cents) for a 1 kg load — the elderly bring in as little as 5 kg to 500 kg every day, getting paid between 600 (55 cents) to 60,000 won (around $55).
It's ironic that nakwon means 'paradise.'
Around half of South Korea's citizens over the age of 65 live below the poverty line, according to a 2016 OECD report, Preventing Ageing Unequally. South Korea had the highest elderly poverty rate among 38 member nations.
Citizens older than 65 currently amount to 14 percent of South Korea's 51 million-population, according to a 2016 report released by U.S. Data and Statistics. By 2050, they will account for 35.9 percent. This is the second highest rate of ageing in the world, following Japan (40.1 percent by 2050).
"The old men in Jongno are refugees in the city," said Kim Kwang-an, who has photographed free funerary portraits of elderly citizens in Jongno from 2014 to 2015.
"Seniors neglected by society and home have been pushed out to this area, but places to rest keep disappearing. Compared to three years ago, when I started taking pictures of Jongmyo, there are fewer places to sit and fewer visitors. It's sad."
Kim Kwang-an's 1,075 funerary portraits are archived in the Seoul History Museum.
80-year-old Kim retired from a construction firm and started taking photographs ten years ago. His funerary portraits were a voluntary project, to "share the privileges he received in society with others," who otherwise wouldn't afford to have the photos taken.
"I deduce how their lives are, from looking at their faces through the camera," Kim said. "A lot of people don't have families. 'If I die, don't forget me,' their faces seem to say. I hope our society doesn't forget the lives of these disappearing, ordinary people."
This article has been translated from Korean by Haeryun Kang.
*
Cover image: Jongno is a place of refuge for many old men in and around Seoul. (Credit: Kim Kwang-an)
Become a subscriber to access all of our content.