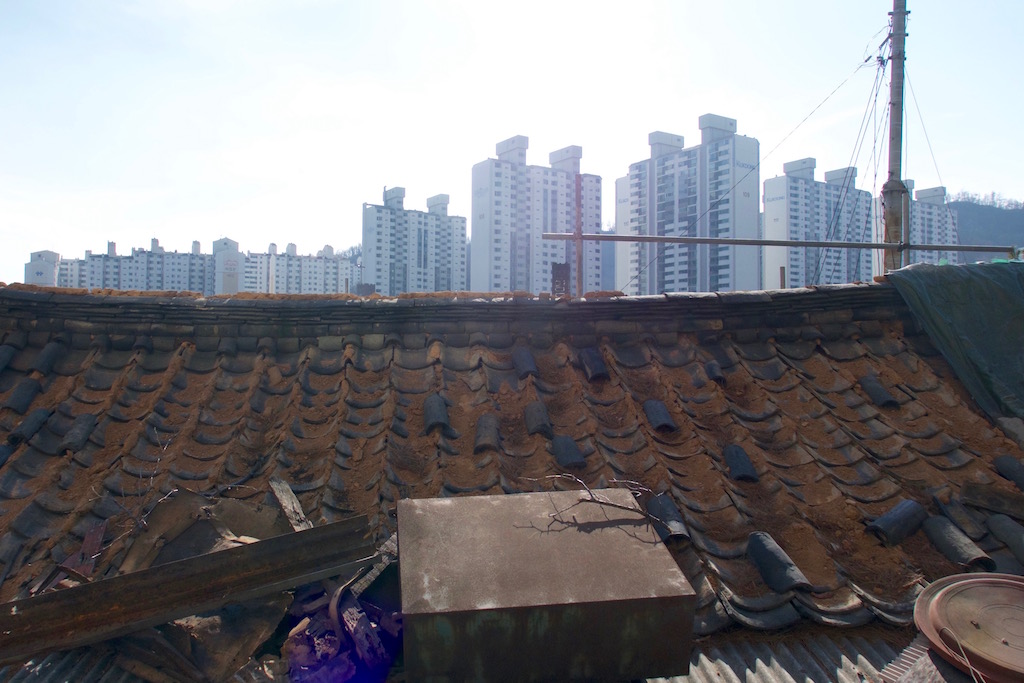 "Jae-gaebal": Resisting Seoul's Brutal Apart-ization
Seemingly endless rows of concrete towers awe foreigners who come to Seoul for the first time. Seoul may have become the capital city more than six centuries ago, but few things survive from that time to convince visitors of this history. Colonial rule (1910-45) and the brutal Korean War (1950-53) have done their shares of damage. Equally guilty is a redevelopment fever that swept the capital in the 2000s, fueled by the belief that the only way to get rich is through real estate.
All cities are built and destroyed and rebuilt to a degree. But urban redevelopment has taken a curious form in Seoul. Fully functioning and inhabited neighborhoods are razed with the consent of a bare majority. They are without exception replaced by tall condominium buildings locally known as apateu, short for 'apartment.' Old residents are exiled, the existing fabric of life torn apart. Thanks to this approach to urban planning, Seoul has come to look identical for kilometers, its monotony broken only by immutable geographic features such as mountains and the Han River, and by a handful of grand monuments.
How has apateu become Seoul's dominant form of residence? One could read geographer Valérie Gelézeau's Une république des appartements for the history of apateu's rise, but when it comes to what is happening right here and now in the name of redevelopment, I can identify three actors who enable the rampant destruction: authoritarian governments, construction companies and citizens brimming with greed for profit derived from speculation.
It begins when officials mark a neighborhood as suitable for redevelopment citing various factors such as poor infrastructure and age. Official rhetoric prefers the term jae-jeongbi or jae-gaebal — 'refurbishment' or 'redevelopment — as if the only steps to be taken are for improvement. However, the official designation of the area as a redevelopment zone allows local landlords to form an association which can then decide to raze and rebuild the whole area with the consent of a simple majority.
Such associations wield unparalleled power including rights to all immovable properties. Tenants and homeowners who oppose redevelopment can be expelled from their homes without any rights.
To do the dirty work, associations call on yongyeok kkangpae – criminal gangs who operate as legitimate businesses and specialize in intimidation and forcible removal of redevelopment opponents. (Some firms are even listed on the stock exchange.) Thugs destroy windows and walls even when there are people still living inside. In the last thirty years, dozens of people in multiple neighborhoods have been killed in this process – beaten, buried under crumbling walls or burnt to death in a fire. Even so, such acts in service of demolition often go unpunished.
In South Korea, there are still no laws that protect residents who are expelled from their own homes in the course of redevelopment.
If people continue to resist, the association summons the police, who will perform 'forcible execution by proxy,' a fancy way of calling eviction. Interestingly, thugs dispatched by private firms and police will join force to remove the residents, whose rights as citizens or even basic human rights go ignored. This collusion between greedy private interests and indifferent officialdom has been dubbed 'civil-official cooperative governance' and heralded as an ideal model by pro-business interests.
In 2009, a sit-in and protest by residents opposing redevelopment in Yongsan, Seoul, was brutally suppressed by the government, which deployed a "special anti-terror police force" to clear the buildings. During that process, a mysterious fire broke out, killing five residents and one police officer. The South Korean government treated the protesting residents as terrorists. Some were sentenced to five to six years in prison. On the other hand, no government official, police officer or company was similarly punished.
It would not be an exaggeration to say that most apateu buildings we see in recently redeveloped areas of Seoul have been built following a similar process.
You may ask why redevelopment itself is problematic since a majority – even if it's a slim one – form the association in charge of the area and support redevelopment.
One issue is that of speculators who move into old, formerly undesirable neighborhoods and buy up properties in anticipation of redevelopment. Armed with money to invest, they vote in favor of demolition from inside the association, acquire rights to apartments in the newly built complex and reap profits from the price difference between their investment properties and new apartments.
Another issue is that among longtime residents, even those who say yes to redevelopment may not know what they are signing up for. Construction company representatives go around telling elderly residents – who can make up a large portion of the population in old neighborhoods – that if they give up their homes, they will be rewarded with brand-new apartments in return.
But once the residents give up their rights, they find out that they are entitled to a compensation less than the market value of their properties. They also discover they must pay an additional 200 to 300 million KRW, on top of giving up the compensation, to be able to move into a new apartment. It means most residents, often poor, cannot actually stay in their neighborhood. For example, in the northern redevelopment zone of Gireum, only 20 percent of the current population are residents of the original neighborhood. The situation is similar in most redeveloped residential zones of Seoul.
Some residents have tried to protest against the unfair compensation scheme. But local officials and the associations in favor of redevelopment have been skillful in painting the protestors as unreasonable and whiny. The end result remains the same: expulsion from home without just compensation or rights.
Fortunately, the old-fashioned 'destroy-all, rebuild-all' style of redevelopment is beginning to attract questions. Besides the numerous lawsuits and conflicts that arise, large-scale construction projects no longer yield a significant profit due to the global recession and stalled population growth in South Korea, not to mention the steady decline of real estate price.
The Ministry of Land and Transportation began studying the idea of urban renewal in 2006. The National Assembly passed the Urban Renewal Act on April 30, 2013, to curb wholesale destruction of neighborhoods. The Seoul city government also began in 2014 to pursue a policy aimed at urban renewal, meaning to preserve or rehabilitate existing structures.
But old-style redevelopment persists. Although some 200 neighborhoods once marked for redevelopment in Seoul have seen their designation lifted, 300-plus areas still have redevelopment associations and are mired in disputes.
I have been fighting to stop the ongoing redevelopment of Okbaraji Alley, an area across the street from Seodaemun Prison. Also known as Muak District 2, it has a history going back a century. Seodaemun Prison was built under colonial rule to incarcerate independence fighters and other anti-Japanese figures. During the military dictatorship era, it held pro-democracy activists resisting authoritarian rule. Because inmates were poorly fed and clothed by the prison officials, families came for lengthy stays nearby and provided private support, giving rise to inns and restaurants across the street from the prison. The name Okbaraji literally means "prison support."
Ordinary memories of the area are no less precious than this extraordinary history. Choe Eun-a has been living here for 36 years. She moved to Okbaraji Alley when she was just an elementary school student. She grew up, got married and is now raising a child of her own, all while living in the same house.
As a child, Choe was ashamed of living in this area, full of cheap inns, but now she does not want to leave the narrow stairs and allies. "Even if it's old, I want to live in a neighborhood with culture. Twisting alleys and houses over a century old – aren't they culture itself?"
People like Choe still live on Okbaraji Alley, and yet demolition is already in progress. The Seoul city government has advised Jongno District Office, responsible for the area, to conduct an investigation to determine the area's historical significance and presence of cultural assets, but Jongno District Office is ignoring the recommendation.
It is still possible to stop the demolition and set up a transparent consultative body to study the issues of historical preservation and residents' rights. This would set an important precedent in a city that has almost no experience of openly discussing what should be memorialized or preserved. Just east of Gwanghwamun Plaza, Pimatgol Alley – lined with decades-old restaurants – has been replaced with unremarkable office towers. Dongdaemun Stadium, the site of the fancy Dongdaemun Design Plaza, is no more. The market surrounding Cheonggyecheon has been reduced to half its former size. All of them are gone without discussion or reflection.
Historian Fuji Takeshi said, "Memory cannot be retained without a tangible mechanism." Seoul residents now gush over all things old and this is no simple matter of trend. Human beings take psychological, existential comfort from memories. But there are few places in Seoul, now a city of apateu, that offer tangible reminders of the past. Memories and culture continue to die, buried under homogeneous high-rises that brook no alternative forms of residence.
This essay was translated from Korean by Korea Exposé.
Cover image: A view of Muak-dong, one of many areas in Seoul that have undergone "jae-gaebal." (Credit: Eunseon Park)
Become a subscriber to access all of our content.