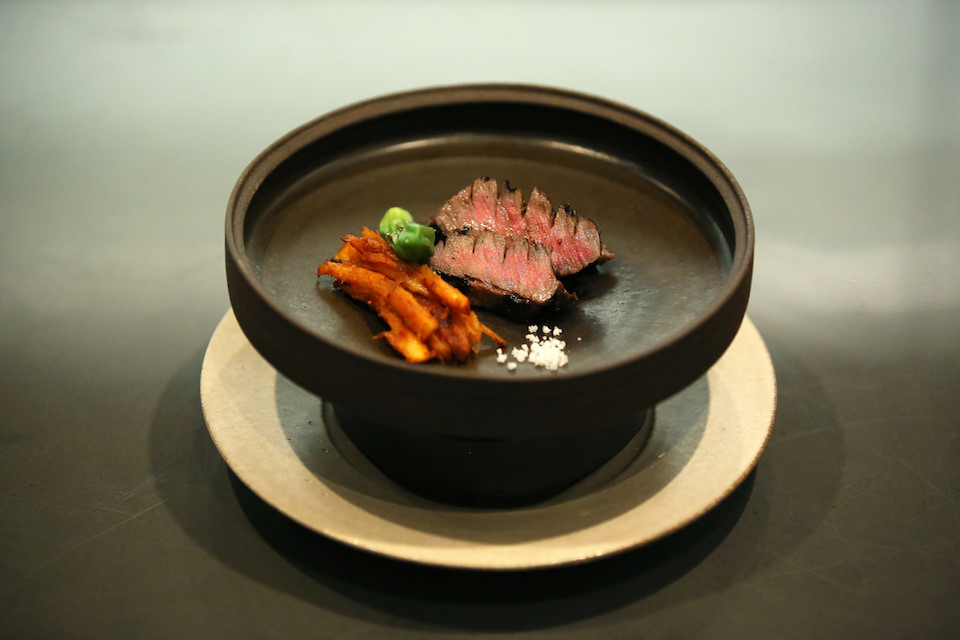 What a British Food Critic Doesn't Know About Korean Food
Arguably the most reputable restaurant guide in the world, the Michelin Guide is a matter of life and death for some seasoned chefs. Earning a star not only drives hundreds of eager gourmets to the restaurant, but also vests the chef with a sense of accomplishment. The debut of the Michelin Guide in Seoul last November, therefore, signaled that the South Korean gastronomy scene was joining those in countries with longer pedigrees of fine dining, like France and Italy.
A total of 24 restaurants in Seoul were given at least a star, 13 of them serving Korean cuisine. Two Korean restaurants were given the highest denomination of three Michelin stars: Gaon and La Yeon. Many South Koreans, known for their obsession with promoting Korean cuisine overseas, welcomed the stars galore. But some critics had misgivings about Michelin's generosity.
One of them was British food critic Andy Hayler, who claims to have eaten in all the Michelin three-star restaurants in the world since 2004, including in Gaon and La Yeon in Seoul. Much to Hayler's consternation, his visits to the restaurants, which should provide "exceptional cuisine that is worth a special journey" (Michelin's definition of three-starred restaurants), were less than satisfying. Not really worth a special journey.
According to Hayler, despite the good ambience and excellent service, the food itself did not stand out compared to the Korean food he had elsewhere — mostly places outside of Korea with big Korean communities, like Los Angeles, Tokyo and New Malden in London. In an interview with Korea Exposé, he admitted that he is no Korean food expert, but asserted that this does not disqualify him from distinguishing the remarkable from the good in Korean cuisine.
He pointed out the ingredients that fell short from the high standards that Michelin usually holds. Standard ingredients like beef, chicken and seafood were "fine" but not exceptional. To Hayler, what Korean cuisine really lacks — in general, not just at Gaon and La Yeon — are luxury ingredients, like white truffle, a very expensive and rare mushroom. "Can you compare kimchi to risotto with white truffles? Certainly not," he said. "There are some limits to what you can really do with some pickled garlic or pickled cabbage."
Hur Jae-in, co-founder of GBB Kitchen, a Seoul-based cooking studio, and a gourmet who has dined in at least 150 Michelin-starred restaurants worldwide, said Hayler's assessment of Korean cuisine is narrow-minded.
"Of course you can't compare white truffle risotto with kimchi. Truffle is a delicacy that goes well with any dish. Of course people would instinctively feel that [the truffle's] umami flavor is more appetizing than the sour kimchi," she said."There are so many different types of kimchi. The flavors change depending on who is making the kimchi, and how much the person uses the different spices, the salts, the type of salted seafood, etc."
Hur said that a "perfect mathematical formula" exists for a white truffle risotto, which not many chefs have the technical expertise to master, whereas there is no textbook answer for kimchi, the taste of which is more a matter of preference. Even South Koreans can't identify the "perfect kimchi." It's possible — and likely — for people to prefer kimchi from a small bibimbap place in a village nowhere, than the ones served at Gaon and La Yeon.
But another Korean food expert, who asked to be identified only by his surname Park, said that South Korea does lack fine and rare ingredients because ingredient varieties are limited by the country's small and relatively homogenous landscape. The overall dry climate, save the torrential downpours in the summer, stymies abundant growth of flora and fauna. Many ingredients in Korean cuisine originated from abroad, including a main ingredient for kimchi, red pepper, which originates from Latin America and is thought to have been introduced to Korea through Japan in the late 16th century.
In the age of genetically modified foods and constant scientific experiments surrounding foods and ingredients, Korea's natural limitations could be surmounted, like in Japan, Park said. "Ingredients are standardized in Japan. For instance, Japan has a chemical study on the soil and climate optimal for making kimchi, and even a factory that produces better cabbages to make kimchi than we do here," Park said. He said South Korea is yet to reach such a stage, because "research capacities" are not at Japan's level.
Park, whose expertise is in hospitality and dining industries both in South Korea and Japan, requested anonymity. He fears being ostracized by his colleagues for speaking critically about the industry he is supposed to promote globally.
But Park noted that Michelin, which awarded two stars to a Korean restaurant in Tokyo called Yunke, in 2013, might have misunderstood the nature of Korean cuisine. "Even though Yunke is dubbed a 'Korean restaurant,' its success is due to making Japanese-style Korean food," he said. For one, Yunke serves 'kimuchi,' a Japanese rendering of kimchi, which is more like a "salad" than its fermented original.
Like Michelin inspectors, British food critic Hayler might have been similarly misinformed about Korean cuisine.
Invoking his experience with French cuisine, Hayler bemoaned the level of technical prowess at Gaon and La Yeon, and by extension doubted the technical capabilities of Korean cuisine in general. He found Korean desserts rather simple, compared to French pastry, which calls for hours of preparation and years of mastery. He also equated the absence of an "elaborate French sauce like demi-glace" to absence of technical skill.
But this, for Hur, shows Hayler's lack of understanding. "Making traditional Korean sauce, like soy bean paste and red pepper paste, takes a lot longer and requires professional skill," she said, adding that the purpose of fermentation was not only for the taste, but also for preservation, which is not the case for demi-glace.
Lack of understanding of Korean cuisine is not only an issue for Hayler. Even before the release of the Michelin Guide on Seoul, critics were already fretting that Michelin's inspectors might suffer from the same problem. In Michelin Magazine, however, an anonymous Michelin inspector stressed that there were Korean inspectors involved in the guide-making process and that Korean cuisine was assessed "first and foremost by Korean inspectors."
But Park and Hur think the inspectors still lacked proper understanding of traditional Korean cuisine, which is innately different from French and Japanese cuisines. What the inspectors overlooked is that traditional Korean cuisine serves a number of dishes at once. "Traditional Korean food is not a 'dish.' Instead, sundry side dishes with rice and soup are served altogether on the table. The 'dish' is created inside one's mouth, by combining the different foods. So each person has a different experience even when he or she shares the same table with others," said Park.
And traditional Korean cuisine is not served à la carte, which means it is difficult to recreate a fine dining experience, almost always served as table d'hôte — a multi-course meal — in the West. Hur said she had not been to either of the three-starred restaurants in Seoul, precisely because of her unfamiliarity with and bias against traditional Korean meals rendered in a course format. "Even kings did not eat a course meal in Korea," said Hur.
Over the years, the Michelin Guide has been criticized for being biased towards French and Japanese cuisines. Last year, Japan had the most number of three-Michelin-starred restaurants, 32 to be exact, and France had 26. While the Guide withholds its exact assessment criteria, it highlights the importance of ingredient quality, techniques, originality, value for money and consistency in execution.
With such guidelines in mind, even a Korean food expert like Park, who has dined in the three-Michelin star restaurants in Seoul, argues that neither Gaon nor La Yeon deserves three Michelin stars. There are restaurants that serve better Korean food, he said. But none of them, in his opinion, merits three stars yet.
Park and Hayler were not the only ones who thought the Guide oversold the two Korean restaurants. The release of the Seoul Michelin Guide prompted suspicions of whether the South Korean government had influenced Michelin's impartiality, by inflating the general ratings of Seoul's restaurants, especially those that serve Korean food.
Since 2009, the South Korean government has spent millions of dollars to introduce Korean food to the global audience. The efforts of the "K-Food globalization project" included opening a top-tier Korean restaurant in Manhattan (which was never realized), publishing cookbooks in multiple languages and setting a taskforce to have K-Food on UNESCO's intangible cultural heritage list. In the past eight years, the Ministry of Agriculture, Food and Rural Affairs alone spent 153 billion won (135 million dollars) on the project.
The government's involvement is evident in the ads in the Michelin Guide, paid by the public institutions that helm the K-Food project. South Korean magazine SisaIN reported, citing an anonymous government official, that Korean Food Foundation and Korea Tourism Organization (KTO) paid 400 million won (around 350,000 dollars) for the ads. Lee Chang-il from the Ministry of Agriculture, Food and Rural Affairs told Korea Exposé that due to confidentiality agreements with Michelin Korea, the ministry cannot confirm the amount but is waiting to hear from Michelin on whether it can publicize the exact number.
Michelin's ad revenue from the Korean government doesn't necessarily mean the Guide was biased more favorably toward Korean restaurants. The Seoul Guide has certainly helped the government's K-food promotion, but it has also had unintended consequences. Gaon and La Yeon's three stars are sparking a debate about whether they deserve the acclaim, whether Korean food meets the Michelin criteria, and whether Michelin understands Korean cuisine.
Hur Jae-in is not too concerned. "The inaugural Michelin Guide need not be the correct answer," she said. "Even in New York City, where competition is more fierce, the number of Michelin stars changes every year. Think about how many of South Korea's stars would change in the future."
Cover image: A dish served at Gaon, a three-Michelin starred Korean restaurant in Seoul (Source: Republic of Korea via flickr, CC BY-SA 2.0)
*
Read the British food critic Andy Hayler's original interview with Korea Exposé:
Become a subscriber to access all of our content.