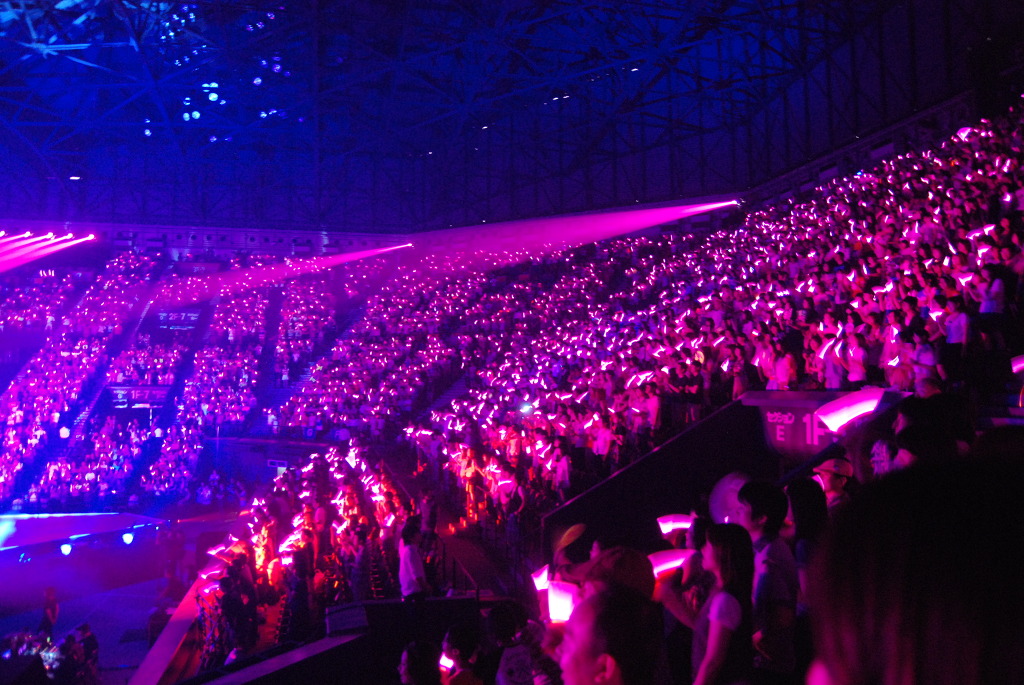 Planting Rainforests and Donating Rice: The Fascinating World of K-pop Fandom
For approximately $35,000, you can plant 27,500 trees to help preserve the Brazilian rainforest. But this isn't just the work of environmentalists — it's also the work of K-pop fans.
It's a legendary story in K-pop fandom. 2012 marked the 20th debut anniversary of Seo Taiji and Boys, a '90s pop trio often called the pioneers of K-pop. That year, the group's fan club, Taiji Mania, raised nearly 39 million won ($35,000) for a donation to the World Land Trust in honor of the anniversary. The money went toward the creation of "Seo Taiji Forest," a five-hectare section in Brazil's Guapi Assu rainforest. Seo himself pledged to make a donation to expand the forest in 2015.
To dedicated K-pop fans, planting a rainforest is just the tip of the iceberg in fan philanthropy: Other fan groups have built schools, donated blood, and set up a book cafe. They've raised millions of won toward a range of causes, from funding cochlear implants for low-income children to digging wells in Africa.
It's common for stars to engage in philanthropy to elevate their image. In K-pop, fans are also taking an active part in the philanthropic PR machine.
"Fans are always eager to make their favorite artists look better," said Courtney McLachlan, marketing manager for Soompi, which calls itself the longest-running website on K-pop news and entertainment. "After a major fan donation, the resulting PR makes the idols look better and it ends up being a win-win situation for everyone."
But the philanthropy isn't just for the stars; it's also for the fans' own reputation. K-pop fans are sensitive to how each fandom is perceived.
Partly, this sensitivity comes from experiencing the negative publicity that has been a consistent part of K-pop fandom.
Last August, mega boyband Big Bang held their 10th anniversary concert at the Sangam World Cup Stadium, drawing an audience of 65,000 fans from all over the world. The fans left massive amounts of garbage in the stadium, prompting criticism from the media, netizens and nearby residents — criticism of the fans for littering, but also of YG Entertainment for failing to clean up the trash until the next day. "Isn't it common sense to clean up immediately after the performance?" some said.
To avoid situations where fans could receive such direct criticism, clubs typically show caution at massive events like these, making sure to warn the audience in advance.
But trash isn't the worst of it. Negative publicity becomes especially problematic for K-pop fans because of the notorious sasaeng fans. Sasaeng, which can mean 'life or death' or 'private life,' are stalkerish fans infamous for extreme behavior, including following stars back to their homes, taking intrusive photographs, and hacking into social media accounts.
Sasaeng fans not only harass idols by invading their privacy; they sometimes put the idols in danger of physical harm. In 2013, Big Bang member Seungri suffered a car accident when a sasaeng fan chased after him in Shanghai. There are more examples like this. Chanyeol, a member of boy group EXO, was chased by 20 sasaeng fan vehicles, coincidentally also in Shanghai.
Many fans not only express criticism, but also shame: a feeling that somehow these sasaeng fans are tainting the collective fandom.
"Within the fandom, one person's wrongdoings give the whole fandom a bad image and we all get criticized," said Go Da-eun, a 21-year-old university student and EXO fan. "I'm afraid of revealing that I'm a fan. People generally have this stereotype of EXO fans as peculiar and thoughtless. So I don't want to admit that I'm an EXO fan."
"Korean mainstream media and non-fans think there is a direct correlation between fan behavior and the artists," McLachlan said. "You often see comments saying that the fans are 'as shameless as the artist.' Or when a fan does something commendable, there are comments saying, 'Of course the fans are as sweet as the artist.'"
A "Maturer" Fandom
Fans are aware that their behavior reflects back onto the stars. And this awareness has inspired fans to create a "mature" image via philanthropy.
K-pop fan philanthropy is thought to have originated with Shinhwa fans in 2007, who started the now-famous charity trend "fan rice." Prior to 2007, the norm was for fan clubs to set up elaborate flower arrangements and banners at concert venues to show their support for the idols. But the Shinhwa fans went further. At Shinhwa member Shin Hye Sung's first solo concert, the fans sent hundreds of kilograms of rice in his name to charity.
Since then, other fan clubs have regularly followed suit, making "fan rice" one of the most popular tools of philanthropic promotion, not just for K-pop, but for fans of other celebrities in South Korea. The donations can be enormous: For example, this past November, Super Junior's official fan club E.L.F donated 110 kilograms of rice and 1,106 packages of ramen to the Salvation Army. It was to mark the 11th anniversary of the boy band's debut.
But perhaps this culture of giving is not quite mature after all: Even these philanthropic, generous gestures are full of competition and rivalry.
"Fans will compete for birthday support or the amount of rice donated for a concert," McLachlan at Soompi said. "Everyone wants their favorite idol to feel the most special or the most loved."
This competition occurs not only between different fan clubs, but even among fans of the same club who want their favorite member to receive the most support.
Shin Hye-won, a 20-year-old student and fan of the girl group I.O.I., said she feels stressed out by the constant battle to organize the most impressive displays of support.
"Fans show support for I.O.I as a group, but there are more cases of support for each individual members. In those cases, fans give support separately to their favorite members. So even though they are all in the same group, a lot of competition goes on among their fans," Shin explained. "I wanted to give my favorite I.O.I member much better things than what the other members were getting… But I couldn't match the [fan] support given to other members, so I was very upset."
"Fandom is pretty much built on competition — K-pop thrives on competition," McLachlan added. "When you are a 'fan' of a group, you support that single group completely and your main goal is to help them win as many awards as possible."
Underlying the competitive culture is an expectation for fans to pledge allegiance. "Loyalty is very important to Korean fandom," McLachlan explained. "For example, if you support Beast but you are discovered by Beast fans to be attending a recording for 2PM, you could potentially be banned from further Beast promotions."
This dedication to only one group fuels the fire for competition and rivalries between fandoms. Determined to show the most impressive displays of support for their favorite idols, fans are inspired to work even harder at fundraising for donations, coordinating concert events, and traveling any distance to ensure large turnouts at their idols' concerts or recordings.
One of the most legendary K-pop rivalries was the one that boiled over between H.O.T. and Sechs Kies fans in the late 1990s. H.O.T. member Tony An recalled exiting a theater after H.O.T. and Sechs Kies both recorded for the same music show. Around 1,500 fans from both groups were waiting outside in the rain, hoping to see the idols.
"At first, it was fun to see. We thought, 'Wow, so many fans came!'" said An. But as the crowd fought to catch a glimpse of the stars, An saw some fans begin hitting each other with their umbrellas. "That was actually pretty frightening," he said.
This intense rivalry, loyalty and internal organization are most apparent at K-pop concerts featuring different artists. The massive stadium is divided into sections for each fan club, which fills each section with the corresponding 'fan color' for their stars — for example, pink for Girls' Generation and sapphire blue for Super Junior. Lighting up the stadium is especially important concerts today, where fans and idols both take pride in seeing their sections sparkling with the battery-powered light sticks, glowing in their official colors.
Large-scale events like the annual Dream Concert have designated sections for each fan club. Idols often proudly post pictures of their fan club's section on social media, such as this photo of boy band SHINee's fan section lit up in aqua green. (Source: SHINee member KEY's Instagram)
A Brief History of Organized K-Pop Fandom
The scale of K-pop fans' efforts — and the coordination it takes to execute them — is even more impressive considering the relatively young age of K-pop and its fan clubs.
The advent of K-pop is widely credited to Seo Taiji and Boys, a trio dance group that debuted in 1992 with the now-legendary song "I Know." The group is considered so revolutionary that industry critics divide South Korea's music history into "before" and "after" Seo Taiji.
Prior to the 1990s, popular South Korean music was largely built upon slower ballads and trot music. Seo Taiji and Boys' music, on the other hand, was fast (for its time), with influences from Western hip hop artists, and was aimed at teenagers, using powerful lyrics that explicitly tackled social issues like oppressive education and national division into the two Koreas. This earned Seo Taiji the nickname the "President of Culture."
But his fans have also made an indelible mark on South Korean fan culture. Taiji Mania is largely credited for creating a much more organized fandom, existing not just to chase after the stars, but to implement coordinated agendas for the sake of their artists. For over two decades, Taiji Mania has not only raised money and awareness for environmental causes (including the Brazilian rainforest), it has also worked to improve the music industry and reform South Korea's copyright laws.
In pre-YouTube days, fans turned to magazines, radio shows, and TV broadcasts to get their K-pop fix. Without Internet or an established organizational precedent, K-pop fans often had to resort to extreme efforts to see their beloved idols in person.
H.O.T.'s 1998 concert at Jamsil Olympic Stadium — the first idol concert ever held at one of South Korea's most famous concert venues — is believed to be the first time that K-pop fans camped out all night before a performance in hopes of securing a better seat.
The Internet and all of its accompanying conveniences, such as online registration, generally spare today's K-pop fans from having to camp out at concert venues. But being a K-pop fan is still hard work — perhaps now more than ever. Being a loyal K-pop fan requires more than just pure dedication; it also takes an incredible amount of time and money.
Thousands of fans connect with each other online via official and unofficial 'fan cafes,' or blogs. Fan cafes are the go-to hubs for information on performance schedules, official fan chants during each song, and other elaborate fan support activities.
Fantastic fan coordination: SHINee fans used glow sticks to make a rainbow and spell out the word "Colorful," the title of a SHINee song. (Source: Youtube)
These online activities translate into, and are necessary for, offline events. With several music broadcasting programs such as "Inkigayo" and "M Countdown" crowning a winning artist every week, K-pop fans are constantly battling to push their favorite artists into the #1 slot by buying albums, streaming videos and music online, tweeting official hashtags, and attending the music shows as the studio audience.
That's not all. In addition to music shows, fans can attend recordings for radio shows, variety program filming, fan meetings, music festivals and, of course, concerts.
All of this costs money for individual fans. To join an official K-pop fan club, fans must pay an annual membership fee that can cost anywhere from 10,000 won to upwards of 40,000 won. This earns you a membership card, official fan club merchandise, and other benefits such as priority entry to weekly music show recordings. Since official fan clubs are run by the entertainment agencies, the membership fees are simply another way for the agencies to turn a profit.
In addition to official fan clubs, countless unofficial fan organizations work tirelessly to fundraise massive amounts of money by holding contests, selling fan-made merchandise such as calendars or stickers with the idols' pictures, or auctioning off larger items. This money goes toward donations such as fan rice, subway ads commemorating debut anniversaries or members' birthdays, or items such as glow sticks and confetti to use at concerts.
Between all these activities — buying tickets and getting transportation to the group's performances (not all of which are in Seoul), obtaining support items such as slogan banners and light sticks, and purchasing albums to get into fan meetings — an individual fan can easily shell out millions of won during a single promotional cycle of a K-pop idol. Given that most idols promote two to four times per year, the total sum spent by any one fan community is enormous.
For die-hard K-pop fans, the cost is more than worth it.
"Whatever [my favorite idols] do, they energize me," said Kim Chae-hyun, a 21-year-old student and longtime Infinite fan. "And when we let them know how much we love them, they respond to it. So I just want to give them strength through my [fan club] activities."
https://www.instagram.com/p/jErovbH_hl/
Girls' Generation fans hold up pink signs, "Always Here." (Source: GG member Taeyeon's Instagram)
The K-pop industry continues to hurtle forward at breakneck pace, with a constant rotation of new idols making their debut and the competition for album sales, awards won, and YouTube views growing ever fiercer. So far, devoted fans have risen to the occasion, keeping step with celebrities' increasingly grueling promotion schedules.
"Western fandom puts the artists in the spotlight and judges them almost solely on their own actions," McLachlan said. "Korea puts the artist in the spotlight, but also looks at the fandom and what they are all capable of."
Whatever the cost, K-pop fans show no sign of slowing down, even those like Taiji Mania that have been in the game for over twenty years. They're confident that their beloved idols can go the distance, and they're determined to stick with them for the rest of their lives, through thick and thin.
"We'll go on for a long time," Taiji Mania vowed on their official website. "No matter for how long…we'll keep going for a long time. When Taiji's 20th album comes out we'll still be listening and talking. We'll even be there for his silver concert and take pictures with our grandson- and granddaughter-Manias."
An earlier version of this article defined sasaeng as 'life or death.' The word can also mean 'private life.'
Cover Image: Girls' Generation fans at a concert. (Source: Katmae05, Creative Commons Attribution Generic 2.0 License)
Become a subscriber to access all of our content.