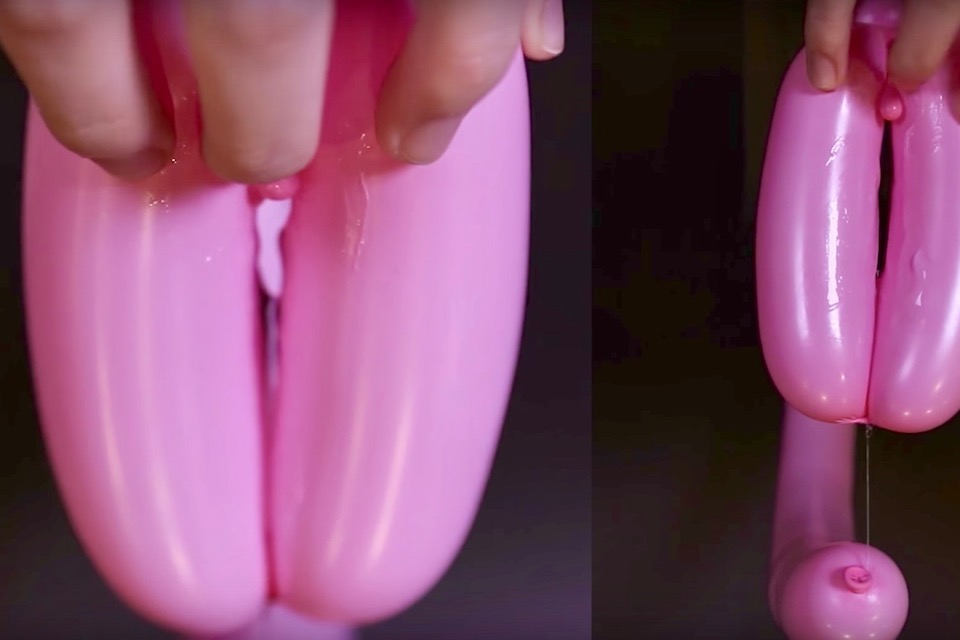 KÉ Interview: Young Pioneers for New Kind of Sex Ed
When Chopin wrote his Nocturne in E-flat major, Op. 9, No. 2 around 1830, he may not have anticipated that it would be used as the background music for a 2017 South Korean video that used pink balloons and lubricant to illustrate proper female masturbation techniques. But it was.
Welcome to Woori, a media startup that's on a mission to demystify everything you wanted to know about sex but were afraid to ask and never got taught.
"Thanks for the sex education."

"Watching your videos helped me overcome my stereotypes."

"I wish you could be school teachers."

"Am I the only one who can't help moaning during penetrative masturbation?"

"I started off with a lipstick but now I'm only satisfied with four fingers."
These are just some of the many comments in response to said video by Woori, which had clocked up nearly 130,000 views on YouTube at the time of writing. Seven months after its three members set out to revolutionize sex education with their frank and open approach, they have already generated a lively debate.
Woori's videos are entertaining but informative, using props including pink balloon clitorises, popcorn-ejaculating bananas, dragonfruit vaginas and menstruating ketchup bottles to provide myth-busting guides to female masturbation and other issues that previously lurked in the shadows unexplored by social discourse. They also use sit-down interviews with young Koreans to sound out opinions on key issues like sex on first dates, sexual fantasies and how to react if your partner watches porn.
"Masturbation: Seven Myths and Facts" features creative use of objects to illustrate masturbation. (Source: Woori)
On Tuesday, Korea Exposé caught up with two of Woori's founders, 27-year-old Park Yong-ho and Oh Maet-dol, to find about more about their mission. Third founder Jeong Da-eun (23) could not make it to the interview.
KÉ: Why did you start doing this?
Yong-ho (YH): Last year I took a course on sex and culture at university. About 60 of us talked in turn about our sexual fantasies and fears. That made me aware that there was a problem: I had had no proper sex education, and had much more experience from porn.
When we were in middle school, sex education was basically, "Don't do it!" They were ashamed to use the word sex itself.
[Editor's note: Interestingly, the English word "sex" is often used in Korea today when referring to the subject, despite the existence of plenty of other Korean equivalents]
They focused only on the negative aspects like abortion and sexual assault. There was no useful or necessary info, like how to put on a condom. They taught us nothing about how to have careful and enjoyable sex. But when you become an adult you come into direct contact with sex, dating people and going to motels with them. You have to think about it."
KÉ: You seem to have started by filming interviews with people on less full-on subjects, like dating and love, then moved on to issues like porn watching and masturbation. Was that a deliberately gradual approach?
YH: We wanted to start with something mild in case it put off our viewers, but when we tried talking about sex itself, we found that wasn't the case at all. Now we just talk about everything.
Maet-dol (MD): In South Korea, if you talk about sex, people [often] think it's lewd. So they're reluctant to talk about it even if they like it.
KÉ: A lot of your videos are about masturbation.
YH: All men masturbate, and women are becoming more interested in it. But teachers don't even talk about it at school. Kids are interested but no one tells them anything. So they learn stuff from watching porn. We wanted to stop them going down a bad path because of that. Men in the West and in Korea talk about it masturbation freely. Women masturbate too, but it's not mentioned. Feminists here are trying to bring more openness in talking about women's sex, and we're a part of that, though feminist causes are not our main focus.
Early this year there was a controversy about a middle school textbook that mentioned male masturbation but not female. South Korean society is becoming more open about sex but education is not keeping up.
KÉ: What topics do you still want to cover?
YH: We get lots of inquiries about masturbation, especially penetrative masturbation with dildos. It's hard for most young Koreans [who live with their parents] to buy dildos and keep them at home, but they're curious and want to try them. We want to cover that later on. I hope this channel can become an alternative to [school] sex education. So that even school teachers recommend it as a reference source.
KÉ: What do you think constitutes a healthy sex culture?
YH: When it comes to sexual intercourse, mutual respect is important. You need a culture where people can speak freely about sex and assert what they need to. In South Korea, maybe because of the patriarchal culture, there's still a notion that the man should lead everything. With teenagers, more boys watch porn, so it can seem as if they should lead even if both partners are doing it for the first time. Also, the woman should feel able to insist on using a condom, since the potential side-effects are worse for her.
KÉ: Will you make videos about condoms and contraception then?
YH: Yes, we want to make videos that get to the core about condoms. At the moment, all there is in South Korea is condom review-type videos. We want to address issues like why and how you should use them.
KÉ: Do your viewers assume that you're sex experts?
MD: I've always been interested in these issues, so people say to me "I knew you'd end up doing this." But actually I've learned a lot from making the videos, especially about being considerate. I thought sex had to be powerful; that it had to be fast and strong, and that you had to be a bit rough with the girl. Porn made me think that. But I've learned that it's about being good to each other. You have to do find out and do what feels good for the woman.
KÉ: Porn seems to play a big part in people's sex education here.
MD: I watched it from middle school. We're curious about sex but there's nowhere else to learn about it. Porn isn't real, it's acting. It's a show. But we thought it was true; that if you had that kind of sex women would get turned on.
YH: South Koreans watch a lot of Japanese porn. There are various themes, one of which is rape. They must make it to satisfy people with rape fantasies, but a middle school student could watch it and think, "So women like being raped." It struck me that that could cause some real problems.
KÉ: Do you think non-harmful porn can exist?
YH: Yes. I watch videos in the Hegre-Art series and they use a very sensual type of expression. They're cinematically good. It's not just like Japanese porn, with the man on top; the characters are enjoying themselves. I guess you could call it soft-core. But I've heard that some people gave up making softer porn because it doesn't sell.
KÉ: What kind of feedback have you been getting?
YH: People around me tell me we're making good videos, but they don't feel able to "like" or share them on Facebook because our videos are on subjects that aren't easy to talk about.
MD: At first, my friends didn't react much. But then they started wanting to have a say for themselves, and appearing in the videos. That was really encouraging.
KÉ: What surprises have you had?
YH: South Korean society is becoming more open about sex. When we first started, one of our panelists, who was quite conservative, was talking and it occurred to me that perhaps we were being too open about things.
Sex is a question of choice. If you don't want to do it, you don't; if you do want to do it, you do. I wondered if we were putting too much pressure on people to be open. It occurred to me that it was up to us just to provide the information, then leave it up to others what to do with it. There are some people who don't like [talking about sex] but just go along with it because of the social mood.
Later, I want to address the idea of society pressuring people to have sex. They might not want to, but they have to because they've been in a relationship for two years or so. That can be a kind of violence. I want to make a video questioning the idea of endless openness, and talk to some conservatives too.
KÉ: You've asked plenty of other people about their sexual fantasies – what are yours?
MD: Having sex in clean, white sheets, in candlelight. And in the bath. With someone new, who I only met that day.
YH: In the bath. And I want to be led by a woman who's really good at sex. Her age doesn't matter. But not a MILF.
KÉ: What do your families think about Woori?
YH: They're okay if it makes money. They're all right with the themes themselves, but money is the issue. I've graduated from university and have to start earning, but I still have no clear income. And it doesn't seem as if I'll be able to do another job at the same time as Woori.
MD: My mom thinks people will be grateful if we make content to help those who don't know about sex when they get married. In today's generation there's more awareness, but with our parents there's not much knowledge among women about the pleasures of sex. The same goes for information about the menopause.
Cover Image: Inflatable labia and clitoris in a Woori masturbation tutorial (Source: Woori/YouTube)
*
Editor's Note: Woori is currently in a partnership with specialist media accelerator company Mediati, designed to last until the end of August 2017. Mediati is also an investor in Korea Exposé.
Become a subscriber to access all of our content.