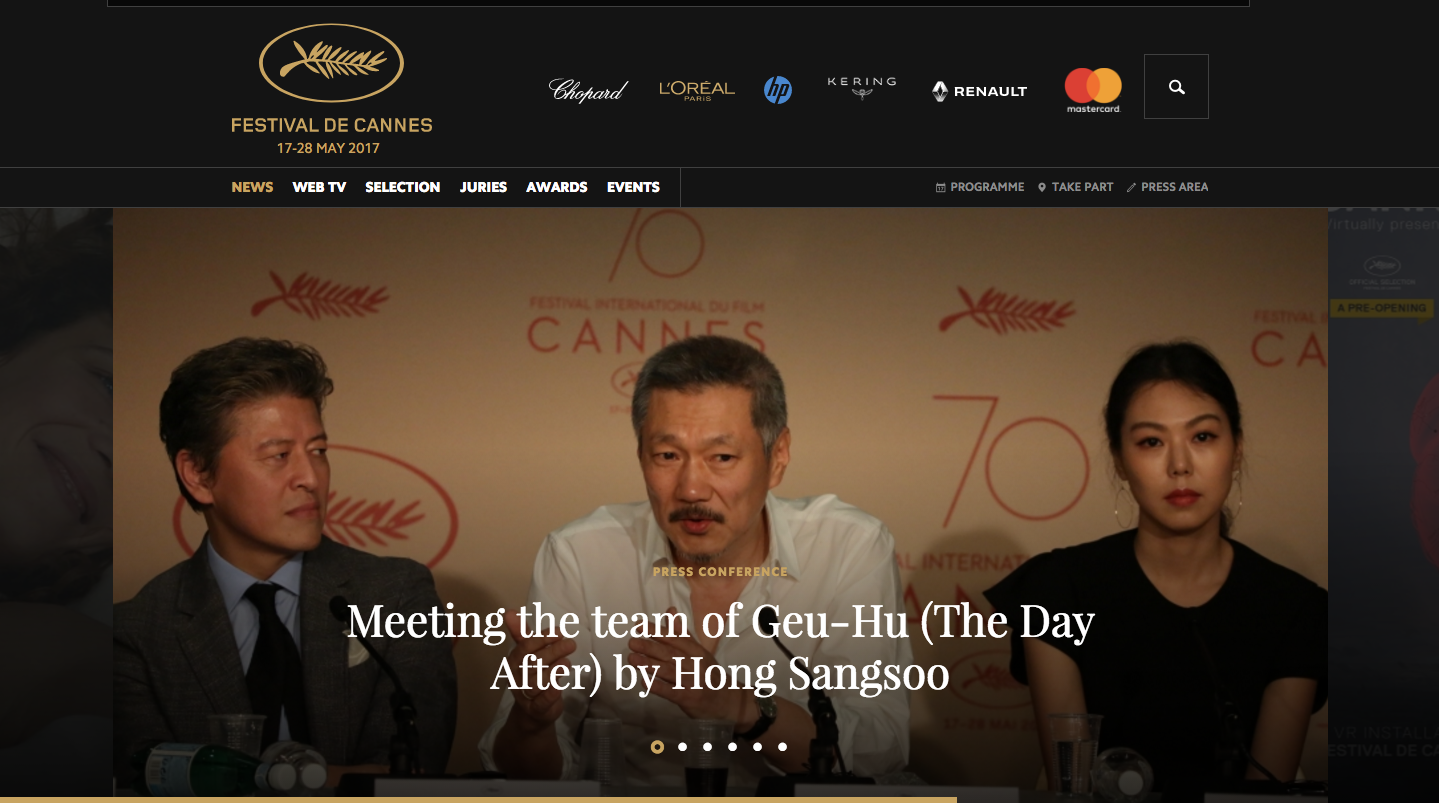 Cannes 2017: Introducing the Korean Filmmakers
Cannes Film Festival 2017 opened amid the usual fanfare last Wednesday.
In South Korea, Cannes is showcased as a sign of incredible international prestige for the country when Korean actors and directors are invited. This year, filmmakers Park Chan-wook, Bong Joon-ho, and Hong Sang-soo are featuring prominently in the headlines for making their way to the French Riviera.
"Will Cannes Film Festival become a Korean Film Festival?" asked wire agency Yonhap hopefully.
Probably not. But in celebration of these directors' illustrious careers, we briefly introduce who they are: their personal quirks and their productions.
Bong Joon-ho
Bong grew up as an aspiring cartoonist. Often nicknamed 'Bong-tail,' he is famous for creating his own storyboards and incredible attention to detail in his movies.
Widely known for his biggest hit "The Host (2006)," "Memories of Murder (2003)" and his English-debut "Snowpiercer (2013)," Bong is "one of the very few filmmakers to receive praise from both the public and critics," in the words of movie critic Lee Dong-jin.
Bong is artistically adored by cinephiles, but also famous for scoring big financial successes. His most recent work, "Okja," selected by Cannes this year, perfectly encapsulates his style: a sci-fi Hollywood blockbuster with a political message, a human touch, and a tint of raw 'Koreanness'.
Trailer of "Okja." Mija, a young Korean girl from a countryside, tries to protect her monster friend Okja from a multinational company's greedy attempt to kidnap it.
Park Chan-wook
Park is often called the 'master of mise-en-scene,' and a 'Korean Quentin Tarantino.'
He's the "Old Boy" guy, who won the Grand Prix at Cannes in 2004 for this eponymous international hit, which is also Park's all-time greatest box office success. "Old boy" is full of violence and twisted, dark human relationships saturated with revenge, hatred and love.
"Never watch a Park Chan-wook movie on a date," as some South Korean viewers jokingly say. Park's flicks are full of black comedy, satire, and gruesome, unforgettable images. Some of his most widely known movies are "J.S.A.: Joint Security Area (2002)," "Lady Vengeance (2005)," "Stoker (2013)," and most recently, "The Handmaiden (2016)."
Park Chan-wook's "The Handmaiden." was in official competition at last year's Cannes.
Last year at Cannes was a big year for Park; "The Handmaiden" was in official competition. This year, Park isn't at the festival for his own film. He is a member of the jury.
Hong Sang-soo
Hong is known for taking a more down-to-earth approach to his pictures than Park and Bong. His films are low budget, shot within short periods of time (usually a few weeks), and famously spontaneous — actors typically receive the script for the relevant scenes on the day of shooting.
Hong has a talent for making stories out of the pettiness of ordinary people. His films often focus on relationships between men and women, highlighting the subtlety of human feelings.
Hong's most recent films, "Right Now, Wrong Then" (2015), "On the Beach at Night Alone" (2017) and "The Day After" (2017), nominated this year at Cannes, all star the same heroine: Kim Min-hee. Kim is Hong's current lover (and also the star of Park Chan-wook's "The Handmaiden"). Their love affair is an extramarital one, and bashed by South Korean audiences.
But despite the denunciation from the South Korean public, the pair are continuing with their relationship, both on-screen and off. Most of their recent productions feature adultery.
Hong Sang-soo's "The Day After" is an official Cannes selection this year.
Bong Joon-ho's "Okja" and Hong Sang-soo's "The Day After" are competing against each other and 16 other works in the Official Selection at Cannes this year. The Cannes festival will continue until May 28.
Cover Image: Front page of 2017 Cannes Film Festival. (Source: Festival de Cannes)
Become a subscriber to access all of our content.