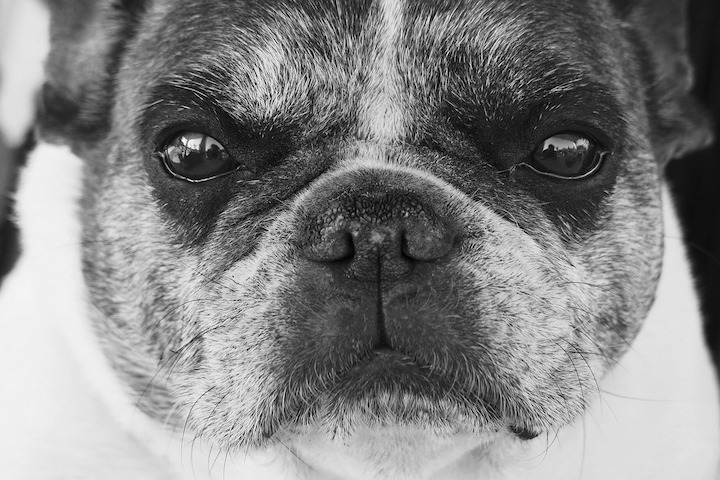 S. Korea's Cutest Alleged Killer's Birthday Bash Makes a Splash
In a photo, a white french bulldog with black spots around its dolly eyes stares innocently into the camera while perched on a young woman's lap, just behind a birthday cake lit with eight candles.
Though cute, Bugsy is an alleged killer, and the posting of this scene engendered an angry response. Four days before Bugsy's birthday, he allegedly bit the shin of a 53-year-old woman who lived in the same apartment building. While Bugsy sat before his candlelit cake, the woman was hospitalized. In less than a week, the victim, surnamed Kim, died of sepsis, a condition triggered by intravenous infection. While rare, bacteria transmitted in dog saliva can cause fatal infections.
The incident has spurred a discussion in South Korea about pet owners who fail to control their pets in public. This case grabbed attention in part because it involves celebrities. The young woman is a sister of a popular K-pop star, Choi Si-won, and the victim, an owner of Hanilgwan, a historic Korean restaurant.
But the issue of poorly behaved pet owners isn't new. In September, four unleashed hunting dogs attacked a middle-aged couple taking a stroll in Gochang, North Jeolla Province. The owner was allegedly drunk and not supervising his dogs when the incident occurred.
Outcry over people's safety being infringed on by animals in public places has been growing as more and more South Koreans own pets.
In recent years, as South Korea's birthrate has faltered, more South Koreans have taken to raising pets. The Ministry of Agriculture, Food and Rural Affairs announced that over 20 percent of households owned pets in 2015, up from 17 percent in 2010. The Ministry attributed increasing pet ownership to the low birthrate and aging society.
And more pet owners are treating their pets like they would treat kids, pampering them with aromatherapy and organic snacks, and holding funerals for them when they die. This conversation about pet owners evokes recent disputes over "no kids zones," restaurants and cafes that refuse entry to patrons with children, in the belief that too many parents are ill-mannered and their kids, undisciplined.
The latest dog-biting case has prompted people to share their own unpleasant experiences with churlish pet owners, while mocking a common response that some pet owners give out: "my dog doesn't bite."
But some dogs do bite. According to the Korea Consumer Agency, the number of cases involving dog bites more than doubled between 2011 and 2014, from 245 to 676 cases.
In the aftermath of this most recent death by dog bite, some are demanding harsher punishment for incautious pet owners. (At present, walking a dog without a leash results in a fine of only 50,000 won, or $44.)
"14 years of imprisonment would be good [like in England where owners of dogs that cause fatal injury face a maximum sentence of 14 years]. Let's see if pet owners continue to roam around without leashes [on their pets]," said one commenter.
Whether the Choi family's french bulldog directly caused the death of his neighbor is unknown. (Choi Si-won's father has come forward saying that he is the owner.) If a direct connection between the attack and the death is established, he may be charged with involuntary manslaughter and face up to two years in prison or a seven million won fine ($6,200). But the bereaved have refused to authorize an autopsy of the deceased and say they are not planning to file a lawsuit and aren't seeking compensation, according to KBS News.
Cover image: A death of a woman bit by her neighbor's dog has spurred a discussion in South Korea about pet owners who fail to control their pets in public (Source: Elioenai on Pixabay)
Become a subscriber to access all of our content.