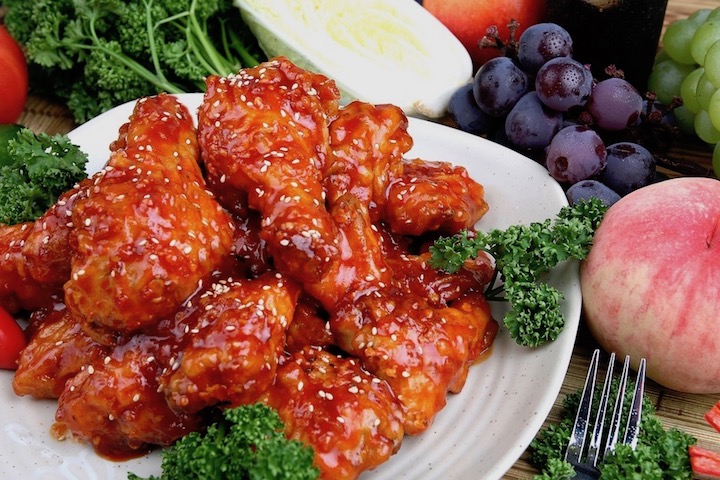 Soaring Fried Chicken Prices Ruffle South Koreans' Feathers
Bite through the crunchy outer layer and into the juicy flesh, wash it down with a gulp of cold beer, then balance the greasiness of the chicken with a sweet and sour pickled daikon radish cube.
The tastiness of fried chicken, and its widespread availability, have made it a popular choice for South Koreans looking to dine out or order in. Also with the irresistible flavor, fried chicken has also been alluring for its affordability. 20,000 won (roughly 18 U.S. dollars) can typically buy a hearty portion of chicken and a few cans of beer, making for a satisfying, although not the healthiest, meal.
But that is changing. And customers aren't happy.
Alongside a general rise in consumer prices over the past several years, fried chicken has gradually become less affordable, threatening its status as the so-called "people's snack." Nowadays, rising chicken prices mean that before purchasing any beer, just the cost of chicken can run as high as 20,000 won.
The first to cross the 20,000 threshold was BBQ Chicken, one of the biggest fried chicken franchises in South Korea. In March, rumors spread that the company would raise the price of some chicken dishes to offset an increase in its expenses. The rumors of a price surge set the government in motion, knowing that South Koreans are sensitive to increases in living costs. A few days later, the Ministry of Agriculture, Food and Rural Affairs announced that it would help lower poultry prices by releasing the government stock to ease prices. The ministry also threatened to run tax audits on companies that jacked up chicken prices, with BBQ Chicken as a likely target.
The company backtracked temporarily, before carrying out the price hike in May. At present, only one BBQ item (the Red Hot Garlic Chicken) costs over 20,000 won, but the price of many other dishes teeter close to that risky threshold.
A bigger risk was more chicken purveyors raising their prices. Recently, consumer jitters crystallized as major news outlets reported that another major fried chicken brand (and the nation's number one) Kyochon Chicken is planning to raise prices too.
Companies say price increases are inevitable, due to rises in the costs of running fried chicken joints. "We have been holding back from raising chicken prices for the purpose of stabilizing consumer prices," an unnamed BBQ Chicken source told Yonhap News Agency. "But there have been constant increases in costs for personnel, rent, ingredients and logistics, and the additional burden of the commissions charged by delivery apps." 
Companies stress that the cost increase is to benefit franchisees, who demanded the price increase in the first place. But some critics are skeptical. Hankyoreh 21 magazine attributed many franchisees' profit loss to headquarters taking over half of their sales revenue, not the increase in the costs of running fried chicken joints. And the companies are merely passing the buck on to customers.
There is good reason to suggest that the corporate headquarters aren't really the ones suffering, as according to the Financial Supervisory Service, big chicken chains saw increases in revenue last year. Kyochon Chicken brought in over 290 billion won (or 260 million dollars), an increase of over 11 percent from the year before. BBQ Chicken's revenue also increased by just under two percent, making almost 220 billion won (or 200 million dollars).
Cover image: Some fried chicken already costs more than 20,000 won (or 18 U.S. dollars). (Source: Pixabay)
Become a subscriber to access all of our content.