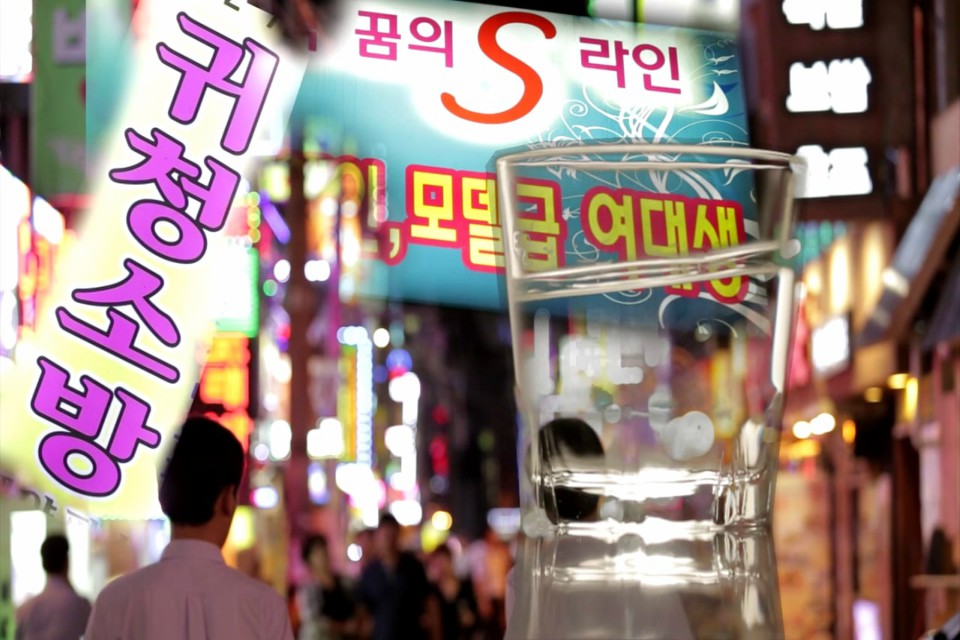 Sex Workers Speak Out About S. Korea's Shadowy Underbelly
"Welcome to the land of morning calm. Alternative noraebangs are a shadowy decadent underbelly of South Korean society where soju and an hour of sex with a prostitute go hand in hand; both commodities can be bought cheaply and enjoyed frequently." – July 26, 2016 by Korea Exposé
In a country where one out of every two men is reported to have paid money to have sex, prostitution is no rarity. From karaoke rooms, massage parlors, "kiss rooms" and room salons, sex is easily accessible, if you only know where to look.
It's not difficult to come across confessions online, or even light-hearted 'reviews,' that buyers of sex post after their experiences. Various online communities provide platforms for brotherly bonding moments — since the partakers are usually men — exchanging insider's tips, comparing the sex workers, and discussing the rates and services different shops provide.
In an online forum, screen-captured above, an anonymous user wrote about his experience at a massage shop. Others replied, "F***, you have no pride. You're so desperate you would do it with an ajumma?" "You should have asked me if you were doing it in Seoul." "In Yeongdeungpo [a district of Seoul], it's 70,000 won [around 60 U.S dollars]."
And on the other side, there's the Bamboo Grove for Sex Workers, a Facebook group for sex workers that surfaced this January. In South Korea, bamboo groves often refer to places for confessions, open to anyone but guaranteeing anonymity.
"Pretending you don't know when you do, pretending you're okay when you're not, pretending you don't even exist," wrote the anonymous administrator on Facebook. "I hope this page can be a space where you share your stories comfortably, when the stories you must hide weigh on your lips, when your body and mind start to rot."
I was so shocked at a recent kiss-room interview…. A female employer interviewed me, and told me to go handle a customer as a trial…. It turned out, the customer was the real employer, and the female employer was an agassi [a sex worker]…. He ordered me to sit with my legs open, showed me his computer desktop background of a naked girl and said, 'I want to sleep with her. Pose like her.' He told me to lie in bed with another girl and kiss each other, while he masturbated in front of us.
On the page, candid stories such as this are told by anonymous contributors on Google Doc, offering a glimpse into the lives of sex workers in South Korea, in their own words. There are newcomers as young as sixteen to veteran sex workers with decades of experience; there are heartwarming confessions and angry tantrums.
How can you be a sex worker and a human being at the same time? … I'm going to job interviews these days, and my [physical] size is important in a job like this. [The employers] make me stand, turn me around, grab me by the breasts and tell me how big my boobs are, how I should lose my stomach fat…. They touch my thighs and say the ajeossis would like me because I have fair skin. 'The new girl, she's a grade B,' the employer will say to another. I can't decide a single thing on my own — my hair, my make up, the clothes I wear — it's suffocating.
South Korea's rigid standards of beauty — slender, pale, doe-eyed, with the "right" amount of curvaceousness — are perpetuated through a process called 'choice' (or cho-ee-su). Choice refers to the selection process, where buyers examine sex workers, from whom they select the agassi, or sex worker, they wish to sleep with.
Gangnam has become the 'Mecca' of plastic surgery partially due to the brutal lookism competition in the sex industry; one senior female consultant for plastic surgery, with 15 years of experience, told the Women's News that her most frequent customers were those who worked in the sex industry.
"A beautiful post-surgery face enhances the possibility of being scouted by the upper-class prostitution parlors … hence better working conditions," the anonymous consultant said.
I was told that yesterday's client was a really really really famous [public] figure, but the way he treated the girls was outrageous…. As soon as he came in, he started feeling up my arms and thighs…and lifting my skirt. I tried to cover my breasts but he touched them too…. The best part was, he wore a Sewol bracelet and talked about changing the government. I guess there's no left and right to being an asshole.
A 2010 report by the Ministry of Gender Equality and Family suggests that the majority of those who buy sex are in their 30s and 40s, with high levels of income and education.
'Will you be my girlfriend if I give you an allowance, as much as you get paid here?' Stop f***ing around. Why don't you buy your daughter in high school a backpack or something? … I've seen so many men fondling agassis while talking to their wives on the phone. They'd say to [the wives] that they have to go to a hoesik [company outing].
According to a study released by the Ministry of Gender Equality and Family last month, about 25 percent of the sex workers are in their twenties. For some of them, sex-selling is reportedly a high-paying part-time job that brings in some extra pocket money to supplement their daily spending.
An anonymous police officer speculated in an interview with News1, a South Korean news agency, that undergraduate students make up for 30 percent of female sex workers, many of them attending fairly well-known universities and fluent in two to three languages.
I do a lot of things — I work at modern bars; I enjoy reading; I like singing and going to noraebangs [karaoke]. I go to college…. Until a few months ago, I did "conditional meet-ups" [having sex with older men in exchange for compensation] as a hobby and side job, because I liked seeing myself as a sex worker. I'm not desperate for money or anything, to be honest.
Of course, most of the workers in the sex industry don't have this luxury. They are often forced into selling their bodies to make a living. In Bamboo Groves for Sex Workers, male sex workers occasionally speak about their experiences, too. They are called namchang, or male prostitutes. They generally cater to middle-aged women and gay clients.
Male sex workers also suffer from incessant violence and threat…. I never went to the police though, because this country turns a blind eye to gay rape.
The anti-prostitution law is still strongly enforced in South Korea. Since the de-facto criminalization of prostitution in 2004, many sex workers have been protesting to repeal the act, arguing that the ban worsens working conditions by creating plenty of gray areas (like kiss rooms and massage parlors) that can't be legally regulated.
The sex industry is reportedly still thriving despite crackdowns. According to a 2007 report by the Women's Human Rights Institute of Korea, the sex industry generates up to four percent of South Korea's annual gross domestic product. (It's unclear how the figure has changed in the last ten years.)
Meanwhile, nearly two thousand people are following Bamboo Grove for Sex Workers, sharing their hushed, anonymous voices from beneath the country's glittering surface.
Cover Image: An anti-prostitution campaign by the Ministry of Gender Equality and Family. (Source: Vimeo)
*
Read more about the sex industry in South Korea:
Become a subscriber to access all of our content.