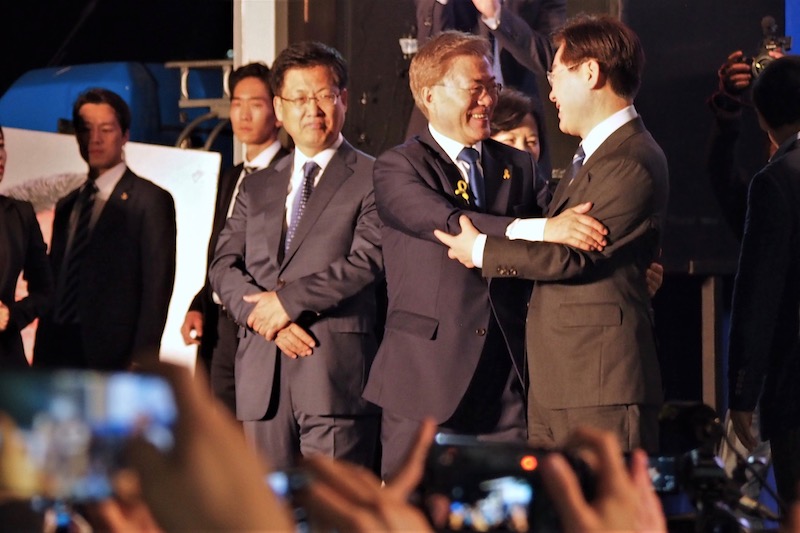 President Moon Jae-in: Between Everyman Persona and North Korea
On the morning of Mar. 10, the eyes of the nation were on the constitutional court, which unanimously ruled that impeached president Park Geun-hye had to go.
One journalist, however, was in Hongeun-dong, Seoul, evidently to scrutinize a plastic bag in front of a modest apartment. The bag featured the name of a restaurant that specializes in jokbal — braised pig trotters.
Moon Jae-in, who lives in the apartment, is known to be fond of the dish, which originated in the north. The journalist called the restaurant and confirmed that indeed jokbal had been delivered there the previous night.
The choice of food said much about Moon, the winner of the May 9 presidential election. Moon projects an everyman aura, easily mingling with the public, and enjoying humble grubs like jokbal as many South Koreans do. (In fact, jokbal was apparently one of South Koreans' go-to dishes for post-election midnight snacks.)
But some, preposterously, alleged online that eating a North Korean delicacy, on the eve of a momentous political event no less, was proof of Moon's secret identity as a communist. Moon routinely attracts such criticism from the country's political right; his stance on North Korea is less hawkish than conservatives would like.
The episode is a reminder that Moon, now South Korea's 19th president, is still best known for two things: a down-to-earth persona (or blandness, according to some critics), and policies he might adopt toward the North.
He deserves to be known for a little more than that.
___
Moon Jae-in's life began not too differently from those of many top South Korean politicians: poor in origin, studious and politically conscious from an early age.
Moon was born in 1953 on the southeastern island of Geoje to parents, who, like many older South Koreans, had left the North in the course of the Korean War. He grew up in poverty but excelled academically. In 1972, he won a full scholarship to study law at Kyunghee University, a top institution.
His education was suspended in 1975, following his arrest for demonstrating against the military dictatorship of Park Chung-hee, father of ousted president Park Geun-hye. Moon briefly spent time in prison before being drafted into the Special Forces, where he served with distinction. Having completed his military service (compulsory for all able-bodied South Korean men above the age of 18), Moon returned to school in 1980. But soon he was detained yet again by the new military dictatorship under Chun Doo-hwan.
While Moon was in prison, news came that he had passed the highly competitive bar exam, taken before his second arrest. He was soon released, completed his legal training at the state-run Judicial Research and Training Institute, and placed second in his class. Barred by his criminal record from assuming judgeship or a position as a prosecutor, Moon embarked on a career as a human rights and labor rights lawyer, joining the office of another human rights attorney named Roh Moo-hyun.
His link to Roh brought Moon the kind of prominence most politicians can only dream of.
Moon built a respectable legal career and developed a lifelong friendship with Roh, who famously quipped, "It's not that Moon Jae-in is Roh Moo-hyun's friend. It's more that Roh Moo-hyun is Moon Jae-in's friend." When Roh defied the odds to win the 2002 presidential election, Moon became his presidential secretary for civil affairs, and eventually his chief of staff.
After the Roh presidency came to an end, Moon retreated to his country home in South Gyeongsang Province. The following year, in 2009, Roh took his own life amid a corruption scandal. He and his wife were accused of receiving millions of dollars from a businessman, and prosecutors conducted a months-long investigation, with salacious details splashed across conservative papers each day. Leftwing media assert that the National Intelligence Service, South Korea's main spy agency, secretly leaked fake news to discredit Roh.
Moon made a strong impression on the public around this time. Then-president Lee Myung-bak attended Roh's funeral, at which a lawmaker loyal to Roh yelled, "The murderer must say sorry!" Some saw, and still see, Lee as masterminding the criminal investigation into Roh's affairs and driving him to suicide. In that moment, Moon got up, approached Lee and bowed in a gesture of apology for the lawmaker's antic.
His connection to Roh aside, Moon's actual experience in electoral politics is surprisingly limited. Before becoming president, he had won only one parliamentary election. That was in 2012, when he successfully contested a seat to represent a district in Busan. Yet that same year, he secured the nomination to represent the Democratic Party in the presidential contest, before losing to ruling Saenuri Party candidate Park Geun-hye.
Park proved to be a repressive figure incapable of communicating with the public. When the Sewol ferry sank on Apr. 16, 2014, claiming 304 lives, she drew widespread criticism for her handling of the disaster, including failing to account for her whereabouts during seven hours on the day of the sinking. Moon, on the other hand, embarked on a ten-day hunger strike the following summer, joining some families of the victims who were fasting in Gwanghwamun Plaza to call for a transparent government investigation into the tragedy.
After the failure of his first presidential bid, Moon returned to the legislature as a lawmaker and, in 2015, assumed leadership of his party, then called the New Politics Alliance for Democracy. He oversaw the process of renaming it as the Minjoo Party, as it is still known today.
Moon didn't seek re-election in 2016 and relinquished his position as party leader, partly due to charges that he was dividing the party by favoring his own "pro-Roh" faction. But he still maintained outsized influence over the Minjoo Party, prompting some to call him its "retired king." Some credit Moon with the party's success at last year's general election, which saw the Minjoo become the biggest presence in the National Assembly.
___
In the fall of 2016, the Choi Soon-sil scandal turned into a full-blown nightmare for president Park Geun-hye. Evidence emerged of Choi's involvement in state affairs, and Park was forced to admit some wrongdoing in two separate apologies. (In her initial apology she had denied allegations of Choi's influence over the government.)
The public was outraged, and the now-famous candlelight demonstrations were held for twenty consecutive weekends (with only one break, for the lunar new year holiday). In the meantime, the National Assembly voted by a wide margin to impeach Park, on Dec. 9, 2016.
When the Constitutional Court upheld the impeachment and cut short the Park presidency on Mar. 10, Moon gained a rare opportunity. While he had been widely expected to run again for presidency in December 2017, the sudden vacancy in the nation's top office meant a special election had to be held within 60 days.
Conservatives, seriously wounded in the scandal, had little hope of producing a viable candidate in so short a time. The only formidable rival to Moon, former United Nations Secretary-General Ban Ki-moon, dropped out of the race on Feb. 1, possibly because the vicious media coverage of his unofficial campaigning left him fed up with electoral politics.
As Roh Moo-hyun's close friend and confidant, Moon inherited a solid support base from the late president, whose approachable charm had attracted a large following. So fanatical are Moon's fans in their devotion to him that they are commonly known as "Moon-ppa" — combining Moon's surname with the Korean word oppa meaning "older brother." (To get the nuance, think Beliebers, the name of singer Justin Bieber's fandom.)
Moon-ppa are fiercely defensive of their idol, to the point of coming across as unreasonable. (Pardon the political incorrectness, but another label for them in South Korea's internet discourse is "Moonslam" — Moon + Islam.)
Most recently, Moon-ppa harassed Justice Party presidential candidate Sim Sang-jung — a fellow progressive, whose political agenda is more left-leaning than Moon's — because she seemed to be especially critical of him during a televised debate. For Moon-ppa, it's one thing for a conservative to attack Moon; that's to be expected. But if a fellow progressive goes after him, it's tantamount to treason.
Moon, on his part, did little to stop his followers' extreme behavior, dismissing it as "a kind of spice that makes competition interesting."
Still, Moon has been good at playing a nice guy, one of the people. He, along with three other presidential candidates, pledged to adopt a rescued dog if elected to presidency. He also vowed to relocate his office from the inaccessible Blue House, isolated from the public by security and the enormous Gyeongbok Palace, to Gwanghwamun Square in the heart of downtown Seoul.
In particular, Moon appears to feel strong empathy with the families of the Sewol victims. On the day of Park Geun-hye's ouster, Moon made an unofficial, unscheduled visit to Paengmok Port to meet with families of Sewol passengers whose bodies had yet to be recovered. When media confirmed his electoral victory Tuesday evening, he made his way to Gwanghwamun Square and greeted some Sewol families who had gathered there.
___
At 8:09 a.m. on Wednesday, the National Election Commission declared Moon the winner with 41.1 percent of the vote. He became South Korea's new leader, effective immediately. (Unlike after a regularly scheduled presidential election, there was no transition period, as there was no sitting president.)
The race itself proved to be a predictable affair. Moon maintained his dominance through the entire campaign period; only Ahn Cheol-soo briefly came close to threatening him. The main conservative candidate, Hong Joon-pyo, never became a serious contender, trailing Moon by a double-digit figure in the final tally.
Moon will not enjoy much of an electoral honeymoon, and he knows it. He started work Wednesday afternoon by introducing his key nominees at a press conference, and announced the establishment of a "job creation committee" that will answer directly to him. (A central campaign promise of his was to create 810,000 jobs, mainly in the public sector; as to how he will pay for the initiative is unclear, though he has said he will increase taxes on the rich, real estate and capital gains, as well as corporations.)
That news will no doubt be welcomed by many South Koreans who struggle on the competitive job market. His other policies, especially when it comes to international relations, might not be so joyously received by the whole country.
Moon once said, "I could first go to North Korea if it could solve the North Korean nuclear issue." He also wants to resume economic cooperation with the North and even expand Kaesong Industrial Complex, a joint enterprise between the two Koreas that was closed by Park Geun-hye in 2016. He is intent on reclaiming South Korea's wartime military command from the U.S. (At present the South Korean president commands the national military only in time of peace.) He also wants to renegotiate the so-called comfort women agreement, signed by Japan and South Korea under Park Geun-hye with the U.S.'s blessings.
Such moves will certainly please his progressive base, but anger the conservatives who view his ideology with suspicion. Even though Moon has said many times that he values the military alliance between the U.S. and South Korea, the South Korean right believes he wants to take the country out of the American orbit of influence, much to North Korea's advantage.
Some progressives also think Moon is no saint. His son didn't appear throughout the campaign period because of an allegation that, in 2007, he had found a job with Korea Employment Information Service, a state agency, thanks to his father's influence. (Moon was working at the Blue House at the time.) Moon and the Ministry of Employment and Labor, which oversees the agency, have denied the charge, but it damaged his image of being a man of the people and free from corruption.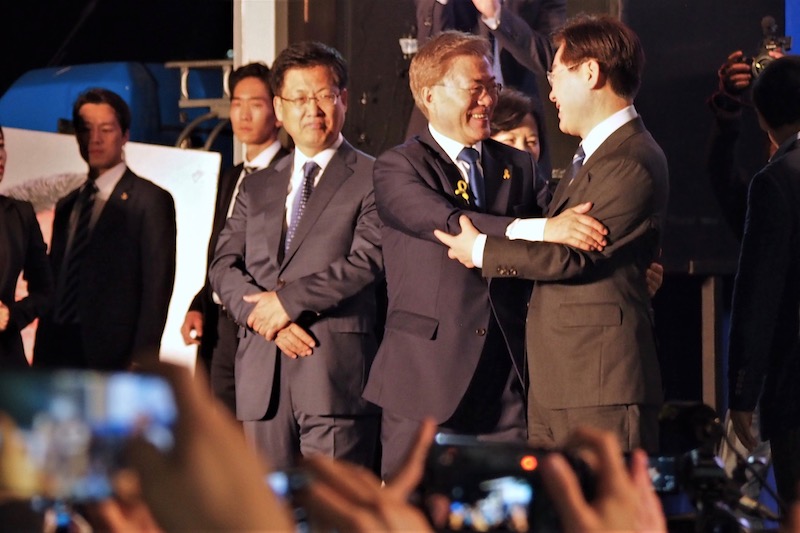 Then there is Moon's atrocious record on upholding the rights of sexual minorities. Early in the year, he met with conservative pastors from the Christian Council of Korea. When asked about his stance on same-sex marriage, Moon told them, "You don't have to worry."
Although homosexuality isn't illegal in South Korea, the country remains largely homophobic. It is prudent of any politician to distance himself from sexual minorities. (Sim Sang-jung was the only presidential candidate out of 13 to openly endorse LGBT rights in this year's election) But Moon, a former human rights lawyer, disappointed many by opting for political expediency over principles.
A pivotal moment came in a televised debate during the campaign. Liberty Korea party candidate Hong Joon-pyo pressed Moon on his views regarding homosexuality. "Do you oppose homosexuality?" Hong asked. "Of course," Moon answered. He stunned many by flat-out declaring, "I don't like it. I don't agree on legalization." (Homosexuality isn't illegal in South Korea, but many in the LGBT community hope for a comprehensive anti-discrimination law that will protect their rights.)
For all his nice-guy facade, Moon has steel, and ambition, that outweighs concern for a marginalized community.
___
On Wednesday morning Moon and his wife attended a much-abbreviated inauguration ceremony inside the National Assembly building.
As victors tend to be, Moon was generous and upbeat in his speech. "From today onward, I will be everyone's president. I consider and serve even those who didn't support me as people of this country." Moon radiated a certain warmth, and it was hard to doubt his sincerity while watching the live footage, in spite of his stance on LGBT rights and long-running difficulties with conservative forces.
Afterwards, his motorcade made slow progress toward the Blue House, and Moon stood up through the sunroof of his car to wave at wellwishers along the way. The whole proceeding felt fresh, even revolutionary, given how his predecessor, Park Geun-hye, had steadfastly clung to ceremony and reclusiveness.
This is only the second day of the Moon Jae-in presidency. After a long winter marked by a sordid political scandal, followed by an emergency election, hope springs eternal. But South Koreans aren't known for their patience. The real business of governing is only beginning and Moon must satisfy a nation that wants real change. We have five years to see if he delivers.
Jun Michael Park contributed research to this article.
*
Our election coverage concludes with this Moon Jae-in profile. You can find the complete series of articles on South Korea's 19th presidential election at the link below:
Become a subscriber to access all of our content.