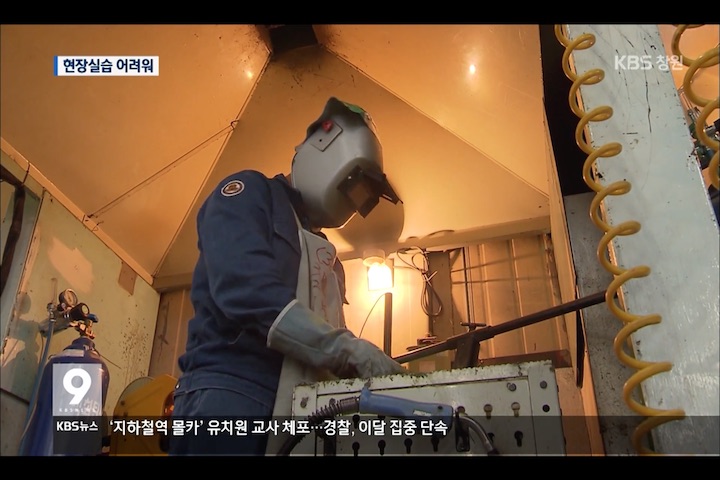 Labor Abuse: A Different Kind of High School Senior Year
On Nov. 19, just four days shy of his 18th birthday, Lee Min-ho's heart stopped. He had been lying unconscious in a hospital in Jeju Island since the fatal accident on Nov. 9. Lee was working alone in a beverage factory as part of his high school occupational training. CCTV footage shows that Lee, working unsupervised, went inside the malfunctioning compress machine for inspection, when it suddenly pressed down onto his neck. He was stuck for a few minutes, until someone finally came to help, but it was too late.
Lee was a senior at a 'specialized high school' in Seogwipo, Jeju. Unlike standard high schools, specialized high schools typically focus on vocational training geared toward employment rather than college entrance. Specialities include a wide range of skills, including in agriculture, engineering, design and social services.
In the second half of senior year, which is fall semester in South Korea, students at these schools usually undergo hands-on, out-in-the-field experiences. The lucky ones may land a full-time job after graduation.
This vocational education aims to facilitate the job search process for the young. Unfortunately, student-cum-trainees are often treated as cheap labor, subject to poor work environment and meager wages.
Critics point that companies, schools and education authorities are all complicit. Companies abuse student labor, relying on the students' lack of experience and knowledge. Schools, pressured to report the overall employment rate to education authorities each year — typically the provincial offices of education — dissuade students from dropping out of their work.
As the schools' annual employment rate affects the amount of government budget they will receive, teachers are susceptible to ignoring students' plights, telling them to endure harsh working environments and overlooking their physical and mental well-being.
The tribulations of these young workers are not unknown. This January, a senior at a vocational high school in Jeonju, identified only by her surname Hong, took her own life. Although the exact circumstances behind her suicide are unknown, some speculated that the death was caused by her stressful job; Hong was a trainee at a call center where workers regularly quit due to unrealistic performance expectations and strenuous emotional labor.
In May 2016, an 18-year-old student-trainee surnamed Kim was hit by a train while fixing a platform screen door at a subway station in Seoul. Instead of working in pairs as stipulated, Kim was working alone, prompting the accident that killed the teenager.
In 2016, 14.2 percent of companies, where high school trainees worked, delayed the payment of wages to the students by around 8 million won (about $7,000), according to the Ministry of Employment and Labor.
While government authorities regularly inspect the students' work environment, they have been criticized for downplaying the issue. Ha Seon-yeong, a member of the South Gyeongsang government council representing minor opposition People's Party, pointed out that the education office deliberately hid the abuses of the students — from 32 reported cases to three, according to Yonhap News. In a statement, the South Gyeongsang education office explained that they had omitted the 29 cases, because the problems were resolved after the reports were filed.
"Civil groups demand that practical training — by dispatching students to field work — be removed entirely," said Lee Sang-hyeon, the chairman of the Specialized High School Students' Rights Association. "But students don't really want that to happen. Instead, [schools and authorities] should protect students from labor exploitation and unfair treatment."
Cover image: A high school student working in a factory. (Source: KBS News Gyeongnam via YouTube)
Become a subscriber to access all of our content.