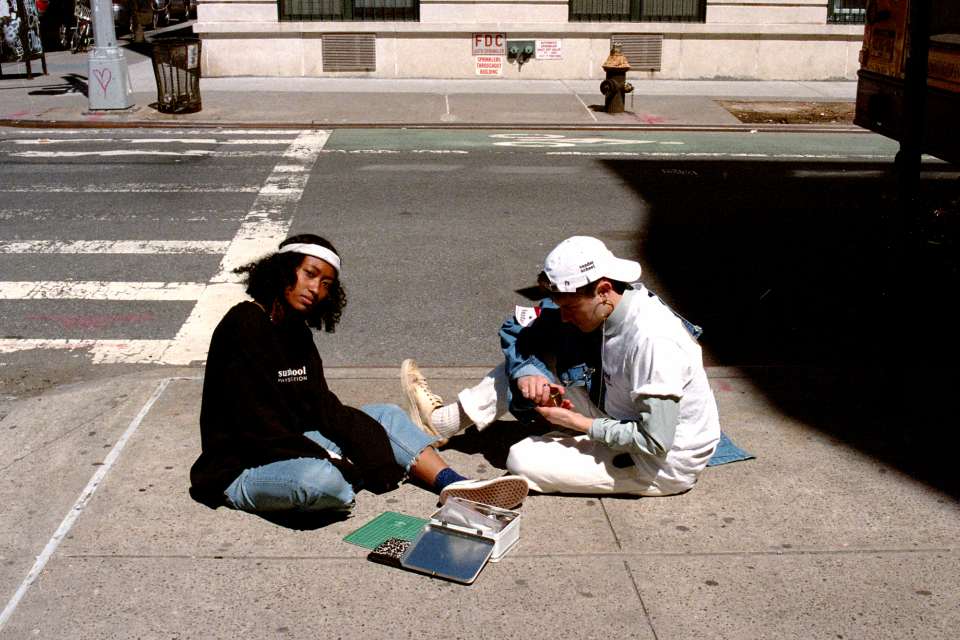 It's High Time: Korean-American Designers Inject Stoner Culture in K-Fashion
South Korea, education, religion, and marijuana. See the odd one out?
Sundae School, a Seoul-based streetwear brand inspired by stoner culture, brings together these four seemingly-dissimilar elements into fashion. The young Korean-American siblings who founded the company have garnered attention in the U.S. since they launched the brand in New York on April 20, widely known in the U.S. as 'weed day.' From caps with stitched cigarette-holders to durumagi coats with spliff pockets, Sundae School's clothes combines counter-cultural elements with traditional Korean and Western culture.
"The brand is kind of our life story," said Cindy Lim, the younger of the siblings. "We wanted a medium to express our childhood upbringing and the counterculture we faced as we grew," she explained.
Given the taboo surrounding marijuana in South Korea, it remains to be seen how Sundae School will be received by Koreans themselves. "I don't think we're a mainstream trend for sure," Cindy said. The brand is still starting out in South Korea: It ships its clothes from a New York-based warehouse and hosts parties to raise awareness of its brand in the country.
"All of our orders have been from California and New York recently," Cindy told Korea Exposé. The sales in South Korea is much lower — maybe less than five percent of the total, according to Cindy. She has noticed that Koreans living in South Korea are careful about showing interest in cannabis.
Despite the passive general reaction from the South Korean public, "sometimes we have very avid fans," Cindy said. She spoke about a memorable South Korean customer who emailed the company for two months to ask for an item that wasn't available in South Korea, eventually getting the item delivered from Sundae School's Brooklyn warehouse directly to South Korea and even paying for the shipping.
The brand made a small splash on Twitter during one of its events, just before 2018 came around. "Hello, Year of the Bitch," was the Korean name of Sundae School's year-end party in Seoul. 2018 is the year of dog based on the Chinese zodiac calendar; the Korean word for 'year' is a homonym of the equivalent slanderous Korean word for women, nyeon. The title of the event upset some Koreans, who angrily tweeted about the event. Some accused the brand of being anti-feminist and derogatory towards females. 
While the word 'bitch' can be associated with women's power in the U.S. — remember that "nasty bitch"? — the same word in Korean, nyeon, lacks the sort of empowering nuance, and has often been used in misogynistic contexts.
"We are apologetic in that people were offended and that we weren't keen enough" about the implication of the title in Korea, Cindy said. "But we see it as a cultural clash, and we are not apologetic in that it didn't even cross our minds that our title would be taken that way."
Amazingly for a brand that's often associated with promoting stoner culture, this was the first time Sundae School directly experienced such a cultural clash in South Korea, a country where news of a celebrity smoking weed makes national headlines.
The siblings decided to view the negative virality as an achievement — an impact they have made in South Korean society. In response to the backlash, on Dec. 29, Sundae School uploaded an unconventional apology post on its Instagram. The post read: "Detention Card: for breaking the internet," announcing the cancellation of its original event and a description of the "detention party" it was hosting instead.
The detention party broke-even within the first 15 minutes. "Overall, [my brother] Dae and I both try to surround ourselves with positive energy," Cindy said. In fact, the Lims plan to utilize the screenshots of negative Tweets for their future apparel design.
Their brand reflects both the Korean and American identities of the siblings. Born in Seoul and brought up by a "traditional tiger mom," Dae and Cindy Lim were raised as high-achieving students and die-hard Christians. While attending high school and college in the United States, they began to foster a goal of expressing their counter-cultural acts into fashion. From using velvet or denim for hanbok-style apparels — not a conventionally Korean choices — to collaborating with Dasan Tea, a Korean brand, to host a "Sunday Recess: High Tea" event (pun intended) at Chinatown in New York, they are expressing the dual nature of their identities through fashion. Now, Sundae School has grown beyond the siblings' "chunky side project" in addition to school and work.
The Lim siblings want to tell a story of what they call the 'yellow counterculture': fighting against the stereotypes burdening Asian-Americans, and against the stigma surrounding stoner culture. Asian-Americans, as portrayed by the Lims, aren't just about hard work and prudishness — not everyone is scandalized by weed. The protagonists of Sundae School are young, edgy, and not afraid to break the rules.
Will this 'yellow counterculture' strategy resonate in the South Korean context? Can the Limi overcome the steep social stigma against weed? "We're happy to see that we were able to bring together Asian-interested 'honor rollers' (those who are part of the yellow counterculture movement) and we're happy to see that even in Korea with T.O.P. smoking weed and going to jail, the reaction to our brand has been positive overall," Cindy said.
While they are not trying to bring about a revolution overnight, they are "getting there, slowly but steadily," Cindy added.
Cover image: Sundae School wants to tell a story of 'yellow counterculture' that fights against the stigma surrounding weed. (Source: Sundae School)
*
Read more about the taboos surrounding marijuana, and the time Big Bang's T.O.P got caught:
Become a subscriber to access all of our content.