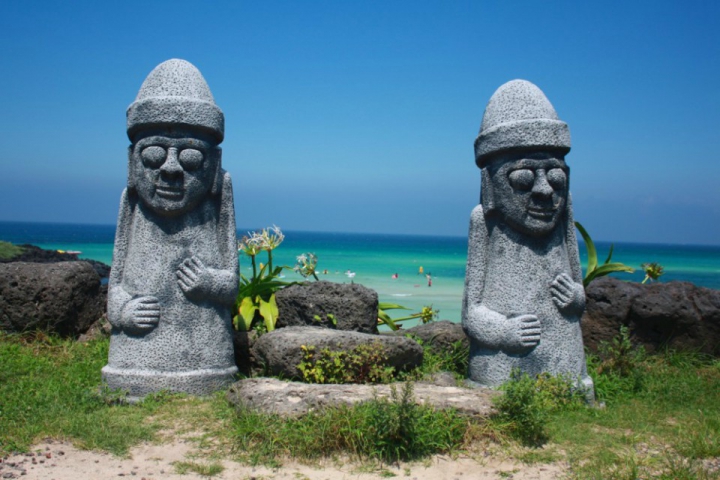 Pretty and Polluted: Jeju Overfilling With Tourists
2011 was a busy year for the civil servants of Jeju Island. South Korea's most famous island — bar Dokdo — had made the shortlist for the so-called "new seven wonders of nature." With no restrictions on the number of telephone votes cast by each individual, Jeju's public officials were punching their phone keys like Las Vegas slot machine addicts, all day, every day. In the end, they clocked up a reported $20.3 million in international phone bills.
It worked. When voting closed, Jeju was named one of the new seven wonders of nature. The island had another shiny green label to join its UNESCO World Heritage inscription, its Global Geopark status, its Ramsar-listed wetlands and its UNESCO biosphere.
But while furiously clocking up green credentials with one hand, the island's officials are spurring on a spate of huge development projects with the other, pushing the island's limited natural resources towards their limit and threatening to spoil the very nature used by the officials to brand the island.
Once upon a time, Jeju was an independent kingdom called Tamna; in 1404 the island became part of mainland Korea's Joseon Dynasty. In the 20th century, during South Korea's years as a dictatorship, travel abroad was generally forbidden even until the 1980s, making Jeju the quintessential honeymoon destination for new middle-class couples.
Today, Jeju, a special autonomous province off the southern coast of South Korea, is under unprecedented strain from a rapidly growing population, skyrocketing tourist numbers, and rampant development. In recent years, 20,000 people annually have made the island their new home (in 2016, the population stood at 660,000). Last year, almost 16 million outsiders visited, up from 5 million in 2005 and 10.8 million in 2013. Seoul-Jeju is the world's busiest air route, with an average of 189 flights per day.
With more visitors comes more building: New housing has kept up with the growing population, but the most egregious development projects cater to tourists. The island now has 30 golf courses, while the number of hotels and mega-resorts is steadily growing. All this construction results in deforestation and heavy burdens on the island's water supply, sewage systems and waste disposal. Most controversially of all, South Korea's central government is now planning to build a new airport in the eastern part of the island, with the support of provincial authorities.
For millennia, the island's strong winds and volcanic rock formations have seen the evolution of thick forests, rolling pastures and dramatic coastlines, an environment quite distinct from that of the mainland and appealing to domestic tourists as a result. Its produce — seafood, tea, herbs — enjoys and capitalizes on a reputation for coming from a "pristine nature."
Drive around Jeju today on the country roads that crisscross the island: You'll see brand new box-shaped realtors' offices mushrooming out of the fields, gates leading to newly-opened mega-resorts where the landscaping is still being finished, the famous penis park, and museums of teddy bears, African art and computers. Newly built two-story cafés look down into islanders' single-story houses and yards.
Many locals do not welcome the rising tide of tourism. One of the biggest reasons: water.
"An island is a finite space," said Kim Jeong-soon, who has lived in Jeju since childhood. "We need to calculate how many people we can accommodate."
"When I was young, I never imagined that anyone would buy drinking water," said Kim, who is also the leader of civic group Gotjawal People. "We always had plenty of groundwater to drink. Now everyone buys their water or uses filters."
Jeju has no major rivers. In broadest terms, it is a shield volcano rising out of the sea. Rain falling on its slopes seeps quickly down through the volcanic soil and rock into the groundwater, on which the island's inhabitants have traditionally relied for drinking.
In July 2017, civic group Jeju Solidarity for Participatory Self-Government and Environmental Preservation issued a statement warning of another year of overloaded sewage systems and tap water shortages. According to the group, the island's sewage treatment works had been running over capacity for most days from January to May, even before the summer influx of tourists. The tap water situation was equally ominous, with demand reaching 92 percent of the island's supply system capacity.
"The cause of these problems is the issuing of too many development permits by the Jeju provincial government," Jeju Solidarity said in the statement.
At a time when the island's most basic infrastructure is being strained like never before, major construction projects are taking place — mega-resorts like the Ora Tourism Complex.
Set to be the biggest ever project of its kind on the island, Ora will cover an area of 3.5 million square meters on the northern slopes of Mt. Halla and include a golf course, casino, thousands of hotel rooms and multiple other large-scale attractions — so many that guests may never need to leave the resort.
"Ora is designed to take about 60,000 people, but that's a nonsensical number," said Kim Jung-do, head of policy at the Jeju branch of the Korean Federation for Environmental Movements (KFEM). "About 35,000 people now come to Jeju every day."
If Ora Tourism Complex were to accommodate 60,000 people, it alone would add almost another 10 percent to the island's population at peak times. And Ora is merely the biggest of many planned developments.
"If you want to attract 60,000 people to the resort, you need to double the number of tourists coming to the island, and to attract all of them you need more planes and more airports. It's all connected," said Kim.
But Jeju's provincial officials do not seem overly worried about exhausting the island's water supply.
Park Yoon-suk, an official at the local government's Environment Property Management Division, claimed that the authorities would "develop resources as necessary," and that water savings had been achieved through upgrades to the current pipe network which prevents losses through leaks. He did not rule out the possibility of turning to seawater desalination to produce freshwater in future, if necessary.
Rather than trying to put the brakes on, the provincial and central government are now planning to build a second airport to usher in yet more visitors to Jeju.
Kang Won-bo is the leader of a local committee protesting the building of the new airport, announced by the Ministry of Land, Infrastructure and Transport in November 2015. As well as being built on agricultural land, the airport is set to be accompanied by an "air city," including business facilities and a hub of new transport links with the rest of the island. For 53 days, he and a small group of fellow protesters have camped outside the province's seat of power.
"We're demanding that the land ministry totally reexamine the airport plan, this time consulting local people," said Kang, who criticizes the central government's unilateral decision. "Noise is the biggest problem. Compensation has been offered for the people whose land the airport is built on, but not for those who'll be affected by the noise — noise so bad that we'll have no choice but to move away."
On Nov. 20, Kim Kyung-bae, vice-chairman of the anti-airport committee, was hospitalized after a 42-day hunger strike. Yet plans to build the new airport remain unchanged. Jeju's existing airport has been running above capacity since 2015, according to Yonhap News.
"We're already experiencing excessive tourism," Kang said. "It's making life more inconvenient for locals. So it's nonsense to try and get more tourists here. Isn't it time to stop?"
On Nov. 20, the Bank of Korea published results of a survey, titled the "Touristification of Jeju." Out of 200 respondents in Jeju, the majority said that tourists were having a negative effect on their lives, including on local real estate prices, living costs, the natural environment and safety.
Interestingly, despite the negative perception, 41.9 percent of the same respondents expressed support for "tourism development" on the island, while only 21.5 percent voiced opposition.
Tourism is indisputably a key element of Jeju's local economy, providing jobs and income for many locals. But the sheer numbers of tourists now arriving are prompting discussions about the drawbacks, including talks pointing out a transition from "mass tourism" to "over-tourism."
Scrubby bush forest
As well as drawing heavily on the island's finite groundwater resources, which vary from year to year according to rainfall, many development projects are taking away an important part of Jeju's ecosystem that collects the water in the first place.
Gotjawal, a local dialect for "scrubby bush forest," is a type of dense forest ecosystem that evolved on rocky solidified lava flows in four major regions of Jeju: mostly in the medium-altitude zone between Jeju's coastal regions and Hallasan National Park.
Gotjawal forests are seen by many as the "lungs" of Jeju thanks to their dense vegetation. They also play a crucial role in collecting precipitation that sinks down through the rock to become groundwater.
But the rocky impenetrability that historically saved most gotjawal from being turned to farmland also left them with low land prices that proved irresistible to golf course developers. In recent decades, this wild woodland that once collected water and sheltered wildlife has been cleared and landscaped to create golf courses, notorious for their heavy use of water for irrigation and their pollution of groundwater with pesticides and fertilizers.
Kim Jeong-soon leads Gotjawal People, a civic group that has been campaigning for 12 years to save these unique ecosystems.
"About 60 percent of gotjawal areas are private land," she said. "So it's very hard to collectively designate them as protective areas." According to data from Gotjawal People, 31.9 percent of all gotjawal forest cover has already been destroyed, with golf courses and tourist facility development being the biggest causes of destruction.
Gotjawal People collects donations to buy up gotjawal land and place it in a permanent national trust-like arrangement. So far, the NGO has become co-owner of almost 475,000 square meters across two locations, out of a total area of 92.6 square kilometers, which accounts for roughly 5 percent of Jeju Island.
But such efforts are hampered by speculators who have already acquired patches of remote woodland in the hope of selling them at a huge mark-up to the next mega-developer that comes along.
Kim also sits on the provincial government's committee for assessing the environmental impact of new developments, where key gaps in the approval system have left her amazed.
"There's effectively no system for determining whether a given site is suitable for development," she said. "That's why projects like Ora Tourism Complex and Jeju Safari World [another major new planned resort] are going ahead — there are no legal grounds to block them, even though they really shouldn't be built in those locations. Our committee just plays a rubber stamp role. The only three conclusions we can come to are approval, approval subject to amendments, and demand for revision. There's no 'rejection' option."
Despite numerous requests for comment about its environmental policy, Jeju provincial government had not responded to Korea Exposé at the time of publication.
While Jeju's government continues to cram the island with more tourists, locals can do little but watch as their land and water get bulldozed, sucked up, and shat out.
"Let tourists compete in advance to reserve places," said Kim. "We could just say to people, 'If you want to come, make a reservation and wait your turn.'"
Politicians, including former presidential candidate Lee Jae-myung, have suggested collecting a "tourism tax" to use on issues including environmental preservation — essentially entrance fees for entering the island — but these suggestions have never materialized.
Kim Jung-do of KFEM voiced skepticism. Politicians were always promising manifestos to protect the environment and rein in rampant development, he said, but these were rarely fulfilled.
It remains to be seen how many new waves of mega-development the island can put up with before water shortages and pollution become an everyday presence.
"The environment is like our liver or our kidneys," said Oh Yeong-hwa, owner of guesthouse Jeju Story, as she talked about the pressures faced by the island. "You rely on them to live, but you can't always feel whether they're healthy or not. You only notice them when they stop working."
Cover image: Jeju Island. (Source: J. Patrick Fischer via Wikimedia Commons, CCA SA-3.0)
Become a subscriber to access all of our content.