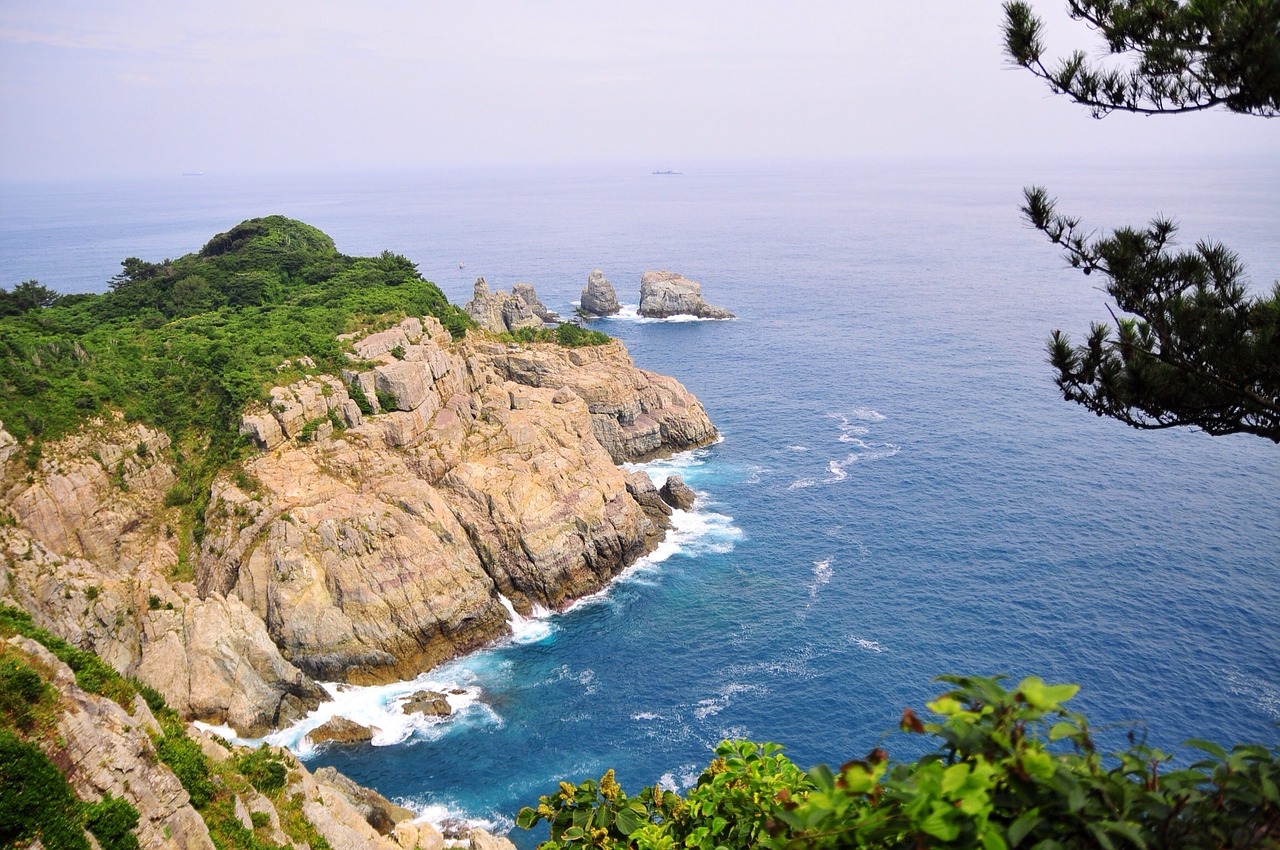 Islands to Visit in South Korea This Summer
Go to South Korea, and everyone will know these two islands: Jejudo in the southern end of the peninsula, which attracts over 15 million international and local tourists annually; and Dokdo, which is more a cluster of undistinguished rocks in the sea, famed for being at the center of the territorial dispute with neighboring Japan, which calls it Takeshima.
But South Korea has so much more than these two islands. In fact, there are more than 3,000 islands within the South Korean border. Most of them are uninhabited, beautiful and — if you're tired of the crowded beaches of Haeundae in Busan — relatively empty, but still accessible. There is a bewildering number of choices; but here is our pick for the top five South Korean islands to visit this summer (or really, throughout the year).
1. Oedo, South Gyeongsang Province
Once desolate and isolated, Oedo is now a verdant "Botania," (portmanteau of botanical garden and utopia), a popular day-trip destination on the southeastern rim of South Korea. Flourishing in rare subtropical plants and colorful flowers, the island boasts a magical landscape of trees trimmed in swirls and mushroom shapes.
Zigzag up the steep hill, and a scene from Willy Wonka's psychedelic chocolate factory will come into sight. Pops of colors and shapes will make you wonder whether you are dreaming. When you reach the top of the hill, turn around to see the cerulean water that fits perfectly in this exotic panorama.
This island is tiny enough to see within an hour or two and is reachable from the seven wharfs in Geoje. If you get hungry after the stroll, you can grab some snacks at a kiosk, but the island doesn't offer a big meal option or overnight accommodation.
2. Yokjido, South Gyeongsang Province
If you like mackerel, don't miss Yokji Island where you can indulge in freshly caught fish. (Source: EBS Documentary)
A 50-minute ferry ride from Tongyeong will bring you to Yokji Island, or Yokjido, where one can slip into a food coma, and after waking, go on a walking trail to marvel at the glowing sunset from the rocky cliffs.
Yokjido is known for mackerel sashimi, Koreanized Chinese food and sweet potato. A cafe run by eighty-something grandmas serves drinks and snacks made out of sweet potato, be it latte, cookie or soup.
If you are a cat lover, Mokgua village on the island is a home to over 100 cats meandering along the coastline. There are numerous inns and lodgings where you can stay for a night or two and slowly digest the food and scenery the island offers.
You can take a ferry from three different terminals — Tongyeong, Samduk and Dangpo — in Tongyeong, 300 km southeast of Seoul. It takes around one hour to reach the island from Tongyeong.
3. Gwanmaedo, South Jeolla Province
One of hundreds of islands in Dadohaehaesang National Park, Gwanmaedo offers a bounty of nature's gifts. Spend the day on the island's mail walking trail to spot all of "Gwanmae's eight sceneries," including a "sky bridge" that connects two rocks above the roaring waves, waterfalls and of course the beaches.
Like many islands in South Korea, Gwanmaedo is home to an aging population. The local middle school closed down a few years ago (and is open to exploring travelers), and there is no elementary school. Children are hard to find here. Especially in the aftermath of the Sewol ferry disaster in 2014, visitors to the islands near Jindo have decreased. As of now, the future of the island looks uncertain.
It takes around 1.5 hour from Paengmok Port in Jindo to get to Gwanmaedo. Camping is free; the campsite lies inside a dense pine tree forest by the beach. Other accommodations are available in the village, but food is harder to come by. Supermarkets sell snacks and basic alcohol; restaurants are not open without reservation.
4. Bogildo in South Jeolla Province
If you want to enjoy both scenic nature and historic sites, Bogildo is a perfect fit. The rock-strewn island was home to Yoon Seon-do (1587-1671), a Chosun Dynasty bureaucrat and poet who spent his last days on the island in exile after being embroiled in various political strifes. Here are two places — both designated as national cultural property — that Yoon frequented on the island.
Seyeon Pavilion sits in the middle of a traditional garden. It's where Yoon used to write poems and lounge around, watching dancers perform on boats floating on a calm pond.
Another pavilion is harder to reach, on top of a rocky cliff. Dongcheonseok-sil, which literally means "a place where a hermit lives," is big enough to accommodate just two people and has a beautiful open view of the valley below. You need to sweat a little to reach this place, but once you sit on the edge of the pavilion, ocean breeze will quickly cool you down.
There's no direct ferry to Bogildo, but its far-flungness is precisely what lets the place keep its secretive allure. There are ferries from Hwaheungpo and Haenam Ttangkkeut Ports on mainland proper, but some only go so far as a nearby island called Nohwado (from where you can drive to Bogildo). If you don't have a car, make sure to take the ferry from Hwaheungpo Port bound for Dongcheong Port, from where shuttles will take you to your final destination via a bridge.
There are various accommodation options near the beaches and the port. If you fancy a stay near one of Yoon's retreats, Seyeon Pavilion, you can find a few inns there too.
5. Ulleungdo, North Gyeongsang Province
Ullengdo is the lesser-known but bigger sibling of Dokdo. Breathe in some crisp air, disconnect from the outside world and partake in picturesque trails and beautiful vista.
This volcanic island demands two things of visitors: strong legs and comfy shoes. Don't miss Seonginbong, the tallest mountain on the island whose highest peak is a whopping 984 meters. To put it in perspective, that's about 150 meters higher than Bukhan Mountain, the one behind the presidential residence in Seoul.
And if you have a penchant for adventure, water sports in the choppy sea will satiate your inner daredevil.
Located far out to the east of the Korean Peninsula, Ulleungdo is known for its spectacular sunrise. On your second morning (or the third, or fourth), make an effort to go up to Naesujeon, a scenic hotspot that overlooks the island. But if you are a late riser, don't you worry. The lookout provides a breathtaking view any time of the day.
After a long day, you'll be rewarded with delectable food options in local restaurant. Many eateries will stimulate your tastebuds with tangy seafood and herby side dishes, all locally harvested.
You can take a ferry to Ulleungdo from four different places: Pohang, Uljin (both in North Gyeongsang Province), Donghae and Gangneung (both in Gangwon Province). You won't need to worry about accommodation options. Plenty of hotels, inns and guesthouses are there to choose from.
Cover image: Oedo, South Korea. (Source: Pixabay)
Become a subscriber to access all of our content.