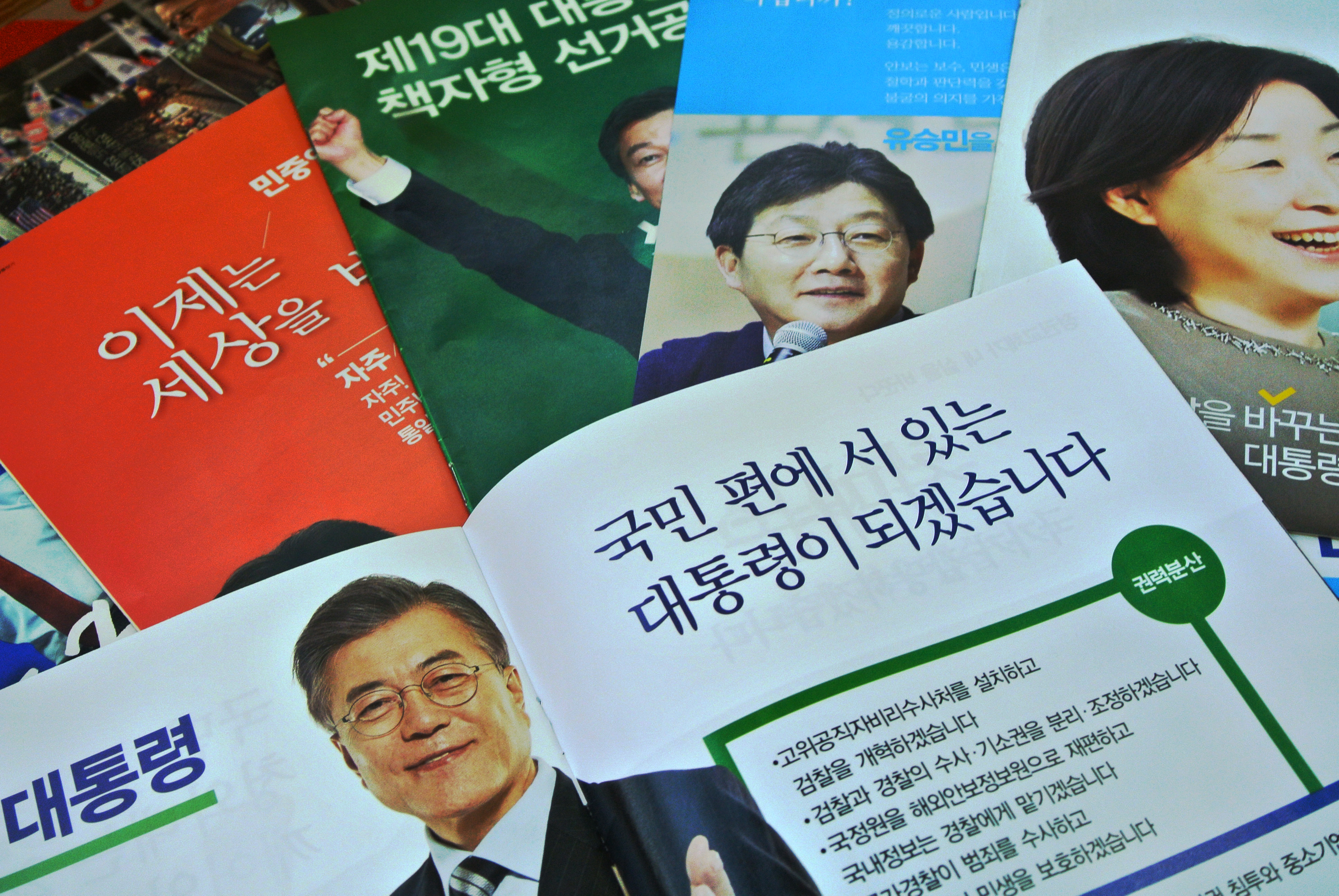 S Korea's Election Season: You've Got Mail
With just over a week left until South Korea's presidential election, candidates are making last-ditch efforts to win voter support. The National Election Commission (NEC) recently mailed out packages containing pamphlets put together by each candidate. Last week, one of the packages arrived at my family's home in Seoul.
We all gathered around and excitedly opened the neatly sealed brown paper envelope, expecting to find thick piles of colorful posters consisting of aspiring manifestos ambitiously prepared by all 14 candidates, the largest number of presidential candidates in South Korean history (there were originally 15, but one dropped out on Apr. 22). We expected to find meticulous work by some of the most skilled copywriters and web designers in the country.
Well, that wasn't necessarily the case. But I did find some interesting stuff.
What was most striking to me was how incredibly sloppy many of the flyers were. With the exception of all top five contenders, the majority of the other candidates just had one piece of paper, some black and white, and one even missing a photo of the candidate.
Ahn Cheol-soo, the candidate with the second highest support rate, had a thick pamphlet, but its front page literally included the title, "The 19th Presidential Elections Pamphlet-Format Election Promotion." (Did his pamphlet designer mistakenly choose the wrong cover image?)
To officially register, prospective candidates have to pay the NEC 300 million won (around 260,000 U.S. dollars) of their own money. They are only reimbursed if their individual support rate passes ten percent in the ultimate votes on election day.
Election pamphlets are all published at one's own expense. Candidates with relatively little party donations cannot afford to pay for fancy 16-page long booklets (the maximum volume provided by NEC's guideline).
But the unprofessional-looking papers set aside, the bizarre, esoteric pledges on many of the pamphlets made me think that for some candidates, their goal wasn't necessarily to appeal to a larger segment of South Korean society.
The Election Bulletin System was first adopted in May 30 1950 during the second parliamentary election in South Korea. The law requires election pamphlets to be delivered directly to voters by mail.
In the last 2016 general election, 320,000 posters and 80 million flyers were distributed throughout the country. For this presidential race, the NEC said they mailed out a total of 20 million packages to voters.
Some voters say these analogue methods are still useful for older people who lack access to electronic devices. Some say the mailing system also encourages the voters to carefully go over the details of candidates' promises, while also drawing more attention to non-mainstream candidates.
But still many others criticize the mailing system as a waste of paper, especially at a time when many South Koreans get information on their smartphones.
More critically, it seems to be overworking employees in the post office. Huffington Post Korea recently reported that two postmen from the same post office died in the past two months, most likely as a result of excessive work during the election season.
Stay tuned for more on this story, coming soon on ké radar.
Cover image: Election pamphlets are mailed in neat packages. (Seohoi Stephanie Park/Korea Exposé)
*
Read more on South Korea's presidential elections:
Become a subscriber to access all of our content.