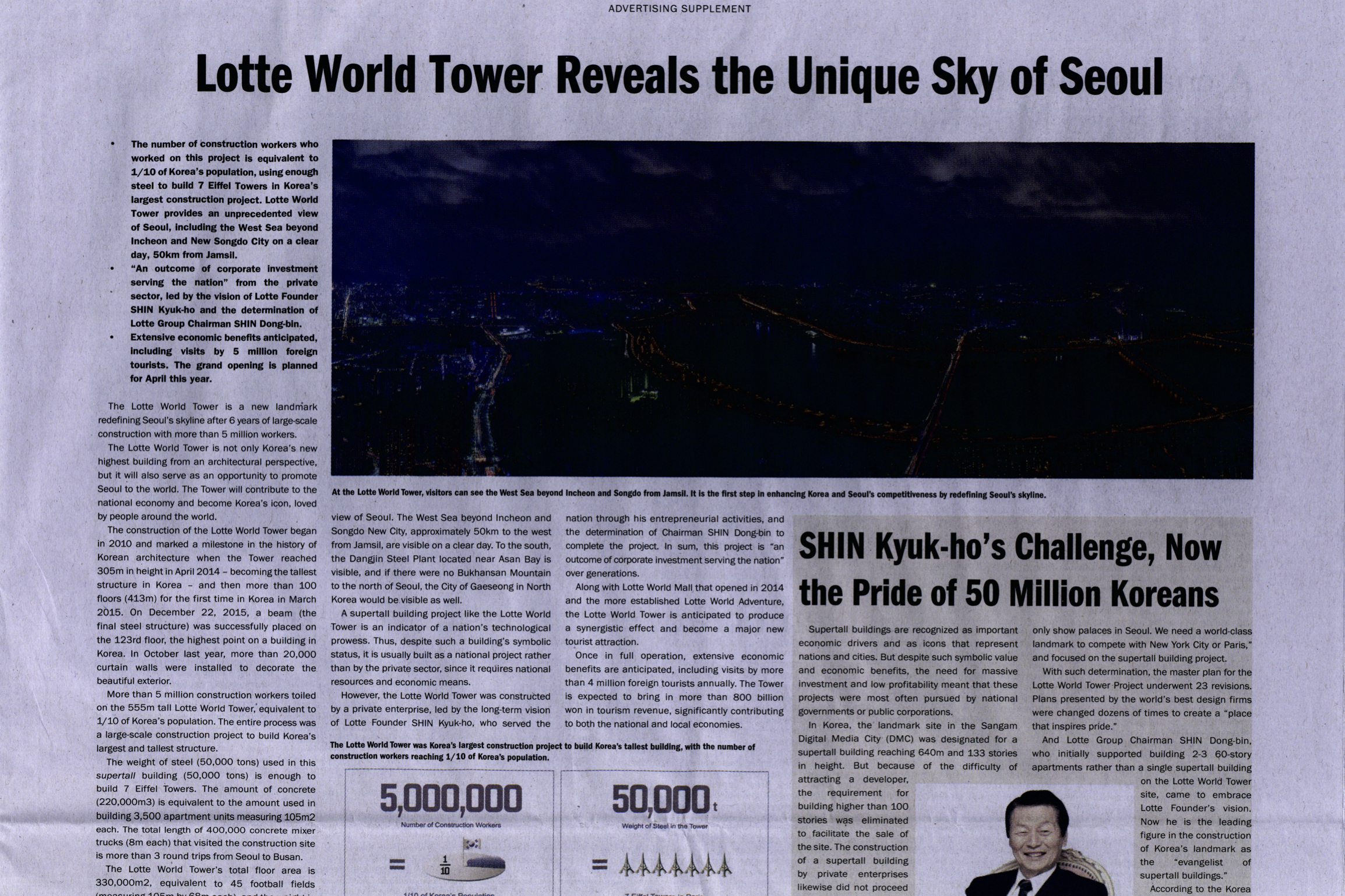 Colossal Mystery of Lotte World Tower Ad
Lotte Group, one of South Korea's biggest chaebol (family-run conglomerates), raised eyebrows with a full-page advertisement on page five of The New York Times's international edition on Monday.
"Lotte World Tower Reveals the Unique Sky of Seoul" declared a headline at the top of what appeared to be a faux-news-style advertorial consisting of three articles. (To avoid confusion, NYT, as a matter of policy, clearly marks all such advertising.)
Run to trumpet the opening of Lotte World Tower in Seoul on the same day, the ad had a decidedly stilted style.
"SHIN Kyuk-ho's Challenge, Now the Pride of 50 Million Koreans" stated the headline of one article, capitalizing the group founder's surname in a way rarely seen outside South Korea.  
This article concluded by quoting Lotte Corporation CEO Park Hyun-chul's assertion that, "The Tower [sic] will become a 'Lovemark,' loved by people around the world."
The overall tone and design of the article grated with some South Korean netizens.
"The style is like something edited by a government newspaper in a [Persian] Gulf kingdom," wrote Facebook user Sunghwan Moon. 
Some of the statistics cited in the article are also surprising. Lotte claims that five million workers "toiled" on the construction of the tower, "reaching 1/10 of the Korean population," a number that seems on the high side.
Hong Wan-pyo, a publicity official at Korea Construction Workers' Union, told Korea Exposé, "We estimate the total number of building site construction workers in Korea at between one and two million, depending on which statistics you consult."
But Lotte Corporation's Oh Seung-jun explained to Korea Exposé that the five million figure was obtained by multiplying the actual number of workers by the total number of days of construction. Work on the tower began in November 2010. (It is not clear why Lotte used this unconventional method of calculation.) 
A New York Times advertising account executive contacted by Korea Exposé quoted a "discounted" price of 74,865 U.S. dollars for a similar full-page color advertorial, with two images and an infographic, in the paper's international edition. Location on page five could not be specifically guaranteed, he said.
The Lotte ad is the latest entry in a peculiar North and South Korean tradition of running unexpected advertisements in foreign newspapers. The North was flagged by NYT as early as 1969 for running paid ads for Kim Il-sung's biography in the NYT and Times of London, then reporting these same ads in its own media as "articles." It pulled the same trick with Kim Jong-il's biography in 1985.
South of the DMZ, Professor Suh Kyoung-duk of Sungshin Women's University has bought page space in The New York Times publicizing "South Korean things" as diverse as bulgogi, Dokdo, bibimbap and the comfort women issue. He has also run video-based promotions on a giant signboard in New York's Times Square. Suh's efforts have met with bemusement among many Americans, including an NPR journalist who traced a mysterious 2014 bulgogi ad in NYT back to the self-appointed national publicity ambassador and determined that it had been paid for by South Korean food and beverage company Chicken Maru.
In October 2015, then-South Korean president Park Geun-hye was welcomed to Washington by no less than four expensive full-page color ads in Washington Post, run by corporate giants Samsung, LG and SK Hynix, and by taxpayer-funded government agency Korean Culture and Information Service. As Washingtonian pointed out, the ads appeared to have a "target audience of one," but it's not certain whether she actually saw them. 
Editor's Note: The paragraph containing the advertorial price quote from NYT was added after publication, when information became available. 
Cover Image: The Lotte World Tower advertisement on NYT. 
Ben Jackson wrote this radar report.  
Become a subscriber to access all of our content.