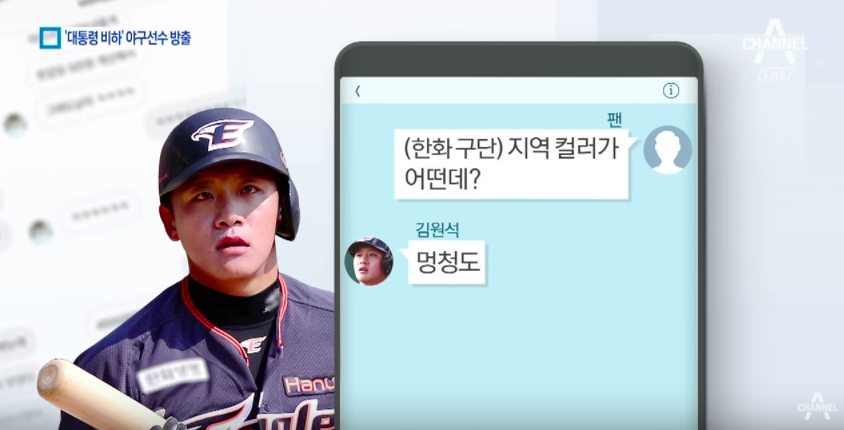 Baseballer Learns That on Social Media, It's One Strike and You're Out
Everyone occasionally gripes about their bosses or the politicians that run their country, right?
But in 2017, such airing of frustrations is likely to take place on social media, with the risk of damning comments ending up being shared publicly for anyone to see. South Korean baseball player Kim Won-seok found this out the hard way, after private messages with a fan on Instagram were screenshotted and posted online. As punishment for the exchange, Kim has been dropped by his team, the Hanwha Eagles.
The comments that got Kim into trouble involve him calling South Korean President Moon Jae-in a "commie," an old slur used by South Korean conservatives to demean anyone on the left end of the political spectrum. He also insulted the then-manager of his team, and used an untranslatable pun to call Chungcheong Province, the area around where the Eagles play, "Idiot Province."
In a statement released on Monday, the team announced that they had summoned Kim back from training camp in Japan and had decided to release him. The statement also said that the Eagles plan to strengthen their social media education for players with the goal of preventing a similar incident in the future.
According to the Hankook Ilbo newspaper and other local media outlets, Kim had been chatting to a fan on Instagram, who then shared screenshots of their exchange with a friend. This third person was allegedly the one who posted the screenshots on DC Inside, an internet forum.
On the team's official Facebook page, there was no post related to Kim's case, but users had flooded the most recent posts with comments related to Kim. Most such comments were angry in tone and called for Kim to be cut from the team. "We don't need jerks like you. I only want to watch players who have a proper mindset," read a comment by a user named Hong Deok-hyun.
Others took a more nuanced view of Kim's case. "Kim thought he was having a private conversation. I also get fed up with life sometimes and disparage my colleagues when out with friends. Kim Won-seok is not a stone statue," wrote Park Doo-wan, before going on to ask whether Kim's words would be reflected in his actions on the field, and whether unsavory comments were enough to warrant his release.
Dan Kurtz, who maintains MyKBO.net, a website about South Korea's pro baseball league, told Korea Exposé by email that Kim won't have many avenues to dispute his release, because unlike Major League Baseball, the South Korean pro league doesn't have an influential players union.
This is the second time that Kim, 28, has captured wide public attention, the first having been far more flattering. Earlier this year, Kim was the hero of an epic five-hour long game against the Doosan Bears, driving in the winning runs as part of a four-hit, three RBI performance. Before that game, Kim was a fairly obscure player who was unknown to most fans.
Per the conditions of his release from Hanwha, he will be placed on waivers and can be picked up by another team.
Cover image: South Korean baseball player was caught describing Chungcheong Province, the area where he plays, as "Idiot Province." (Source: Channel A)
Become a subscriber to access all of our content.