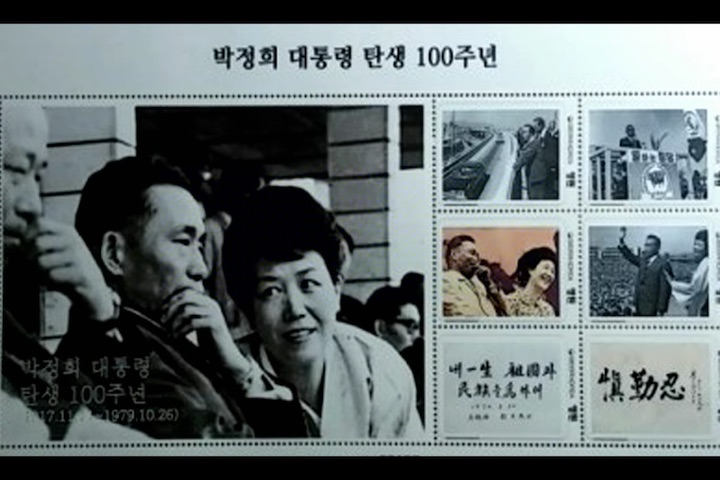 "I'm Young, I'm Fast, I'm Pretty": S. Korea's Dogged Young Conservatives
After Korea Post scrapped plans to print stamps honoring former military dictator Park Chung-hee this July, the youth of today picked up the slack.
University Students' Forum of Korea, a conservative youth group, launched a crowdfunding project in September to print stamps commemorating Park's centenary (Nov. 14).
This was unusual: Normally in South Korea, it's old folks, people who were born into a desperately poor South Korea and remember Park's rule in the 1970s as a time of rapid development, that lead conservative campaigns. For example, during last year's movement to oust President Park Geun-hye (Park Chung-hee's daughter) Parksamo, a fanclub of the now-ousted younger Park, mobilized counter protests, made up almost entirely of middle-aged and elderly people.
The stamps, approved while Park Geun-hye was president, were controversial even then. Commemorative stamps to honor a figure's birth are usually reserved for less contentious figures, like celebrated artist Lee Jung-seob. But the elder Park's legacy is disputed, to say the least. Park, while credited to have guided poverty-stricken South Korea to industrialized wealth during his 18-year rule, is also considered a repressive strongman who stifled democracy.
But the University Students' Forum thought it was wrong for a newly elected liberal administration to rescind an approved project.
"Political stance and pressure should not stop the printing of stamps of a particular president," wrote the statement announcing the crowdfund. The group initially planned to print 10,000 stamps, but received enough in donations from over 5,000 individuals to print triple that number.
The unexpected success of the campaign may indicate where youth conservatism stands today in South Korea: marginalized but not without a foothold.
Unmistakably, most young South Koreans are left-leaning. A 2016 poll by daily newspaper Joongang Ilbo on university students' political stances shows that 60 percent of respondents identified as progressive, compared to only 18.9 percent who said they were conservatives. Asked to describe their political stance on a scale of 0 (progressive) to 10 (conservative), the average response was 4.21.
But regardless of political stance, not many are willing to publicly stand up for their political beliefs. 88.3 percent of respondents said they aren't willing to participate in student activist groups.
Without a large youth conservative movement, young conservatives are seeming to rely on their elders. Facebook comments and reviews indicate that most support for the University Students' Forum comes from older people, who say they are proud and heartened to see the uncommonly "courageous" or "right-minded" youths who make them hopeful about the country's future.
Founded in 2009, University Students' Forum of Korea, aims to inculcate a sense of national security while supporting neoliberal economics. The group's Facebook page says in its cover image, "I'm young, I'm fast, I'm pretty."
Cover image: Park Chung-hee stamps printed by University Students' Forum of Korea. (Source: Korea Right-wing V Youtube Channel)
Become a subscriber to access all of our content.