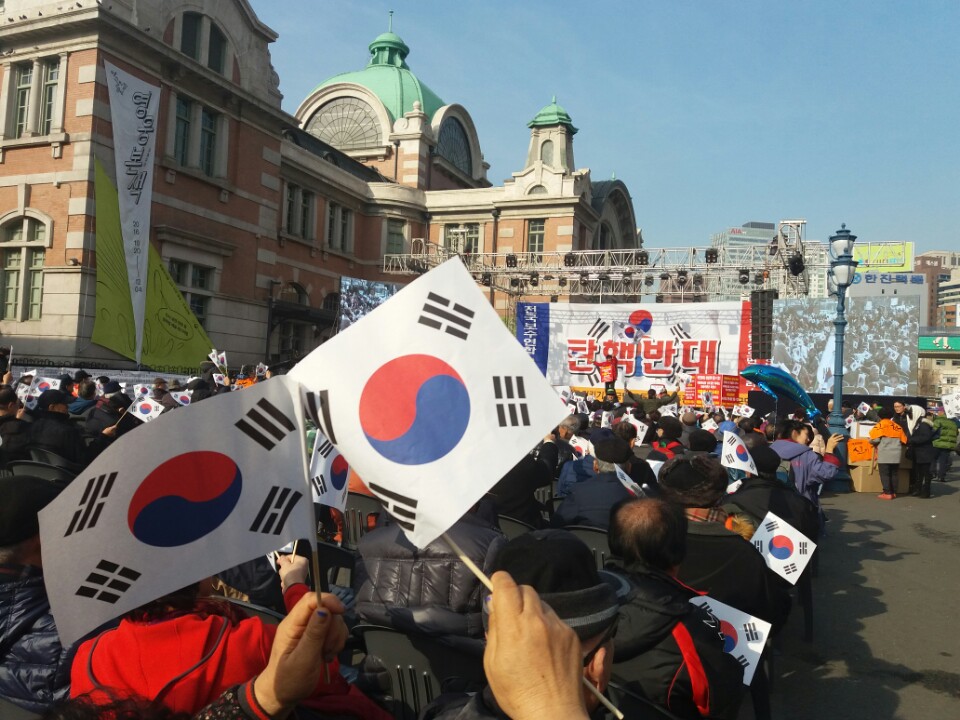 "I Love Park Geun-hye": The South Korean President's Last Loyalists
It seems like president Park Geun-hye doesn't have many supporters left. Her closest aides are gone, the Supreme Prosecutors' Office — normally an ally of the sitting president — called her a criminal suspect, a growing portion of her Saenuri party is supporting impeachment, and her approval ratings have consistently been in the single-digits for the past few weeks.
But she still has a handful of faithful servants who cling to the notion that she is the greatest leader to succeed General Park Chung-hee, her father and South Korea's longest ruling dictator. Most notably, the I Love Park Geun-hye Club, called "Parksamo" in Korean, has championed the president at the consecutive weekend rallies in South Korea.
Parksamo, founded in 2004 when Park Geun-hye became the leader of the main conservative party, actually enjoyed a boost in membership during the Choi Soon-sil scandal.
"To all of us, Park Geun-hye is an incredibly powerful first love," Chung Gwang-yong, the head of Parksamo, posted on the group's website last month. "To be born a man is to love only one master. I have no thought of loving another."
The group has been largely inactive throughout Park's presidency. But the Choi Soon-sil saga has reenergized its members. They profess continuing support for Park Geun-hye and condemn anyone who opposes her. Since November, Parksamo has been convening regularly at the weekend rallies to protest against the anti-Park demonstrators and anyone who calls for impeachment.
"Hi everyone, organizers estimate that a million protesters are here today," a Parksamo rep joked at a pro-Park rally at Seoul Train Station last Saturday. The crowd of thousands, mostly devoid of young people, laughed. The joke alluded to the anti-Park candlelight vigils, which, its organizers estimate, brought out each Saturday hundreds of thousands to more than a million people in Seoul alone for the past six weeks.
Parksamo claims that the organizers of the candlelight vigils — the 1,500 civil groups that compose the People's Action for Immediate Resignation of Park Geun-hye — are exaggerating the numbers of protesters.
This doubt is understandable at a glance, because the difference between the police estimate and that by the organizers is enormous. At the most recent rally on Saturday, for example, organizers estimated that 1.7 million had gathered in Seoul, while police said 320,000. An AP analysis shows that the actual number is difficult to gauge, but the organizers may be closer to the truth than the police are.
The turnout at the pro-Park rallies seems miniscule in comparison. Parksamo estimated over 70,000 supporters came to their anti-impeachment rally at the train station last weekend. (Police estimated a little over 10,000).
But the numbers are enough to raise fears of a physical confrontation. Two weekends ago, a filming crew from the cable TV station JTBC was attacked by some Parksamo protesters, who broke reporting equipment. JTBC receives considerable support from younger viewers and is often seen as playing a pivotal role in the "Choi Soon-sil/Park Geun-hye Gate," as the scandal has come to be known, especially after finding and reporting on Choi's personal tablet PC that contained the president's speeches.
Parksamo's doubts extend beyond the protest statistics. They claim that Park's approval ratings have been rigged by the polling agencies; that the media is exaggerating and encouraging the "witch hunt" against the president; that this entire debacle has been designed by North Korean sympathizers.
The North Korea accusation, also voiced by a pro-Park Saenuri lawmaker, may sound illogical. But in the South Korean context, it's a common tactic by far-right conservatives to condemn the opposition. It's not impossible that among the millions of anti-Park protesters, there are some North Korean sympathizers — however that may be defined — but there is no evidence to suggest that they orchestrate the protests.
"What did Park Geun-hye do wrong? Choi Soon-sil is the evil one," said Im Bok-sun, a 72-year-old protester at the Parksamo rally on Saturday. "I feel so sorry for the president for being influenced by that person."
This is the narrative Park Geun-hye is pursuing: She has thus far denied any criminal wrongdoing, saying instead that her trust in the people around her led her to "not being strict with them." She apologized for this mistake, while implicitly pointing the finger at those 'people around her,' who are the real criminals.
Im came to the rally with her sister and stood in front of Seoul Station, waving the South Korean flag. She opposes impeachment, saying that the president deserves a chance to finish her term, which would normally end in February 2018.
"I hope she finishes her term, for the sake of our economy," she said. "All those young people [at the anti-Park demonstrations], they don't know what her father did to make this country prosperous. I feel so sorry for Park Geun-hye."
Park Chung-hee, South Korea's president from 1961 until his assassination in 1979, still lingers in many Park Samo members' minds. During the presidential elections in 2012, his memories were perceived to have fueled the massive support for Park Geun-hye among the older generation. His legacy, which Park herself now threatens to sully, still influences her few remaining supporters and many other conservative voters who want to disassociate the daughter's scandal from the father's legacy.
Nowhere is this importance of the elder Park more apparent than on the website of Parksamo, whose love for the daughter is rooted in the unshakeable love for her father. Many of its 77,000 members — up from 66,000 before November — frequently glorify Park Chung-hee's handling of the South Korean economy in the 1960s and 70s, and accuse the anti-Park Geun-hye protesters of being ungrateful.
"She will still pull off a glorious upset. We will witness how President Park Geun-hye is reborn as a hero, to follow in the footsteps of president Park Chung-hee," a Parksamo member commented.
A protester at the rally echoed this faith. "She's the Iron Lady," said 60-year-old Kim Sun-tae. "She'll rise again."
Their blind faith will likely not be rewarded. Park still refuses to resign, but if the impeachment vote passes in the National Assembly Friday – and it looks like it will – she will be immediately stripped of her powers.
Cover Image: Parksamo members gathered in front of Seoul Train Station on Dec. 3 to show their opposition to impeachment. (Haeryun Kang/Korea Exposé)
Become a subscriber to access all of our content.