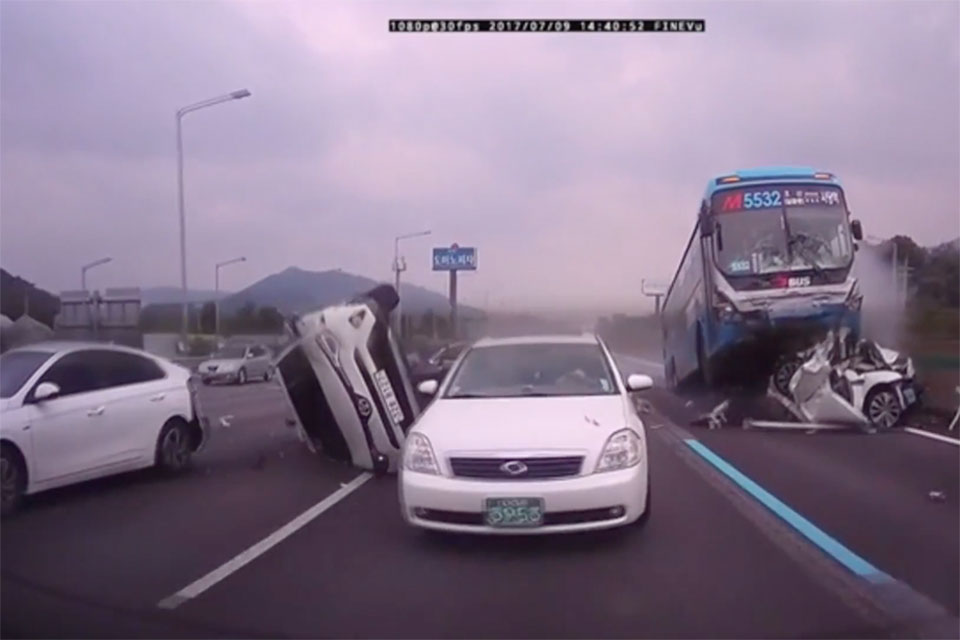 Viral Crash Footage Prompts Questions About Drowsy Driving
In a viral video from July 9, a blue bus first crashes into, then entirely crushes and shatters a white sedan on a highway through Seoul. A car to the right swerves to avoid the scene, only to hit another car and flip over onto its top.
The 51-year-old driver — who was accused of falling asleep at the wheel — told police that he "momentarily lost focus during strained driving," reported Kyunghyang News.
The video, taken on a "black box" — a camera most South Koreans install on their cars to record surroundings for insurance purposes — has prompted much outrage and shock over vehicular dangers even ordinary people face, due to no fault of their own. According to a July 10 article in Yonhap News, the crash killed a couple in their 50s and injured 16 others.
Drowsy driving is not unique to South Korea. The U.S. Center for Disease Control and Prevention reported in 2015 that about four percent of adult drivers had fallen asleep at the wheel in the past 30 days, causing more than 800 deaths per year in the United States. In comparison, drowsy driving resulted in about 100 deaths and thousands of injuries in 2016 in South Korea — whose population is less than one sixth of that of the U.S. — according to data from KoRoad, a state agency that manages traffic and road safety.
But it's no secret that South Korea is a dangerous place to drive. Data released by the Organization of Economic Co-operation and Development (OECD) in 2016 showed that South Korea's traffic fatalities per capita were consistently second or third highest among OECD countries between 2008 to 2013. And though it has made improvements — with the total number of deaths decreasing by more than 50 percent between 2000 to 2014 — these trends are consistent with those of other countries, leaving South Korea significantly more dangerous for drivers and pedestrians alike.
The July 9 crash has shaken the nation due to longstanding concern about unsafe driving, especially by professional drivers. One commenter on the online search portal Naver identified him- or herself as a bus driver, writing, "When I take the city bus on my days off, I see drivers talking on the phone or even playing games while driving. … Let's please focus on the road and consider the safety of passengers." Another commenter expressed doubt that the driver had been actually falling asleep, and claimed he is using it as an excuse to avoid other serious criminal charges.
Nikola Medimorec — who helps run Kojects, a website that provides information about transport and public infrastructure — said in an email to Korea Exposé that the crash "isn't a big surprise," based on his experience taking buses in Suwon.
"In a few occasions, the driver that drove my bus in the morning (at 7 a.m.) was THE SAME DRIVER who operated the last bus of the previous day (midnight)," he said. "It means that the driver worked until 1 a.m. and then again from 6:30 a.m., which leaves him with less than 5 hours of sleep."
Back in February, the Ministry of Land, Infrastructure and Transport released a set of guidelines titled "Enforcement and Regulations for Passenger Vehicle Transport Businesses," precisely to prevent crashes like that on Sunday. The rules require all bus drivers to rest for 15 minutes after 2 hours of driving, and upon reaching their final destination for the day, to rest for minimum 8 hours before driving again.
The question is whether such rules are actually being enforced.
Update: The bus accident on July 9 killed a married couple in the white sedan, crushed by the bus. 16 others were injured. The bus driver is currently undergoing trial for violating the traffic accident law.
Cover image: The crash killed two passengers and injured many others. (Source: YouTube)
Become a subscriber to access all of our content.