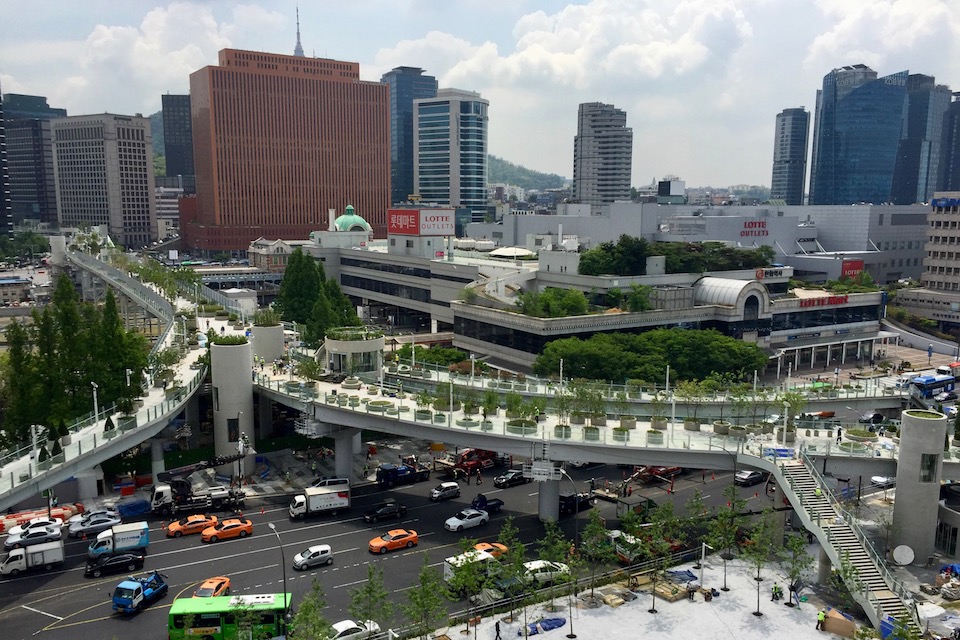 Seoullo 7017: Urban Asset or Vanity Project?
A scene from otherwise unmemorable 2009 film Private Eye, about colonial-period Korea, has stayed lodged in my memory for the last eight years: Independence Gate stands alone in a field of wild grass, bushes and mist, with no other sign of human settlement or migration is in sight. Actual photos from the period suggest the film's director was not overly bothered about historical accuracy, but the image is an irresistible one.
Finding such an orgy of natural greenery in Seoul is now nearly impossible. Unregulated nature has been driven into the armpits of the city, lurking in the forks of highways and rare pockets of riverbank. Independence Gate stands in a custom-designed park, dwarfed by a busy flyover and overlooked by forests of apartment blocks that stretch for mile upon mile toward the border with North Korea.
On the other hand, the city government has gradually increased the amount of purposely designed green space in recent years, generally meeting positive responses from Seoulites. Seoullo 7017, a new park made from a converted vehicular overpass by Seoul Station, raises more questions about the city's evolving infrastructure and the relationship between cars, people, trees and concrete.
The overpass – built in 1970 and re-opened in 2017, hence its name – passes near the top of Seoul Station, connecting the Namdaemun Market area in the east with the neighborhoods of Malli-dong, Jungnim-dong and Cheongpa-dong in the west. Due to open on Saturday, it has been converted at a cost of 60 billion won (about 53 million US dollars).
The new park was designed by Dutch architect Winy Maas, winner of Seoul Metropolitan Government's 2015 international design competition. It features more than 24,000 trees and plants of 228 species, most of which are arranged in Hangeul alphabetical order from one end of the park to the other. Among them is a series of small cafés, performance stages, shops and other features.
The kilometer-long elevated pedestrian park crosses multiple traffic lanes and railway tracks by Seoul Station. Echoing the concept of New York's High Line Park, it makes use of a piece of aging infrastructure, but a closed road instead of a disused railway.
The city government presents Seoullo 7017 as part of "expanded green space." But what does it mean to "make" green space, and does it always draw the benefits of nature into the urban fabric?
Local Impacts
Realtor Lee Me-hwa, 46, is based in Jungnim-dong, one of the neighborhoods to the west of the new park. She claimed that real estate prices in the area had risen by 20-30% since the overpass closed for conversion into Seoullo 7017, an increase she attributes to the project.
But rising property prices mean rising rent, presenting a threat to the low-income tenant businesses in the area. This comes in addition to the impact of the overpass closure itself: Malli-dong is home to many sewing workshops that rely on Namdaemun Market for business.
"It takes ages to send clothes over to Malli-dong now," said An Chung-man, 51, owner of a clothing and footwear store in Namdaemun Market. "We need them done quickly, and it used to take just five minutes by motorbike on the overpass."
This is perhaps the most disturbing aspect of Seoullo 7017: its impact on local businesses. In addition to the lengthened travel times from one side of the railway to the other is the traffic congestion it has created on nearby Yeomcheon Bridge, which lies a few hundred meters further north.
Kwon Ki-ho, 67, owns a handmade shoe selling handmade shoes store on the street by Yeomcheon Bridge, which is famous for its traditional shoe-making businesses. He is also chairman of the local association of shoemakers that has been opposing the Seoullo 7017 project for the past 17 months.
"Since the overpass closed, 40 or 50 thousand more cars have been using this bridge every day," he said. "There's so much more noise, fumes and fine dust, and customers and delivery trucks can't stop on the road outside any more. Our sales have declined by at least 60 percent."
Kwon maintains that Seoul Metropolitan Government initially promised to include a branch leading down from Seoullo 7017 to the sidewalk near his street, bringing a potential increase in pedestrian traffic and customers.
"We believed them, so we didn't protest much at first," he said. "But then the park plans changed, and now there's no ramp or staircase down. I understand that this is a city project and we can't block it, but they've provided no compensation and offered no alternatives."
Landmarkism in Action
Cheonggyecheon Stream runs for some eleven kilometers through central Seoul, providing a cool artery of tree-lined recreational space. Ducks and fish swim in its waters, while summer strollers relax in the shade of its bridges.
The restored stream is a key legacy of Lee Myung-bak's time as mayor of Seoul. (He went on to become president.)
But turning Cheonggyecheon — once a historic waterway, then a flyover built mostly in the military dictatorship era — into a green space attracted plenty of opposition. Some took issue with its prodigious use of tap water, pumped artificially from pipes, in place of the streams and rivulets that once fed it from the mountains to the west. And the rapid execution of the project, under a Seoul mayor nicknamed "Bulldozer," left many wincing at the archaeological riches shoved aside.
Later, President Lee's much-maligned Four Major Rivers Restoration Project brought renewed attention to Cheonggyecheon, which began to look in retrospect like a warm-up project for Lee's nationwide riparian construction romp. But the crowds keep coming, and Cheonggyecheon is not the object of strong popular hostility today.
In any case, the model was established: A Seoul mayor leaving the city with a popular "green landmark." Not only did the stream live on as Lee's tangible legacy, it symbolized the forward-looking benevolence of his city government in dismantling a symbol of South Korea's gritty industrializing years and replacing it with a public space of nature and relaxation.
Lee's successor as Seoul mayor, Oh Se-hoon, left two landmarks of his own, albeit not particularly green: Zaha Hadid's Dongdaemun Design Plaza and Sebitseom, three floating artificial islands on the Han River.
Now, with the opening of Seoullo 7017 on Saturday, current Seoul mayor Park Won-soon has created his own green landmark in the city.
The preservation of the flyover – which had to be closed to vehicles due to structural problems – despite its lack of glamor, also sends an implicit message that Seoul, a city that has spent the last few decades obsessively knocking down and redeveloping itself, is ready for a more measured approach.
But what will Seoullo 7017's legacy end up being? What does it offer to the people of Seoul, especially those living nearby, and what has it taken from them? Has Park Won-soon, a self-styled man of the people, fallen for the temptation of building a landmark that will serve as his legacy?
"Diet" Nature
On Tuesday, just four days before the park was due to open, workers were busily adding finishing touches and removing the vestiges of construction work. It looked as if there was still plenty to be done, though the plants, trees and shrubs were nearly all in place.
But the park nevertheless made a somewhat bleak impression. Most of it is paved with concrete slabs, while the trees and plants are all contained in tubs or cement rings. The trees, of course, will grow over time and provide more shade, but the design leaves a feeling of frustration that this is "Nature Lite," where concrete remains dominant over soil and vegetation.
Why not fill the old overpass structure with earth, plant native seeds and lay a simple path between the trees and shrubs? Would such a radical approach be too much to ask for? It would certainly be cheaper. Less concrete paving and more rampant undergrowth would not allow such large volumes of pedestrian traffic to pass through the park, but no pedestrians crossed it when it was used by vehicles anyway.
An, the store owner at Namdaemun Market, called the park "a waste of money."
"There's no shade up there, it's really exposed," he said. "And in winter it will be hit by the cold wind that blows down from Mt. Namsan. Who'll go there? Lee Myung-bak left his legacy with Cheonggyecheon, and now it looks like Park Won-soon's trying to leave his own landmark. But the money would have been better spent to help poor people."
Neither This Nor That?
Mayor Park's new elevated landmark tries so hard to tick all the boxes – natural oasis in the heart of the city, pedestrian route to promote walking, cultural venue, place of education – that it risks actually filling none of them. When the current lack of a traffic alternative or substantial measures to protect local residents and businesses are added to the equation, it's hard not to conclude that the city government has misjudged the project.
Seoul is a broad and busy city, where few people have the time or patience to walk more than a few hundred meters as a means of getting from A to B. Citizens who visit the park will likely seek shade and rest more than anything, as the traffic roars past 17 meters below. If this indeed proves to be the case, the argument for more trees and less concrete in the park will gather weight.
It remains to be seen how Seoullo 7017 evolves, and whether local businesses survive its impact. Most visitors to Cheonggyecheon today do not know or have forgotten what happened to the market vendors evicted during its restoration. It would be disappointing if those affected by Seoul Station's new flyover park experienced a similar fate at the hands of a mayor who purports to represent their best interests.
Cover Image: Nearly completed Seoullo 7017 as viewed from afar (Ben Jackson/Korea Exposé)
*
For a behind-the-scenes on this story and fun conversations with KÉ writers, check out our 2017 summer podcast:
Become a subscriber to access all of our content.