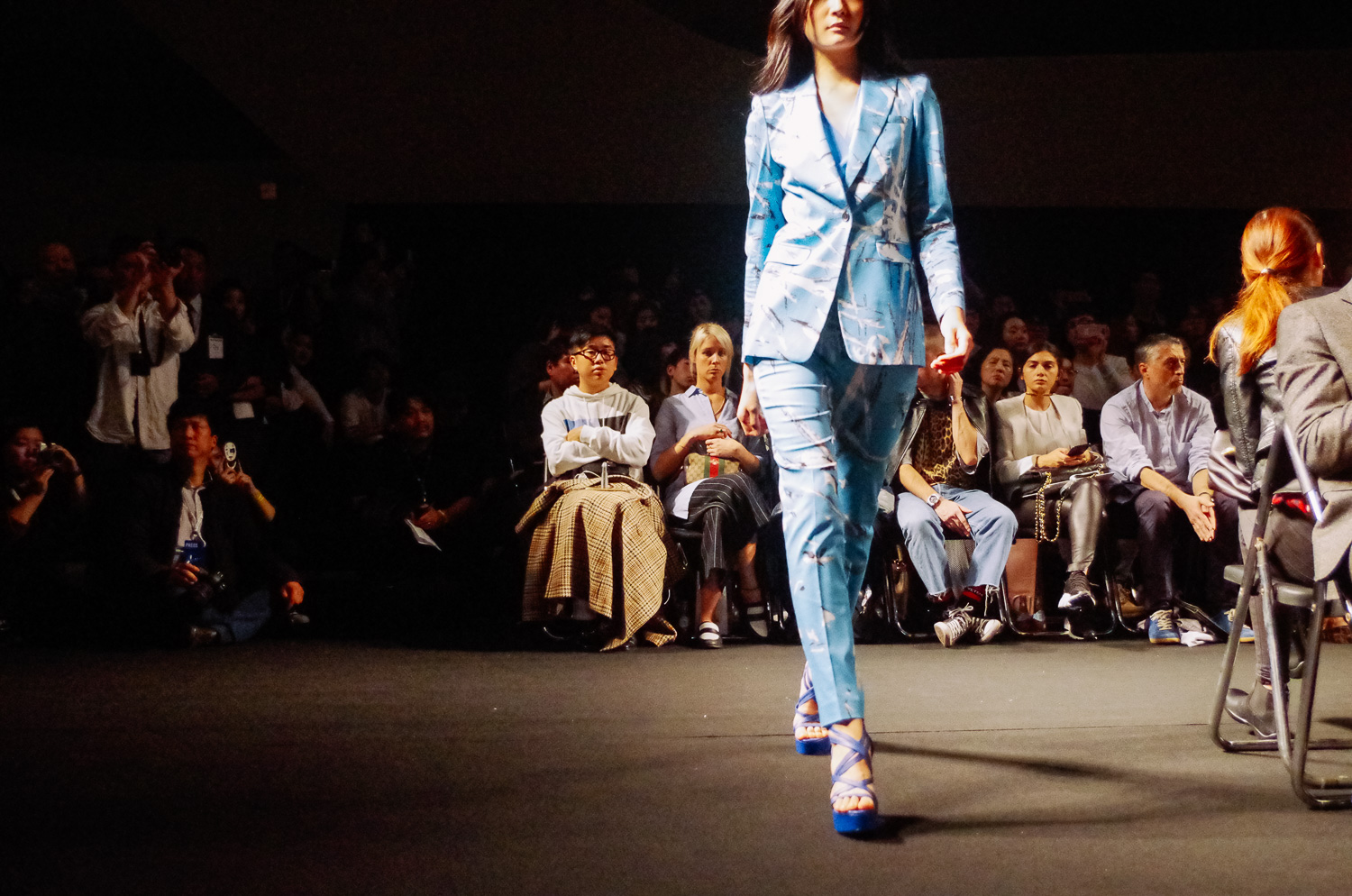 Surreal Exposure: Scenes from Seoul Fashion Week
Picture this: hundreds of young South Koreans milling around a courtyard, dressed in costumes you will probably never see anywhere else in Seoul, or all of South Korea for that matter. Sheer tops, sequined trousers and outerwear so generous in fabric allotment that collectively it could clothe the residents of an entire town. Photographers scream at fashionistas, "Can you look this way once please?" Young mothers drag toddlers in tow, having dressed them in perfectly styled outfits; one little girl is even clutching a saccharinely cute teddy bear.
My feeling can be summed up as pure disorientation.
This is Seoul Fashion Week, taking place this week at the Dongdaemun Design Plaza (DDP) and nearby venues in central Seoul. Every March and October the capital city throws this semi-annual celebration of South Korean fashion, and for a long time I have been wanting to see just what it's about and for whom it's happening.
On day two, I was able to secure tickets for two of what I was told were the hottest shows in town: J. Koo and Songzio.
Once I got past the throngs of fashion enthusiasts, the hall inside the sleek Zaha Hadid behemoth was packed to the gills and competition among photographers for space was fierce. The most conspicuous presence were the foreigners – magazine editors, buyers for influential stores and what not – smack in the middle of the front row, themselves as much an object of curiosity as the shows.
Which I enjoyed immensely. From my nosebleed seat far from the catwalk at J. Koo I couldn't fully appreciate the obviously delicate looks – some see-through tops here and there, lots of ruffles, lace, cropped pants paired with fish-net socks – but the crowd, made up of the same young people I saw outside, was excited and their excitement was infectious.
The Songzio show about an hour later was even better. The clothes were beautiful, straddling the boundary between tailoring and draping, with a South Asian influence evident in approximations of kurta and loose pyjamas. By some dumb luck I found myself in a front-row seat, and when A-list actor Cha Seung-won showed up in the opening outfit (and later again to close the show), he was so close I could have touched him if I had reached out with my hand.
The fun aside, unanswered questions remain. With the self-proclaimed "goal to become one of the most prominent fashion weeks of the world, following after New York, Paris, London, and Milan Fashion Weeks," Seoul Fashion Week organizers are trying hard to gain global exposure, as explained by the centrality of foreign (i.e. Western) critics and buyers at the shows. And yet the sheer proportion of young South Korean spectators (who appeared to have little to do with the actual business of fashion) in the mix suggests that the event is far more locally significant than it is in the broader fashion world.
(Meaningful articles about the ongoing event are but a sprinkle in the Western fashion media; street style photography is, however, another matter.)
I don't know enough about J. Koo, but in the course of doing some research I discovered that the same Songzio collection I saw had already been shown in London four months ago.
That redundancy betrays how Seoul Fashion Week might be positioning itself not as a unique fashion event for the global fashion set, but as something more regional in its reach, the stated lofty ambition notwithstanding. Two days ago Yonhap News ran an interesting article about how two "power-bloggers" on the Chinese social media platform Weibo had been invited to the fashion week by the city government to promote the event, pointing to at least one vital audience for South Korean fashion: the Chinese. In fact, at the DDP I was struck by the number of Chinese visitors, many of whom had come with full knowledge of the proceedings and dressed for the occasion.
South Korean fashion is a strange business in many ways. I had a brief talk with the twenty-something editor in chief of .FACE, a media startup that Korea Exposé shares the office with, and her take on youth fashion was "Ones with money buy designer brands; ones without buy fast fashion and throw it away after one year." Gucci or Uniqlo, but not much in between.
With very little room between these two poles, South Korean designers cater to an extremely small niche market and must look for other means of survival. Songzio is a familiar name in the country not for its exquisite high-fashion aesthetic but for the middle-brow yet very profitable diffusion line called Zio Songzio, sold on a home-shopping cable channel and at high-street shops. Even Jung Ku-ho, director of SFW and fashion designer himself, recently launched a mass-market brand, J BY, in collaboration with Hyundai Home Shopping.
And then there seem to be the Chinese as target customers.
Meanwhile, are the fashionable young people crowding the DDP buying from the labels showing inside? And do they really tell us something about South Korean fashion? Many glowing accounts in English about Seoul Fashion Week point to these same young people as an indicator of Seoul's potential as a fashion hub, but their getups, while wonderfully vibrant, are hardly representative of South Korean street fashion on days the fashion week is not in progress.
What you see at the DDP is more cosplay, virtual street fashion fueled by the explosive popularity of social networking sites that demand extreme expression and meant for online consumption. How most South Koreans actually dress is quite different, described by fashion writer Suzy Menkes at Vogue as "casual": "in simple, easy pieces, often with bold accessories." I would add clean and polished to the list.
I'm not trying to understate the importance of fashion in South Korea. On the contrary, people here take dressing seriously, such that sometimes I am afraid to step out of the apartment if I have too many wrinkles on my shirt. What one wears not only telegraphs but also can have an implication for one's status.
But what I have seen at the DDP – my all-too-brief Cha Seung-won sighting included – is so divorced from reality that it might be termed a show in the purest sense of the word: a spectacle, to watch and delight in, and to be left behind when one walks out the door. And you, too, can partake in it until the end of this week.
Seoul Fashion Week runs until Saturday 22 October.
Cover image: A female model walks down the runway at Songzio collection at Seoul Fashion Week (Se-Woong Koo/Korea Exposé)
Become a subscriber to access all of our content.