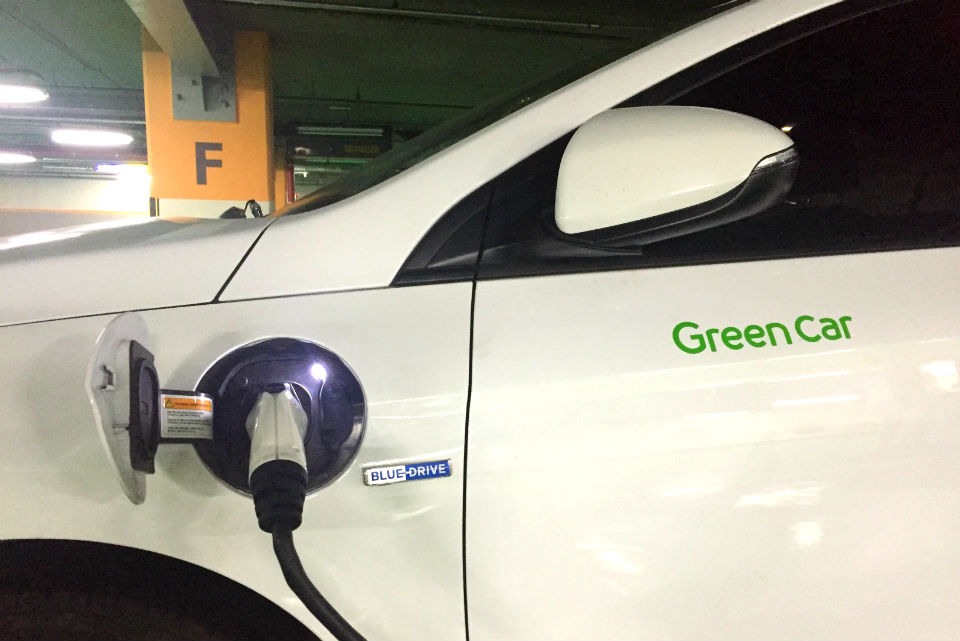 Review: Test-driving the Hyundai Ioniq Electric
Last week, I finally gave in to Seoul's nasty fine dust pollution. I found a second-hand air purifier for sale in Ilsan, a nearby satellite city, and arranged to pick it up the next morning. That's how I ended up test-driving my first all-electric car, the Hyundai Ioniq, via car sharing service Greencar.
My local Greencar parking lot has a couple of petrol-powered hatchbacks that I use occasionally for moving big and heavy stuff around. But this time I noticed a little lightning symbol in a corner of the location map — Greencar had an electric vehicle just down the road in an underground parking garage near Gyeongbok Palace. I booked it straight away with eco-nerdy excitement.
Next morning at five o'clock, I found the Ioniq five floors down in the bowels of Sejongno Public Parking Garage, a black charging cable snaking out of its left flank. I unlocked it with the Greencar app on my phone, paired the phone with the sound system and drove up into the fine dust. 
What I love about the Ioniq is that it's so normal. It looks like an ordinary car; you wouldn't give it a second look on the street. And it drives like a normal car, the only major difference being three buttons — park, reverse and drive — instead of a gear shift lever.
This might not seem like a big deal but it used to annoy the hell out of me that so many hybrid and electric cars had such self-consciously weird designs, their strange proportions making them look like mutant airport vehicles in an apparent attempt to evoke the future. Some carmakers still haven't shaken the habit, but I'm glad Hyundai is going with normal this time.
Anyway, rolling silently through parking garage felt a bit odd at first. The lack of noise and engine vibrations made it seem as if the car was rolling down a slope with the handbrake off, except the ground was flat. 
But out on the highway by the Han River, I floored it and the acceleration was every bit as good as a similar petrol-powered car. It really felt as if electric cars had come into their own. From now on, price and environmental consciousness should be the only considerations in choosing between an electric or conventional car (except for regular long-distance drivers; see below), because the performance part is nailed.
The 40-kilometer return trip used up just over 10 percent of the Ioniq's battery juice, suggesting that range won't be an issue for most South Korean motorists. Urban drivers and commuters will have no problem as a fully-charged battery takes you about 200km. (The Ministry of Environment officially rates the Ioniq Electric's range as 191.2km). 
If you're driving across the country from Seoul to Busan you'll have to stop halfway and recharge, but you'd probably want a rest anyway. A high-speed charge to an 80 percent-full battery reportedly takes about 30 minutes. Which is still a hassle.
Hyundai Motor made a heroically boring eight-hour video of a test driver squeezing 351.1km out of a single battery charge in the Ioniq Electric, but he was driving up and down a flat highway at 50km and in summer, when the battery life lasts longest.
Stuck in the morning rush hour traffic on the way back into Seoul, it struck me that electric cars still don't make a whole lot of sense for most people. Of course the lack of exhaust emissions is fantastic, but I was sitting alone in about 1.4 tonnes of metal, plastic and rubber, surrounded by empty seats and crawling along in a queue of other mostly-empty vehicles. Huge amounts of energy went into making the car and its materials, and it would leave a load of unwanted substances to deal with, including a big battery, when scrapped.
And then there's the question of where the electricity charging the Ioniq comes from. As of 2017, 33.5 percent of South Korea's electricity was generated from coal and 34.7 percent from natural gas. Only five percent currently comes from renewable sources. Which means the Ioniq runs in South Korea on almost 70 percent fossil fuel.
For occasional journeys, using an electric vehicle as part of a car sharing scheme makes so much more sense than actually owning one: Rental costs about 5,500 won per hour and the electricity is currently free (unlike with Green Car's petrol vehicles, for which you pay a fuel charge based on distance traveled). No vehicle registering, no car tax, no need for your own parking space or charger. 
Charging is also set to get a lot easier, with the Ministry of Environment having pledged to increase the number of public charging stations nationwide from 4,530 in February to 17,600 by the end of the year.
If you do want to buy your own Ioniq, the government offers a generous subsidy of just over 11 million won (about $10,300 dollars), bringing the basic model price down from about 39 million to 28 million (approximately $26,200).
The internal combustion engine is a beautiful thing, but so is the steam-powered ocean liner. Like the latter, the former has had its day and will hopefully soon become a rarity and collector's item rather than a ubiquitous polluter of the spaces we live in.
Electric cars are becoming the new normal, and it's not a moment too soon.
Cover image: Plugged in — the Ioniq in one of Greencar's Gwanghwamun parking locations (Ben Jackson/Korea Exposé)
Become a subscriber to access all of our content.