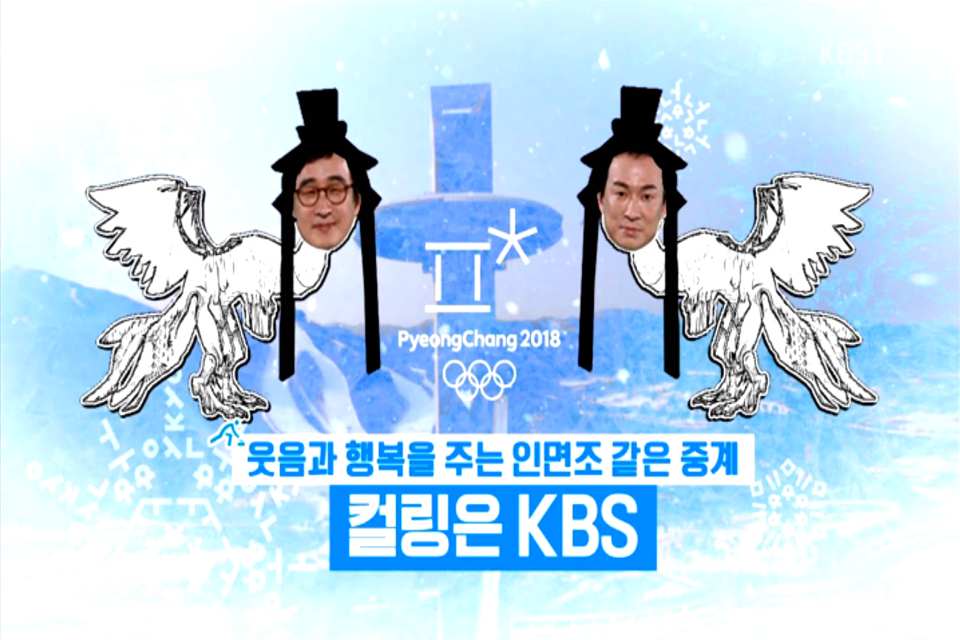 Pyeongchang Olympics' Funniest Moments: There's A Lot of Curling
There was that time a guy from Australia impersonated Kim Jong-un in front of North Korean cheerleaders. Or when P.F. Chang's — not Pyeongchang — got massive, unintended publicity on an American TV station. Then there is an entire ecosystem of funny South Korean memes and parodies about South Korea's curling team, who have cemented their status as the country's biggest breakout stars during the Olympics.
But there's so much more: Here's our selection of some funny moments surrounding the Pyeongchang — not P.F. Chang's — Olympics.
The opening ceremony: that scary bird-human
날 팔로우한 그대들… 내가 수호하겠소… 고맙소… pic.twitter.com/BbKhSlZqHZ

— 인면조 (@myeonzo) February 9, 2018
The inmyeonjo, literally the 'human-faced bird,' is a mythological animal thought to be one of the keepers of peace, connecting heaven and earth. It appears in cave art dating back to the Goguryeo dynasty nearly two millennia ago. Now, thanks to the Olympics, it also appears in lattes, has its own Twitter profile, is a face filter on a video messaging app, and stars in countless parodies.
This is a real moment from KBS, one of South Korea's biggest broadcasters: "Broadcasting that delivers laughter and happiness, like the inmyeonjo…. Curling is [to be watched] on KBS."
인면조 pic.twitter.com/87yXUOq9WM

— 마감합니다 (@BO807__) February 15, 2018
In-myeonjo vs. Out-myeonjo
The time a Norwegian broadcaster sang "Pyeongchangnam Style"…in Korean
A program on NRK, a public broadcaster in Norway, made a parody of Psy's Gangnam Style. Yonhap news, South Korea's largest wire agency, wrote a glowing headline: "Norway is in the lead and its humor is gold medal level too."
Why South Korean netizens fell in love with the Swiss team
https://www.youtube.com/watch?v=zLlWRB_ou5I
This video montage of Swiss athletes having fun currently has nearly 2 million views on YouTube.
"Howard" impersonates Kim Jong-un in front of unimpressed North Korean cheerleaders
This Kim Jong Un impersonator walked in front of the North Korean cheering squad at the Olympics, and boy were they unimpressed https://t.co/ytFEvBGES5 h/t @yoonjung_seo pic.twitter.com/uVsusPRY2r

— Anna Fifield (@annafifield) February 14, 2018
Identified only by his surname, Howard was soon taken out of the arena by police and organizers. "I'm here to send up the whole situation with North Korea and South Korea and everything that has to do with that," he told an Australian TV show Sunrise. "Today I attended a hockey game [Japan vs. the inter-Korean team] and, unfortunately, they did not have a sense of humor."
Pyeongchang is not P.F Chang's
Local news team inexplicably mixes up Pyeongchang with P.F. Chang's in Olympics coverage https://t.co/Fbwbn9f8Ga pic.twitter.com/ROLTtxDHhK

— MUNCHIES (@munchies) February 17, 2018
P.F. Chang's is capitalizing on this viral mistake by offering Pyeongchang-named menus.
Finally, curling
아앗 생각보다 더 자연스럽다,, pic.twitter.com/SVbKlkloTd

— 음파 (@eumpa_) February 23, 2018
On Friday, Feb. 23, the South Korean curling team — all of whom, including the coach, coincidentally have the surname Kim — beat Japan in the semifinals. They'll be playing in the finals against Sweden on Sunday at 9 a.m. KST. Their achievements are a big surprise from a country that sent its first Olympic curling team to Sochi just four years ago.
The many faces of Kim Eun-jung aka 'Annie,' the leader of S Korea's women's curling team, 'Garlic Girls' pic.twitter.com/oQVP2K1PJn

— Joseph Kim (@josungkim) February 20, 2018
Their game against Japan stacked up ratings of a whopping 46.1% among the three largest broadcasters in South Korea. Needless to say, these 'Garlic Girls' — they're from Uiseong, famed for its garlic production — are the most popular subject of South Korean memes and parodies right now.
Above, a baby girl, imitating the actual team leader of the South Korean team, works together with her sister to get the television remote control back to their father (while yelling Yeong-mi — remember this name). This video is one of many parodying curling, both in and outside South Korea.
"Yeong-mi-yahhhhh" is one of the most popular phrases in South Korea right now; the team leader frequently shouts this name (belonging to one of her team members) during matches. Here's a breakdown of what "Yeong-mi" means in #안경선배 speak. (#안경선배 / #SpectacledSunbae is the leader's nickname online.)
How to speak #안경선배:
Youngmi~: "Start sweeping"
Hey Youngmi~: "Stop sweeping"
YOUNGMI!!: "Sweep faster"
Youngmiyoungmiyoungmi: "That's enough sweeping".

Kim Kyongae: Youngmi's sister
Kim Sonyoung: Youngmi's sister's friend
Kim Eunjong: Youngmi's friend
Kim Youngmi: Youngmi pic.twitter.com/hdfwsPhojf

— James Pearson (@pearswick) February 23, 2018
The Olympic drama isn't over yet. The curtains to the two-week-long games close on Sunday evening, but the Paralympics will begin on Mar. 8 and continue until Mar. 18.
What were some of your memorable moments from the Olympics? Leave us your comments below, and follow us on Twitter for live updates during the closing ceremony on Sunday, Feb. 25.
Cover image: KBS's curling commentators are also the human-faced bird. (Source: KBS YouTube)
*
Read more of our Olympics coverage:
Become a subscriber to access all of our content.