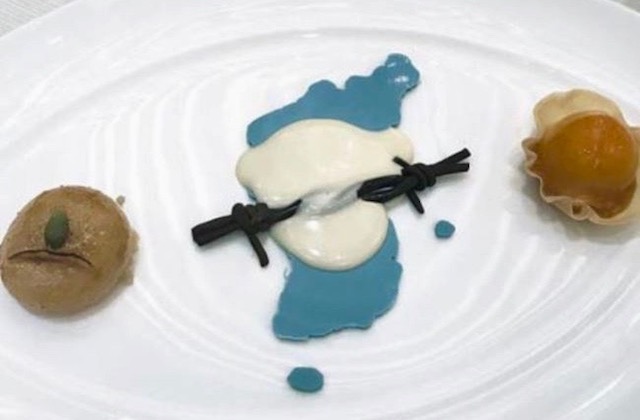 Chocolate Dessert Sends Netizens into Meltdown
Everyone likes a surprise. And when you're a leading celebrity gourmet charged with designing a special dessert for a VIP Olympic reception, you want your surprise to be a good one.
Unfortunately for well-known South Korean food critic Hwang Kyo-ik, somebody blew his surprise to the media a couple of days before the international party by leaking a photo of the now-viral "Pyeongchang dessert."
The rogue image of Hwang's creation, dubbed "hope on a plate," shows a sky-blue chocolate Korean Peninsula bisected by a strand of black chocolate barbed wire laid roughly along the North-South Korean border. A blob of hot white chocolate has been poured onto the barbed wire in order to melt it, symbolizing inter-Korean reconciliation.
To the left of the peninsula is a North Korean-style Gaeseong juak, a glutinous rice cake fried in oil, while to its right is a sorbet made from persimmon, South Korea's quintessential winter fruit.
Everything about the dessert is designed not to offend: even Dokdo, the East Sea islets that prompt recurring diplomatic spats between South Korea and Japan, have been omitted — presumably echoing their absence from the light blue unification flag to be used by the joint North-South Korean teams competing at Pyeongchang.
But guess what: Netizens have managed to get themselves all worked up anyway.
"Disgusting. Makes me want to puke. The political color is just so blatant… this is a dessert totally made for North Korea. Conclusive proof that the Olympics is being used for political purposes," foamed user Kim Gil-hwan on Chosun.com, the country's leading conservative website.
Meanwhile, over at Ilbe, a site not known for its strong appreciation of the Moon Jae-in administration, user "Demon Yin-Yang Master" also found political fault with the dish, declaring, "Lefties' basic sense of aesthetics is grotesque. They think it's ok to invite guests and ram your ideology down their throats. No consideration for others."
The Twittersphere, too, was as brutal as ever.
"Even a freshman food science student could come up with better plating than that," scoffed user Gonan Tamjeong Konan. "Did someone actually get paid to make it? They should give back their salary. So should whoever approved it."
Even the North Korean rice cake failed to escape the volley of cyber-scorn, with Twitter user Pori likening it to Mr. Potato Head of Toy Story.
친구가 평창디저트 보고 ㅋㅋ 토이스토리 ㅋㅋㅋㅋ 감자캐릭터 같다고 하뭌ㅋㅋㅋㅋㅋㅋㅋㅋㅋㅋㅋㅋㅋㅋㅋㅋㅋㅋㅋㅋㅋㅋㅋㅋㅋㅋㅋㅋㅋㅋㅋㅋ pic.twitter.com/ClaMOQRugw

— 포리(워마드 운영자) (@Fight_LikeRey) February 7, 2018
Other critics took issue with the fact that the hot white chocolate could melt not just the barbed wire but the Korean Peninsula, too, and that the color blue is generally considered an appetite killer (as is barbed wire).
한반도까지 녹잖아.. 핵폭탄 맞은 서울 같음…..ㅋㅋㅋ 한반도는 빵이나 과자같은걸로 하면 모를까. 한반도도 같이 녹아버리면 핵같다고.. pic.twitter.com/RsVmd1yWyN

— 황사시름_모기시름? ? (@__bluesuede) February 6, 2018
"But the entire Korean Peninsula will melt too. It looks like Korea getting nuked…"
Hwang, also known for endorsing consumption of nutria — big rodents native to Latin America — himself responded with a Facebook post on Feb. 6 defending the dessert.
"The chocolate Korean Peninsula is sky blue because that's its color on the flag used by the joint North-South Korean Olympic team," he wrote. "Whatever the color of the peninsula on the flag was, I'd have used it in the dessert. Event food has to be event-oriented by nature. The Olympics are an event designed for peace among the people of the world, and this dish encapsulates my hope of melting away anxiety about war on the Korean Peninsula."
For the record, a large number of netizens also responded positively to the image of the dessert, except they didn't provide impressions that were so deliciously quotable (and we don't have a problem with the dessert either).
An official at the Blue House, South Korea's presidential office, declined to release details of exactly when the dessert would be served and which international VIPs would be eating it.
Cover image: From Twitter
Become a subscriber to access all of our content.