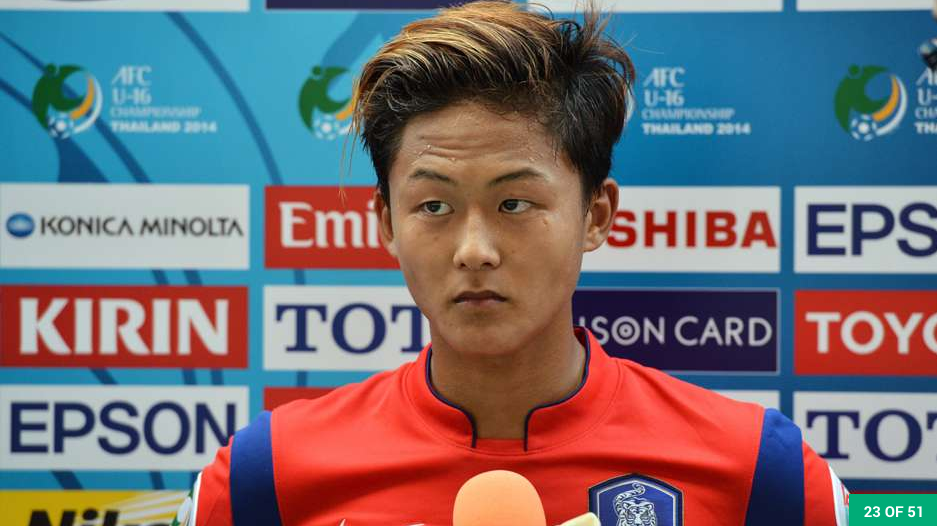 What the Puck? South Korea Sells Nationality for Winter Olympic Glory
On Tuesday, South Korean footballer Lee Seung-woo scored a stunning goal to help his national team defeat Argentina 2-1 in a FIFA U-20 World Cup match. Lee is in his first year playing for FC Barcelona Juvenil A, and has even caught the attention of Argentinian legend Diego Maradona, who said of Lee, "I can't wait to see what he's capable of, especially against Argentina," in an interview with Infobae, an Argentine news website.
Lee, 19, has been Barcelona's most prized talent since he joined its youth program at age 13, earning the nickname the "Asian Messi."
And Catalonian football authorities have been trying their best to hang on to Lee, even offering to help him acquire Spanish citizenship. So far, Lee has refused their offers. "I've never imagined playing in the World Cup with anything other than a South Korean emblem on my chest," Lee's associate said. Most South Korean netizens welcomed his "patriotic" decision, while some retorted doubtfully.
이승우가 대단하다고 느껴지는 건, 머리카락가지고 지랄하는 언론이 있는 국적을 포기하지 않았기 때문이다. 거기다 징병제도 있는데. 대단함. 내가 이승우 상황이었으면 한국 국적 포기하고 스페인 국적 취득하고 국대도 스페인 선택할텐데.

— 잉어킹 (@cxzsewq) August 29, 2015
"I really respect Lee Seung-woo for his decision…. To have not given up his citizenship of a country where media outlets even pick on his hair [color]…. And we also have the compulsory military system. If I were him, I would give up Korean citizenship, get Spanish nationality, and play for the Spanish national team."
There are reasons to question the prudence of Lee's decision to retain his South Korean nationality. Sports programs in South Korea have hierarchical training programs where many talented kids can be neglected as the training of older athletes is prioritized over that of younger players.
There is also the issue of the mandatory military service that all able-bodied South Korean men must complete. The current conscription law allows few exceptions, even for celebrated sportsmen. The only ways to be exempted from service are to win either an Olympic medal of any metal or a gold medal at the Asian Games.
Lack of government support for athletes is also a concern. Figure skater and national hero Kim Yuna has spoken publicly about this problem, which left her with the burden of finding her own training venue early in her career.
In 2011, South Korea-born short-track speed skater Ahn Hyun-soo acquired Russian citizenship, claiming that he had been left off the South Korean national team in favor of a less-talented athlete who had cozier relationships within the Korea Skating Union. (Ahn went on to win three gold and one bronze medal in the 2014 Olympics.)
The majority of South Koreans supported Ahn's decision, saying they couldn't blame talented athletes for leaving the country when the government had done nothing for them.
Meanwhile, South Korea is recruiting more foreign athletes to join national teams ahead of next year's Winter Olympics. The men's ice hockey team currently has six non-native Koreans out of a total of 25 players. The New York Times described the efforts as a "shopping spree" meant to boost South Korea's meager chances of winning a medal in ice hockey while hosting the Olympics.
But what's wrong with switching nationality? The Olympic Charter, published by the International Olympic Committee, proclaims that "The Olympic Games are competitions between athletes in individual or team events and not between countries." Various country's quota systems keeps many competent athletes from competing, while naturalization offers an alternative way for them to realize their dreams.
The government is making many efforts to tackle the problems plaguing national sports programs, such as drives to root out corruption and to adopt European-style football youth club systems. But it will be hard to find a lasting solution.
South Korea would also be wise to let go of its obsession with winning gold medals, and simply work toward the Olympic ideal of "educating youth through sport practiced without discrimination of any kind."
Cover Image: South Korean star footballer Lee Seung-woo. (Source: the goal)
Become a subscriber to access all of our content.