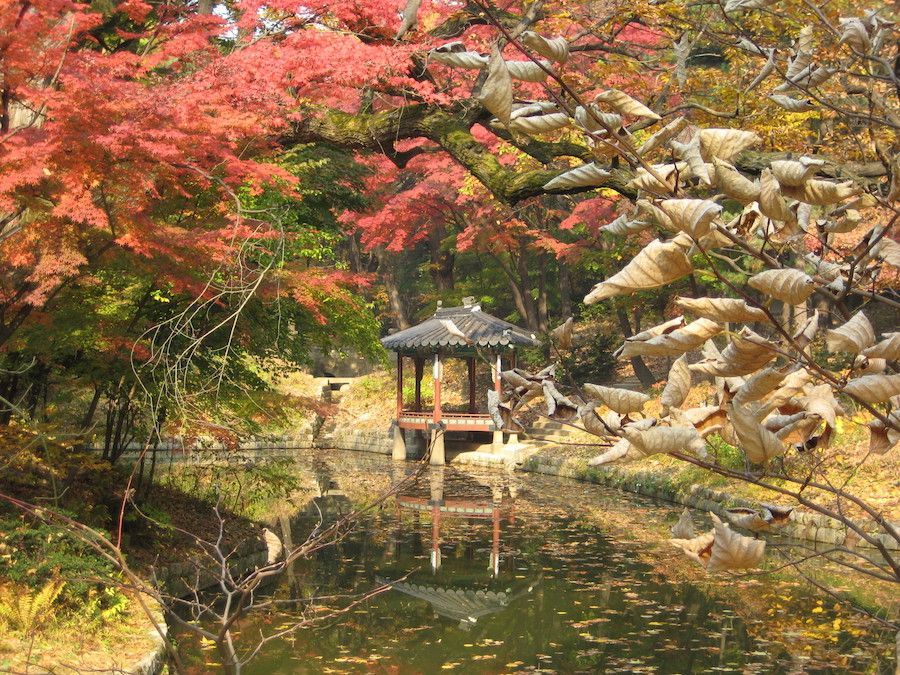 Demonstrations are a routine occurrence in downtown Seoul, but I don't mind it in the least. Angry chanting is a familiar soundtrack to life in South Korea; when slogans reverberate at the capital's most symbolic locations, you know the country is well. Democracy lives.
I am fortunate to be a frequent visitor at the Press Center, from where all the action is visible. But the vista is inspiring even when no protest is taking place. In one corner is Mt. Inwang, which marked the northwestern limit of the city in the pre-modern era. Directly across the street is the verdant lot of Deoksu Palace, favored by Korea's penultimate king who had plans to hide at the nearby Russian legation if trouble brewed. The century-old Anglican church, pretty in stone and red tiles, shines once again now that the tax office building just in front has been razed. The City Hall Plaza comes into sight if I lean just right.
I won't exaggerate that Seoul is a place of stunning beauty. But the city isn't so gray and boring when you look closely enough. Pleasurable sights and sounds abound in this busy metropolis of 10 million people. To paraphrase a common sentiment among South Koreans overseas, where many of them live – whether be Canada, California or New Zealand – "is a boring paradise, but Seoul is an exciting hell."
Much of that excitement comes from observing the pace of change. I hate resorting to the cliché that Seoul is dynamic, but the sense of impermanence is all-pervasive and even thrilling. Most things don't last very long, like my decade-old apartment building that starts to crack, nor seem engineered to withstand the test of time. It's a preservationist's nightmare but can be a delight to behold if you can discard historical and environmental sympathies.
Going for a walk in my old neighborhood near Yaksu, I am taken aback by the disappearance of a busy flyover, not a trace of which remains. In the genteel Hannam-dong area where I do most of my work, each day seems to see fashionable cafes and boutiques outdone by newer, even more fashionable cafes and boutiques. Paper-thin Italian-style pizzas were the thing when I moved back to Seoul two years ago; now the deep-crusted Chicago style dominates.
Give it a year or two, and this latest food trend, too, shall pass.
Forget the better-known Myeongdong and Hongdae – Seoul's premier shopping and partying districts. One of the best places to observe the change in motion is Usadan-ro 10-gil, not far from the Itaewon subway station south of the downtown core. This inconveniently located street snakes down a hilltop that hosts a mosque and halal eateries. Once an illegal slum, it brings together old-timers minding shops that have seen better days, South Asian migrant workers and hipsters with creative streaks.
My personal mission on most visits is to buy some sarma at a Turkish delicatessen, but Korean-style fried chicken and gimbab are also on offer if local food is more your thing. Artisans quietly but diligently craft bracelets and bags and even bouquets of flowers. Personally, I am vulnerable to the charms of Works, a graphic studio that sells on consignment well-designed stationery products and knick-knacks. There is even a gay bookstore – unusual in socially conservative South Korea – with risqué illustrations on full display without shame.
The best part is that when I visit again in a month or two, a new roster of shops will have miraculously materialized.
Entrepreneurship is a hot topic in South Korea but not always for good reasons. Job security is wishful thinking for many and irregular employment grows. As young people reckon with uncertain professional prospects and old people get pushed into early retirement, starting one's own business has become both a trend and a necessity. The unfortunate South Korean tendency to conform, however, means even in the business of competing as individual business-owners, many opt for the same oversaturated fields like selling coffee and fried chicken. This country, after all, has a rather ignominious nickname of "Chicken Republic," currently dotted by some 36,000 fried chicken outlets – more than the total number of McDonald's outposts around the world according to one study.
And yet there are some bright entrepreneurial spots, like Usadan-ro 10-gil. Another is Seendosi, a "New City" in the middle of the old city, illustrating how demolition need not accompany rebirth. The Korean word sindosi, on which Seendosi plays, refers to the massive redevelopment scheme that blights many corners of Seoul, replacing usually a low-rise, low-income neighborhood with a high-rise residential compound beyond the financial reach of existing residents. Seendosi, though, is seamlessly integrated into the gritty Euljiro district, synonymous with tool and machine shops, so much so that it's nearly invisible to all but those in the know. It complements, not displaces, what's already present.
The signage outside is discreet, and walking up the poorly illuminated set of stairs is further deterred by a stench of naphthalene – a common deodorizer for stinking toilets. Just when you begin to contemplate turning back, rewards become obvious: a fantastically vintage décor that speaks to the discerning taste of the young owner – an installation artist by training – and reasonably priced drinks. The rooftop deck is merely icing on the cake.
The choice of Euljiro for the location is deliberate, reflecting yet another trend in the making: disillusionment with change and speed. An acquaintance who used to run a travel website and still writes about Korean culture once bemoaned the difficulty of her work,"What's the point of tracking down a great new place and going to the trouble of writing about it when it just disappears in a couple of years?" Change has brought South Korea this far, from the ashes of the Korean War to its status as an economic powerhouse. And now its people are tired. They want a change from all the changes.
Disorientation sets in. Maybe that's why South Koreans have a hard time weaning themselves off alcohol. Apparently 1.6 million in this nation of 50 million are bona fide alcoholics. Even Russians cannot compete with South Koreans, it seems, when it comes to getting wasted. One twenty-something office worker I once met, predictably at a drinking event, was unabashed, "Work means going out to drink and trying to stake awake at the office the next day until drinking starts all over again in the evening." Granted, this young man was in his company's sales division and buyers customarily expect extravagant booze-laden meals from suppliers, but still.
I prefer my drinking with some ambience, and the Han River, though not the most picturesque body of water, is the perfect backdrop to alfresco imbibing. (Sadly, the authorities have begun contemplating a crackdown on this beautiful custom.) On sweltering summer days, locals congregate on the banks of the river near sunset. Vendors are almost always out in full force, hawking mats to sit on, hats and sunglasses to block out the sun and cheap plastic toys for children. The best part is the haphazardly scattered restaurant flyers. Pick one up, dial the number and shout your choices into the phone. Thirty minutes later, food and alcohol arrives. They know exactly where you are when you say "the fountain by the sculpture-thing, you know, the one where kids are splashing each other." This is service you cannot get at the Jardin du Luxembourg in Paris.
Timing is key when chasing pleasures of Seoul. The unrelenting force of change makes each moment transient and precious. The Han River is marvelous on a hot summer evening, but only then. Changdeok Palace, my favorite among all the surviving royal complexes, is truly radiant in the first two weeks of November as ginkos and maples don golden foliage; in other seasons I find it bland. Seongbuk-dong, an area favored by diplomats and the very rich, is pleasant enough most days of the year, but it's magical when Gilsang-sa, a Buddhist temple built on the site of a high-class pleasure house, puts up multichrome lanterns in celebration of the Buddha's Birthday.
I still resist when pushed to extoll the virtues of Seoul. Fine particulates in the air give me a constant ache in my throat. Taxi drivers frequently test my patience with their litany of colorful expletives, aimed at other motorists. Seoulites are frankly a rude bunch as a whole and courtesy is in short supply.
But perhaps all my grievances will be rendered moot when another wave of change sweeps away even such flaws. Until then, I can admire the destruction and renewal, upheavals and stagnation. Pleasures make up for the small pains.
Become a subscriber to access all of our content.