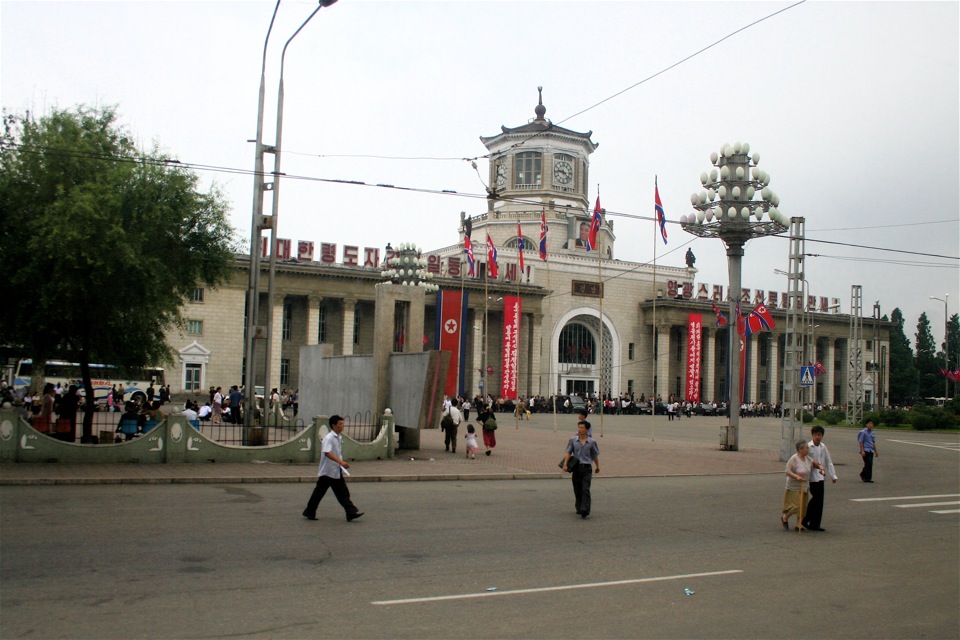 Who Are the Agencies Behind North Korea Tourism?
When hundreds of foreign journalists visited Pyongyang in April to cover North Korea's latest military parade, Otto Warmbier had already been in a coma for about a year. And nobody knew.
Earlier this month, Warmbier's parents received the first update about their son's condition since Jan. 2016, after a State Department representative was able to meet with a North Korean diplomat in New York. He was brought home, still unconscious, on June 13 and the curtain finally fell on the family's long ordeal six days later, when the 22-year-old died in his home state of Ohio.
University of Virginia student Warmbier was one of more than 800 Americans who visit North Korea each year, according to the New York Times, though the State Department does not keep a record of this number. A representative from China-based Koryo Tours told Korea Exposé that the majority of tourists come from China — more than 100,000 visitors per year — with about 5,000 coming from other countries.
During his travels, Warmbier allegedly made a mistake that in his home country may have ended in a small fine: He attempted to steal a propaganda poster from his hotel, according to North Korean media. But this mistake cost him his life — he was sentenced to 15 years in a labor camp, and mysteriously fell into a coma for over a year.
Travel agencies operating in North Korea are now on red alert. Young Pioneer Tours, the agency Warmbier was using, announced that it would no longer organize tours to the country for American citizens. Yet the travel industry can often downplay the dangers of visiting this "mysterious hermit kingdom." And it's been around for a surprisingly long time, with some agencies dating back to the early 1990s.
So who exactly are the top agencies that profit from North Korean tourism?
YOUNG PIONEER TOURS
Based in Xi'an, China, the travel service that took Warmbier to North Korea offers both group and independent tours to "destinations your mother would rather you stayed away from," according to its website. The company is relatively new and was formed in 2002, according to its website.
The site says Young Pioneer Tours started when a group of expats in China decided to use their love for travel as a springboard into business. Destination countries include, but are not limited to: Somaliland, Iran, Afghanistan, Cuba and, of course, North Korea.
North Korean guides, which are the norm across North Korea travel services, conduct tours in a range of languages. The company has also begun various other schemes, such as a volunteer farming project in Pyongyang and a "DMZ bar" operating in China.
KORYO TOURS
Koryo Tours labels itself "the experts in travel to rather unusual destinations" and, beyond North Korea, offers trips to Russia, Turkmenistan, Tajikstan and Mongolia.
Founded in 1993, Koryo is the oldest firm on this list. It is also arguably the most successful, being the first to take more than 2,000 people to North Korea each year. The agency is based in Beijing and prides itself on its knowledge of North Korea: According to the website, its "unrivaled access, experience and passion" puts it above competitors.
After Warmbier's death, Koryo Tours said it was discussing the matter with travel partners, as well as with liaisons in North Korea, to review policies on American citizens.
URI TOURS
Uri was founded by current CEO Andrea Lee's father, as reported by the Chicago Tribune. The company's website says it is the largest provider of North Korea travel in the U.S. and has been offering services for more than 15 years. Uri declined Korea Exposé's requests for comment.
Based in New Jersey, the service solely coordinates travel to North Korea, with trips departing from both Beijing and Shanghai. Lee told the Tribune that her company tries to "push the boundaries a bit" by offering more unique, specialized tours such as ski and snowboard tours.
Uri responded to Warmbier's death in an official statement on June 19: "Our thoughts and prayers go out to Otto Warmbier's family and friends. This was a heart-wrenching tragedy that should have been avoided." Uri is "reviewing" its policies for American citizens, the statement said.
JUCHE TRAVEL SERVICES
Juche Travel Services — a reference to North Korea's eponymous ideology of self-reliance — is based southwest of London in Weybridge, England, offering tours specifically and only to North Korea. It was founded in 2011, according to its website.
Again, travellers have options ranging from cheaper group tours to more flexible, customized private trips, both of which depart from Beijing. Juche prides itself on its relationship with the Korean International Travel Agency, run by the North Korean state, which provides its tour guides.
Juche has yet to respond to Warmbier's death and could not be reached for comment at the time of publication.
NEW KOREA TOURS
New Korea Tours prides itself on being a travel agency concentrated on North Korea — which, according to its website, is "the most unusual, bizarre and unique destination." Another U.S.-based service, New Korea Tours organizes flights from Beijing to Pyongyang.
The company has updated its website online to express its sympathies and reflect a revised position on accepting American tourists.
"While New Korea Tours has never had any detainments or other unwanted incidents on our tours in the past, we came to a decision, until further notice, to stop accepting applications from U.S citizens for travel to the DPRK," the statement said.
**
This decades-old industry is coming together in the wake of Otto Warmbier's death, which does little to alleviate an already tense atmosphere surrounding North Korean travel.
On June 20, Donald Trump stated that Warmbier "should have been brought home long ago." Lawmakers in Washington D.C. are reviving pushes for a travel ban to North Korea. Some, like John McCain, are condemning North Korea for murdering an American citizen.
The South Korean president, who is simultaneously trying to thaw relations with his northern neighbor, has also come out and criticized Pyongyang. "We cannot know for sure that North Korea killed Mr. Warmbier," he said in an interview with CBS on June 20.
"But I believe it is quite clear that they have a heavy responsibility in the process that led to Mr. Warmbier's death."
Meanwhile, Young Pioneer Tours' Facebook posts are becoming increasingly adorned with "Angry" reactions, which may be set to spur a flurry of change among competing agencies and leave the industry's immediate future unclear.
Cover image: Pyongyang Station, North Korea (Source: Wikimedia)
Become a subscriber to access all of our content.