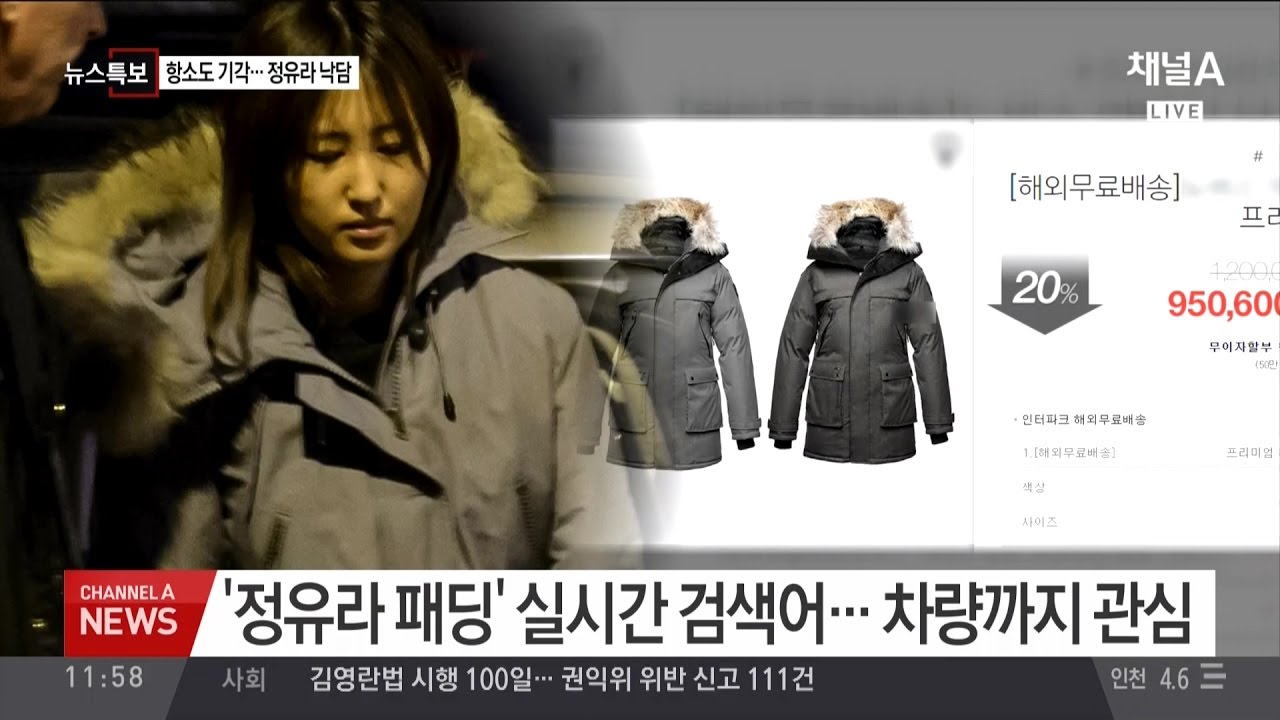 What Was That Jacket Chung Yoo-ra Was Wearing?
When Chung Yoo-ra was brought out from hiding after being apprehended by police in Denmark, many questions swirled in South Korea about Chung and her role in the evolving scandal centered around her mother, Choi Soon-sil. Just how did Chung, a reputed ne'er do well with lackluster academic credentials, gain admission to prestigious Ewha Womans University? Did she play any role in Samsung's funding of the dubious Mir and K-Sports Foundations run by her mother? Would she be extradited to South Korea to face the nation?
Along with these pressing matters, many South Korean netizens asked another question: What was that jacket Chung was wearing? Press photos circulated of Chung in dim, night-time light, disembarking from a gold sedan, head down, shrouded in a posh-looking, one size-too-big, grey parka.
The jacket immediately became the latest salacious detail in a scandal that has transfixed South Korea for months. Internet users quickly went to work tracking down Chung's jacket, with "Chung Yoo-ra jacket" becoming a top-searched term online. Internet sleuths quickly determined that it was made by nobis, a Canadian outerwear brand that describes itself as "A New Class Of Luxury."
For many, the jacket's price was more eye-opening than its appearance: nobis jackets retail on South Korean online shopping sites for pricing ranging from KRW 528,000 to 820,000.
The interest in Chung's jacket echoed something that happened in late October when her mother appeared in public, for the first time since the scandal broke. As Choi Soon-sil tearfully made her way through a raucous scrum of reporters outside the prosecutor's office in Seoul, she shakily combined Rasputin and Cinderella as she left behind one shoe, while struggling up a set of stairs.
Photojournalists snapped images of the shoe, a black Prada that matched smartly with the bucket hat and scarf Choi was wearing, and retails for KRW 720,000 per pair. Many interpreted Choi's footwear as confirmation of her affluent lifestyle, her ability to afford lavish goods despite holding no official job or having any known professional skills.
The shoe quickly became a source of humor, with internet users making memes of Choi based on the novel and movie The Devil Wears Prada, depicting her as the story's tempestuous fashion magazine honcho, and President Park Geun-hye as her assistant (a dig at Choi's reputed control over Park's decisions as president).
The two cases are not the only entries in a peculiar sub-genre of South Korean fashion criticism. In 2015, when Daesang Group heiress Lim Se-ryong, who is also the ex-wife of Samsung Electronics Vice Chairman Lee Jae-yong, was reported to be in a relationship with A-list actor Lee Jung-jae, her designer coats became a status symbol after Lim was photographed in them. Numerous more affordable knockoffs proliferated online.
In a case a few notches down the class ladder, in December 2012, details began to emerge that the National Intelligence Service, the country's main spy agency, had led a covert campaign to influence public opinion online, ahead of that month's presidential election. NIS had instructed at least one agent to leave online comments supporting conservative candidate Park Geun-hye, while criticizing her liberal opponent Moon Jae-in as a pro-North Korea stooge.
The agent was eventually identified as Kim Ha-young, a woman in her 20s. Alongside parsing whether Kim's online activities influenced the election in any way, many online news outlets also devoted space to discussing Kim's attire whenever she had to appear in public.
Wishing to conceal her identity, Kim would routinely appear for questioning wearing a baseball hat pulled low over her eyes, with a thick scarf or dust mask concealing the lower portion of her face. One blog put together a timeline of all Kim's outfits at her public appearances, complimenting her on color and pattern combinations, and anointing her a "fashion leader."
The feting of Kim as a fashionista is part of the same mix of envy and disgust observed in the cases of Chung, Lim and Choi, as well as in those of certain notorious male criminals like Sin Chang-won, remembered to this day for his colorful T-shirt, and Kang Ho-sun, a serial killer who wore a Kappa jacket in press photos. While many were irked by their expensive attire, sales of those items reportedly spiked amid the outrage, indicating once again that even as South Koreans criticize the excesses of others, they're still taking cues from them, and keen to resemble them.
Cover Image: Cable channel Channel A reports on the surge of interest in Chung Yoo-ra's jacket. (Source: Channel A)
Become a subscriber to access all of our content.