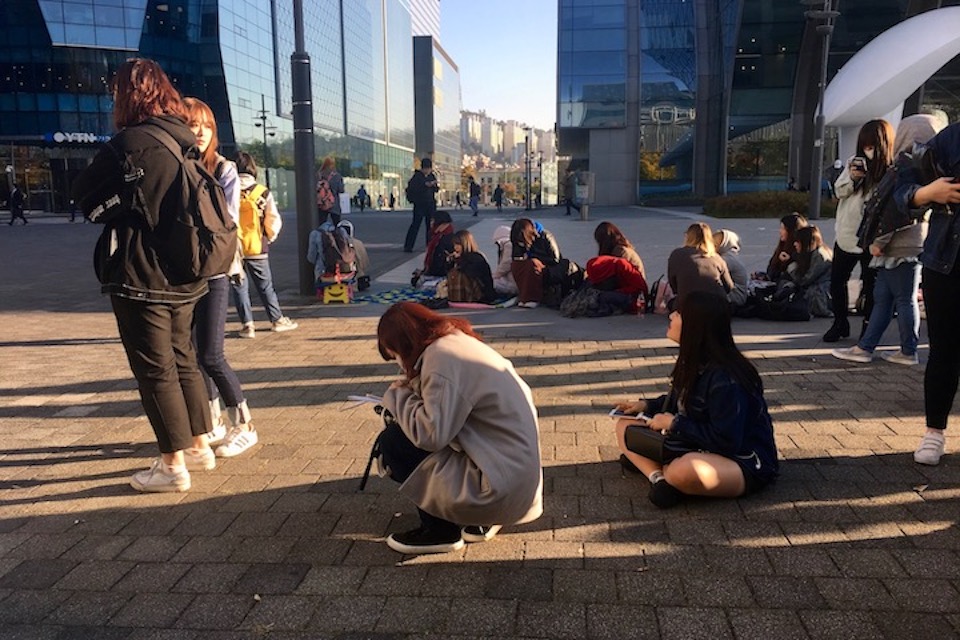 What It's Like to Love "B-list" K-pop Idols
On Oct. 19, 150 people, mostly young women, stood in the cold early autumn air since 6 a.m. for two hours to be ushered inside a building in the far western corner of Seoul. They waited so they could watch the same song-and-dance sequence performed three times by a K-pop band you've probably never heard of, for a TV show.
I was one of those fans. When I walked out of CJ E&M's recording studio after watching my favorite K-pop band, SF9, my voice was half gone from intense cheering. I felt dizzy after seeing my idols in person for the first time. I clutched my friend's arm and screamed, "He looked at me and waved back! Now I can totally die and I wouldn't even mind because he knows I exist!"
K-pop is an unforgiving world. For every major star you see on TV, in YouTube videos and the celebrity section of newspapers, hundreds more stay in the shadows waiting for their moment in the spotlight. (Newspaper Hankyoreh reported exactly one year ago that 220 girl groups had debuted between 2007 and last year; only 10 percent of them became recognizable names.)
Like SF9, these bands may not be as visible as Big Bang or Girls' Generation, but they certainly have their fans, who think this band is destined to become the next big thing no matter how other people might disparage it as "B-list" or "C-list."
K-pop fans like myself, who follow up-and-coming bands, often face criticism from outsiders who think that all idols are the same, the music indistinguishable. They ask me, why SF9? If you're going to like K-pop, why not just like the famous ones? Why did this "B-list" band stand out to you?
It's true that finding a K-pop band to dedicate yourself to can be like shopping at a very crowded shopping mall: All around you are an endless number of handsome guys and pretty girls clad in shiny clothes, with bright hair colors and pristine make up.
I remember feeling overwhelmed by the choices too. I'm from Valencia, Spain. I didn't grow up in a world where K-pop music was on television, radio and blasting inside shops.
I came across SF9 by chance about four years ago while listening on YouTube to CNBLUE, a better-known group from the same management agency. When SF9's video popped up in the suggested section, I clicked on the link out of curiosity. It surprised me that an agency like FNC Entertainment, which usually focuses on bands who play actual instruments, was promoting a full-blown K-pop idol band, with all the synchronized dancing and electro pop music.
SF9 at the time could at best be described as emerging. And K-pop fans value the suffering that's often emphasized to the public by the artists and their agencies. The story of how the idols toil in obscurity is part of the appeal of K-pop. The idols' universe isn't just made up of flashing lights, bright hair colors and pretty faces. The cruel reality is that they practice for hours, while on strict diets. Many aspects of their lives, including dating, are often regulated by their handlers.
The payoff can be great, especially if you sign with the big agencies like SM Entertainment, YG and JYP. But if you're SF9, the payoff lies in a future that may never come. Will they disband because the journey to success takes too long? This concern is like a constant rumbling in the mind of every fan who is supporting a low-profile K-pop band.
The precariousness of their existence is what generates loyalty; it makes our individual dedication, and contributions, feel all the more valuable.
Some fans, like the owner of the fansite for Rowoon (SF9's lead vocalist), buy albums in bulk quantities. Others, in and outside South Korea, pay for big advertisements in busy subway stations around Seoul for the members' birthdays, stream music videos endlessly, replay the album until all the lyrics are engraved into their brains. Some contributions are miniscule in terms of influence and cost. But others, like the subway ads, are expensive. A single ad can cost anywhere from 2 to 6 million won ($1,800 to $5,300) for a month of display.
안녕하세요 SWOON입니다!#로운 의 생일을 축하하기위해 바이두김로운바와 함께 지하철6호선디지털미디어시티역에서 광고를설치했습니다.여러분 인증샷많이부탁드리고 우리 로운을 많이사랑부탁드립니다!
로운아 생일 미리 축하해♥#SF9 @SF9official pic.twitter.com/kGcPtYBb7n

— S W Ő O N (@swoon0807) August 1, 2017
A subway ad celebrates an SF9 member's birthday.
You can do the same for established artists, but doing it for SF9 feels special, because they are more in need of publicity. I can tell myself that my support can help make their career.
After coming to South Korea in September, I found another reason to relish being a member of Fantasy, the SF9 fan community. While I am supporting hard-working boys with incredible talents for dancing, acting, composing and modeling, I've come to realize that they are also humble, down-to-earth and not shy to express love for their fans. Other fans I met at the CJ E&M studio said that members of the group remember your name and nationality if you've attended a couple of events and always make you feel like you're the only fan they've ever had, even though there's a line of 100 other girls behind you waiting to be treated the same way.
I love K-pop because I can be a participant. I can go to a recording studio, wait for an artist with fellow devotees, and scream passionately as part of a community. In loving SF9, I am a part of an even smaller fanbase where the community is more familiar and intimate. Fans recognize each other. Your favorite member can even remember your face — I get tingles from that recognition.
And just this month, SF9 released a new music video that incorporates Spanish lyrics, dance and traditional music. Perhaps it is a cynical marketing ploy for breaking into the Spanish-language market, but it is the first K-pop band that has done this, at least to my knowledge. When I saw that music video, I thought, 'This is the group I'm definitely going to support.'
When I imagine the day my boys will finally rank first on a popular South Korean music show, my chest swells with pride. Then I'll be able to say, "I was there when they started, through thick and thin, and look how far they've come. Look how far we've come together.'' You will never experience that sense of satisfaction if you follow an established band.
I will be braving the cold again tomorrow morning, and again this weekend, just to see SF9 record their TV appearance. I am skipping a class for this, and gracias a Dios my parents don't understand English because they will kill me if they find out. But they will never kill my eternal love for SF9.
Cover image: SF9 fans, known as Fantasy, wait outside the CJ E&M building in western Seoul to see SF9 record a TV appearance. (Andrea Martinez Lopez/Korea Exposé)
*
Here is Andrea's short list of K-pop bands to watch out for.
SF9
CLC
A.C.E
Become a subscriber to access all of our content.