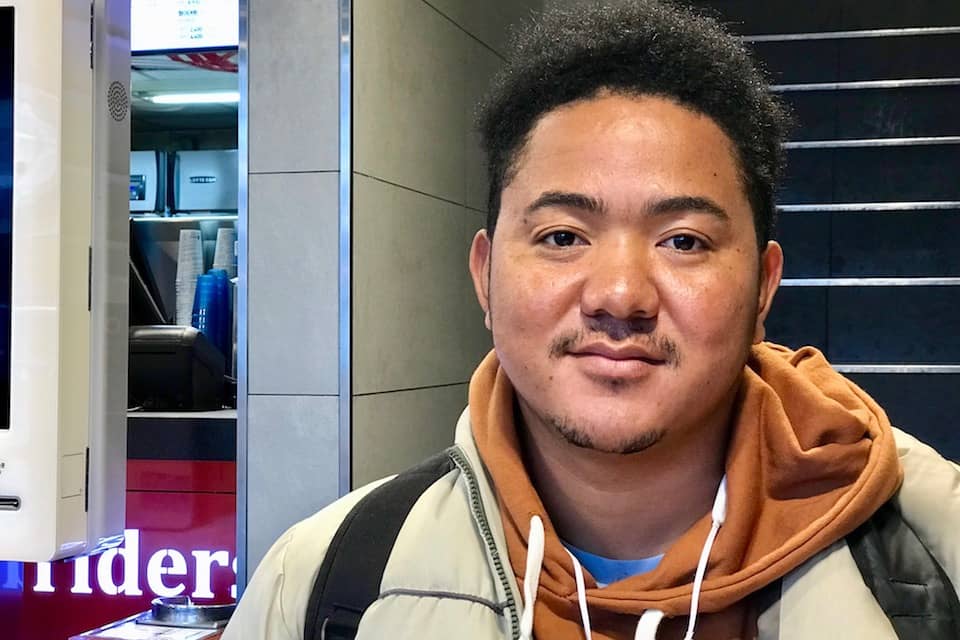 Kwanwoo Suh Is Looking for His Korean Father
Kwanwoo Suh, 30, is facing his second winter in South Korea. He moved here from the West African country of Liberia in July 2017, and he finds it challenging to cope with the cold weather. But Suh is trying to stay on until he meets his objective. He is here to find his father.
"People said my dad's name was Nakie Kang. My mom met dad when he worked with my uncle at Daewoo E&C, and they were in a relationship for one year. My dad already had a wife and two daughters in Korea," Suh told Korea Expsoé.
Suh was born in 1988. He is among an estimated 30 Korean-Liberian children who were born in Liberia between the mid-eighties and early nineties, roughly the same time that South Korean firm Daewoo Engineering & Construction (Daewoo E&C) was building a highway between Monrovia, the Liberian capital, and Freetown, the capital of Sierra Leone.
Most South Korean fathers left Liberia and severed all connection with their Liberian wives and lovers.
"When my parents found out that mom was pregnant, dad said he was not sure if he could raise an African baby. Mom brought dad to the court for a child support, but dad angrily said, 'In Korean culture, a couple will be lifetime enemies if the wife brings her husband to a court,'" Suh said.
"He went back to Korea and disappeared after changing his phone number and address."

Liberia was soon embroiled in two brutal civil wars, first from 1989 to 1997, and again from 1999 to 2003. The conflicts destroyed much of the country's infrastructure and stopped public services. The death toll during the 14-year period rose to 550,000, in a country with fewer than five million people today.
The lives of the half-Korean children were made all the more difficult by discrimination."Since I was young, I've had to make and sell bread with mom to survive. Because of our appearance, Korean-Liberians were called insulting names like 'Chinese man' or 'disappointing African,'" Suh said.
"While many of the Lebanese and German fathers supported their mixed children, most Korean fathers abandoned their babies."
Still, not all fathers acted dishonorably. Reynold Guwoo Choi, who was born in 1991, said his father, late Choi Kwang-chul, took care of him and his Liberian mother until death in 2001 due to liver complication. His mother still keeps her late husband's identity card.
Isaac Gibson, whose Korean name is Jung Young, said his South Korean father left Liberia in 1988 at the onset of the first Liberian civil war. His father left behind enough information for Gibson's mother—15-year-old and pregnant at the time—to contact him, but all documents were lost when she and Gibson became refugees.
"It was my late grandpa who encouraged my mom to marry dad. Grandpa wanted to give his daughter 'a better future' as my dad was richer than her. However, we had to struggle for life after dad left. Well, that was my future," Gibson said.

Suh was among the luckier few. His biological father's friend—another South Korean man —adopted him, giving him the last name Suh. That friend also supported his education.
Some South Korean media outlets like Sisain covered the issue of Korean-Liberians in the late 2000s, but given their small number, such children haven't received much attention, unlike the far more numerous Kopinos—children of South Korean fathers and Filipina mothers.

A few of the children have been trying to find their South Korean fathers. "I want to find my dad and go to Korea someday. But we don't know how we can do it. No one has helped us so far." Isaac said.

It would be an expensive journey. Liberia's GDP per capita in 2017 was $456.
South Korea's Nationality Act says: "A person whose father or mother is a national of the Republic of Korea at the time of the person's birth" is entitled "to become a national of the Republic of Korea." But so far Suh has as been unable to acquire South Korean citizenship despite being fathered by a South Korean and legally adopted by a South Korean family.
He and his adoptive father visited the immigration office in the city of Incheon, South Korea, last year to request naturalization. But the office demanded that Suh take a DNA test to prove his paternity, and given his inability to track down his biological father, things went nowhere.
Korea Exposé contacted Daewoo E&C for information about Suh's father. The company's public relations representative said: "Only information concerning our company's regular employees is entered into the database. Employees on a contract basis, day workers, or employees of subcontractors are not in the database. Usually an overseas worksite mainly consists of subcontractor employees rather than our regular employees. So finding relevant personnel information would be practically impossible."
For now, Suh has been allowed to remain in South Korea on an asylum-seeker visa. It also means that he is unable to apply for naturalization.
Song In-sun at Gyeonggi Global Center, an NGO that helps foreign migrants, told Korea Exposé: "If a foreigner's parent is Korean, he or she can receive a F-1 or F-2 [cohabitation or residency] visa. Kwanwoo probably was not eligible to receive an F visa as he was adopted as a minor only on paper and never actually lived in South Korea. He entered South Korea as an adult but his [adoptive] parents were not living in South Korea, so the [immigration office] seems to have been unable to find a suitable visa status for him."
Suh now lives in Ansan, an hour south of Seoul, and dreams of finding his father and perhaps studying agriculture so that he can contribute to Liberia's economic development. He is getting by with money made from working as a day laborer on construction sites and farms. And he is deeply frustrated with the lack of help he has received from the South Korean government.
"Koreans going outside [South Korea] and having kids and running away without supporting these kids…it's really, really bad for the Korean government, and for the image of Korea," he said.
"The Korean government should start an NGO and put in some money and go back to those countries and help those kids. Korea is a rich country. It should be able to do that."
Cover image: Kwanwoo Suh (Se-Woong Korea/Korea Exposé)
Become a subscriber to access all of our content.