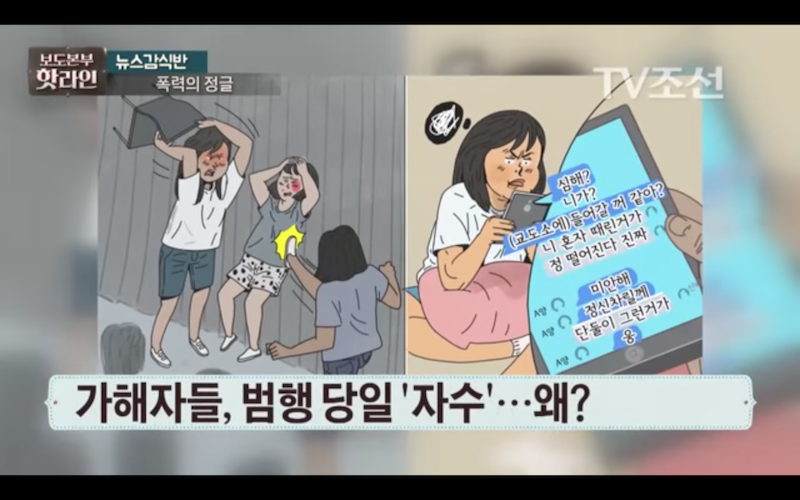 Crime and Punishment of Juvenile Delinquency
When a gory photo of a kneeling 14-year-old girl covered in blood appeared on Facebook, it immediately went viral.
The photo, posted on a page that receives anonymous submissions on issues regarding Busan, was reportedly taken by a girl of the same age, one of the two teens that had assaulted the victim with blunt instruments — including a chair, a glass bottle and a steel frame — at a vacant lot in South Korea's second-biggest city on Sep. 1. CCTV footage of the assault was then aired on numerous media outlets, including JTBC News, showing two more bystanders who, according to local newspaper Busan Ilbo citing the police briefing, had also participated in the assault.
One of the perpetrators allegedly sent the photo to an acquaintance, asking whether she would go to jail for the crime. Appalled by her callousness, the recipient captured the screen and submitted the conversation to the page along with the photo. Now deleted from the page, the post has been widely circulated on other online platforms.
The two main offenders reportedly confessed that they had beat the victim in retaliation after she had informed the police of a previous assault she had suffered at their hands, according to Busan Ilbo.
This horrific incident raises a difficult question: Is the current law concerning juvenile punishment necessary? Especially in a case like this one, where the perpetrators are likely to be shielded from long-term imprisonment because they are minors.
The Juvenile Act, passed in 1995, sets different penal standards for juvenile offenders under the age of 18. The maximum detention period at the juvenile reformatory is capped at two years, and in murder cases, an underage perpetrator is spared the death penalty or a life sentence. (The maximum period of incarceration in that case is 15 years.) Minors also do not get criminal records.
In 2010, 16 high school students in Daejeon sexually assaulted a mentally disabled teenager over the course of a few weeks. The perpetrators were simply sent back to their parents, given a year of probation and a period of re-education. Without a criminal record, one perpetrator even got accepted into a prestigious university in Seoul — Sungkyunkwan University — with his teacher recommending him as a model student, according to daily newspaper Chosun Ilbo (Sungkyunkwan University reportedly revoked his enrollment after the news broke).
The law aims to protect young perpetrators from stigma and give them a second chance. But critics think some adolescents are abusing their status as minors and committing horrific crimes, knowing that they will receive no more than a slap on the wrist.
After the Busan assault came to light, one citizen filed a petition on the presidential office website, demanding that the law be scrapped.
"While the victims have to live with the trauma their entire lives, the perpetrators only receive minor punishments for being adolescents…and not even a criminal record. Later in life, these past misdemeanors become mere memories of heroic exploits that they can talk about, as side dishes to their drinks. They live out in the open as adults with a laundered past," wrote the petitioner.
The petition, which has garnered over 109,000 supporters at the time of publication, cited a list of other violent crimes minors had committed in the past, including the infamous Miryang incident in 2004. In that particular case, over 100 perpetrators — all high school students — were complicit in rape and sexual assault of a female middle school student that lasted a year, but only 10 were sent to the juvenile reformatory, and ultimately released without any criminal record.
In the past decade, the number of juvenile criminals has been declining, however, from close to 120,000 underaged offenders in 2007 to 87,000 last year (juvenile crime rates have been decreasing too, along with the overall decline of the youth population). But interestingly, the number of physical assault cases committed by minors have almost doubled, from 3,600 in 2011 to 6,600 in 2015, according to the Crime and Criminal Justice Statistics database.
A bigger problem with juvenile delinquency is recidivism. According to a government index, young offenders are over two times more likely to commit crimes again (12.3 percent) than their grownup counterparts (5.6 percent), possibly due to the lack of serious punishment for their criminal actions.
The 14-year-old girl from Busan, currently hospitalized with deep cuts even on her head, will remember the assault for the rest of her life. Justice must be served, but what is the proper course of action? And will heavier punishment reduce youth crime or recidivism, and prevent another tragedy like this one?
Cover image: (Source: TV Chosun YouTube)
Become a subscriber to access all of our content.