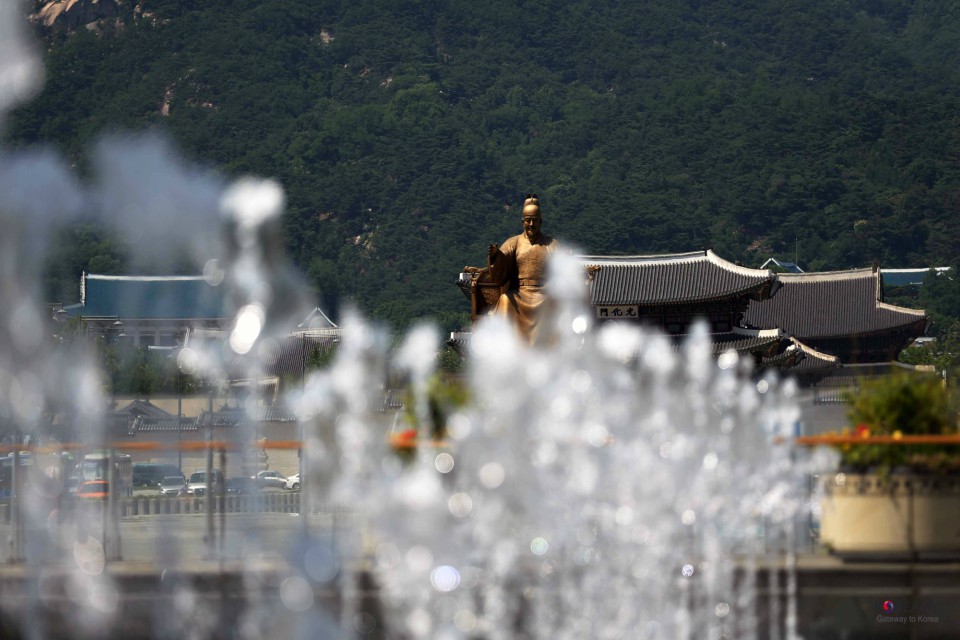 Heat Shelters Are So Hot Right Now
On its website, Seoul's Gwangjin District has a map scattered with a total of 99 red pins that make the landscape look like it has broken out in heat rash. But contrary to its heated appearance, the red shapes denote air conditioned oases where people without other options can escape the sweltering weather. The purpose of the map is to alert residents to the locations of heat shelters, air conditioned spaces where anyone can cool off for a while.
Seoul is in the midst of another extremely hot summer. According to Korea Meteorological Administration, the highest temperature this summer (as of Aug. 7) was a nationwide average of 29.6 degrees Celsius, the hottest after 1994, which had the highest recorded temperature ever of 30.4 (KMA started recording temperatures in 1973). Amid such weather, the bustle of the city's streets winds down somewhat, with more people staying inside.
But staying inside is more comfortable for some than others, and the increasingly high temperatures, in South Korea and elsewhere, are sparking a conversation over whether air conditioning should be thought of as a luxury or a right.
Extreme heat affects people of different income brackets differently. Those who can afford to may stay in their comfortable air conditioned homes. They can punctuate the long, hot summer with trips out of the stifling city, to airier locations in rural South Korea or abroad. Poor folks are left to sweat it out.
South Korean daily Seoul Shinmun recently reported the deaths of several elderly people in the sauna-like heat of the first weekend in August, including a 91-year-old who collapsed while working in a pepper field in the rural south.
This is where so-called heat shelters come in. The shelters aren't unique to Gwangjin District; local governments and community organizations across the country are stepping in to provide climate-controlled spaces to help residents breathe easier.
On its website, Gwangjin explains that the heat shelters exist for the health of elderly people, who must contend with a combination of disproportionate poverty, and vulnerability to heat brought on by the physical frailty that comes with age. Due to the country's spotty social welfare system, South Korea has the highest elderly poverty rate among members of the OECD, meaning there are plenty of old folks who can't afford to purchase or operate air conditioners.
Check out how the elderly men at Tapgol Park are surviving the "heat storm" of the South Korean summer. (Jieun Choi & Seohoi Park/Korea Exposé)
The hot summers of recent years have led to the coining of the term "explosive electricity bills," where households who run their air conditioners for more than a few hours per day get saddled with higher-than-usual monthly electricity bills.
Data from Korea Electric Power Corporation show that electricity consumption and household costs are both on the rise. In August of last year, one of the hottest months ever recorded in South Korea, households consumed an average of 490.2 kilowatts of electricity, costing an average of 78,329 won (around 70 U.S dollars). That was up from 2006, when the averages were 406.71 kilowatts consumed at a cost of 53,667 won (around 47 dollars). Those numbers may not sound like a lot, but they're a significant hit for elderly people on meager pensions.
On a broiling afternoon in early August, I visited a heat shelter at Chunggok Social Welfare Center in Gwangjin District. In late afternoon, the center was abuzz with children participating in after-school study programs, as moms and grandmothers chatted in the hallways. Upon entering the heat shelter on the fifth floor, the only person inside was a middle-aged man was doing stretching exercises.
For a room whose whole purpose was to provide respite from the heat, the room wasn't all that cool. One hard-laboring air conditioner was mounted on a wall, and though its target temperature was set to eighteen degrees, the room felt much hotter.
The space appeared to have been otherwise disused, having in it only a few couches and out-of-season winter heaters pushed off to the side. In another room, behind a sliding glass door, was a long conference table.
It isn't possible to know how widely used the heat shelters are, or if any elderly person's life or health will be saved by access to an air conditioned space. (Reached by phone, Chunggok Social Welfare Center declined to disclose the number of people who have used the heat shelter, or the average number of people who visit per day.)
It is possible that in class-conscious South Korea, some poor or elderly folks will avoid public heat shelters due to the tacit implication that their presence there means they can't afford a private air-conditioned space.
Along such lines, seemingly alarmed by the presence of another person, the middle-aged man quickly gathered his wallet, phone and eyeglasses off a nearby table and made his way to the elevator. "Turn off the air conditioning when you leave," he said just before the elevator door slid shut.
Cover image: (Source: Wikimedia Commons)
*
For more on how some in the elderly population are faring in the summer, read:
Become a subscriber to access all of our content.