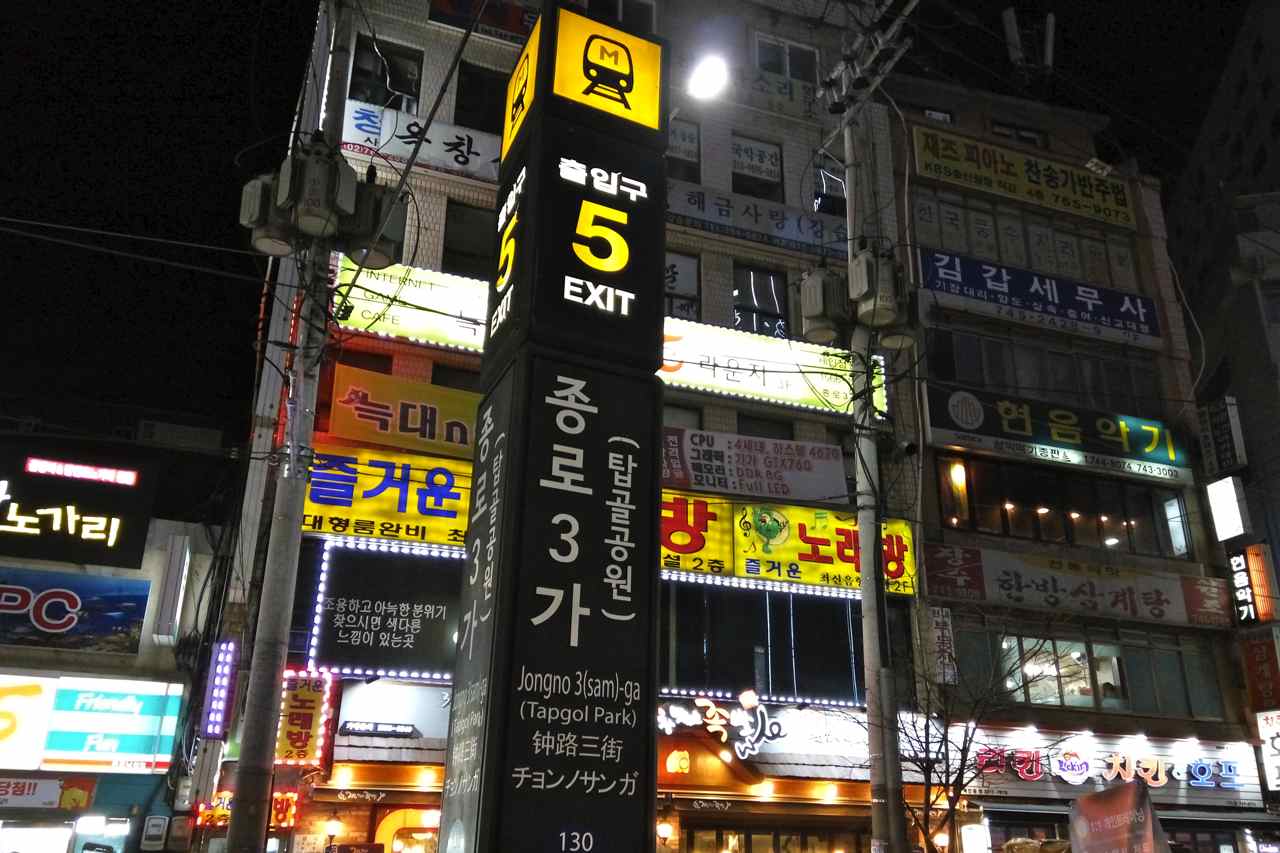 Gay Jongno: Hidden in Plain Sight
The central district of Jongno is synonymous with high-rise office buildings, language academies, the bustle of Insadong, street barbecues, and end-of-week drinks. But a closer look will reveal another world unfamiliar to even veteran Jongno-goers, tourists, and residents alike: gay Jongno.
Many are unaware that the streets of Jongno are lined with myriad gay establishments, varying from standard bars and karaoke joints to DVD rooms, BBQs and even gay saunas. While the more obvious 'Homo Hill' in the international district of Itaewon is often associated with all things gay Korea has to offer, the more laid back and shabby Jongno is without doubt the heart of Seoul's gay scene, boasting countless hangouts in close proximity to Jongno 3-ga station, just next to the Nakwon musical instrument arcade.
The Korean gay scene has never been as accessible as it now is, but the story goes that gay Jongno started off as a space for homosexuals to gather in the 1970s when things were quite different. Until then gay encounters happened randomly and anonymously in secret and ever-changing public locations around town. But as the city redeveloped under President Park Chung-hee, businesses started moving out of downtown and empty spots in Jongno-3-ga slowly filled with brothels and a handful of gay bars. One spot in particular, Pagoda Theater (now Pagoda Town), soon became infamous as a place where gay sex was solicited and offered. Gay drinking holes nearby were shrouded in secrecy, and one had to be guided to a gay bar in order to know it. Jongno-3-ga built a reputation for being a space for gay men through the 1980s.
With the arrival of the more openly gay scene in Itaewon in the 1990s, young Koreans started to shun sketchy Jongno, forming a gay identity distant from the seedy streets near Pagoda Theater. With the advent of Internet, the late 1990s saw the community truly rise, bound by an explicit self-identity, and Jongno eventually followed suit, even placing gay bar signs outside and becoming what it is today.
Nowadays Jongno's back allies remain shabby but active. Jewellery vendors, music shops, and backpacker hostels are aplenty, as are the old-fashioned restaurants offering affordable grub. Also part of the scenery are many motels catering to guests both young and old. The area between Tapgol Park, once a gay cruising ground, and a blockbuster theater until recently known as Lotte Cinema Piccadilly attracts older female sex workers — colloquially known as "Bacchus Ajumma" — despite recent crackdowns. But on Friday and Saturday nights, after boozed-up ajeossi call it a day, Jongno becomes gay central where boys come out to play.
The average evening will see crowds of young men slowly forming at the station's exits 3 and 5. Few women are in sight. Soon, vinyl-covered street stalls spring into life with excited young male customers. It is a place for friendship, exploration, adventure, 'cruising' and courting. But above all, it is a place for uncomplicated fun.
In the most unassuming of side streets, groups of five, ten or even twenty people will disappear into battered buildings whose basements let out a deafening thump. They might not even know one another after making first contact on an anonymous (sometimes paid) meet-up, facilitated by one of many apps and websites catering to the community. Unlike Homo Hill, Jongno is very much Korean territory.
According to lists drawn up regularly (and just as frequently banned by the South Korean government), Jongno counts up to one hundred gay spots in the area though an exact number is difficult to come by. Some are blatantly obvious on main streets, displaying rainbow flags and stickers in the window. Others are more low-key and difficult to find, and some pass off as 'normal bars.'
For those wanting to wake up for the night, a popular gathering spot is the brightly lit Coffee Bean outlet – also known as 'Gay Bean' – right by the Nakwon arcade. Here, handsome men will congregate, literally taking over the coffee shop, for no other purpose than getting together, if not peaking at eye candy, before heading to their next stop, Itaewon.
While not all do, the pilgrimage from Jongno to Itaewon is so common that the two areas now have a portmanteau: Jongtaewon. Indeed, the party usually starts in Jongno for hors d'oeuvres, with main antics unravelling in Itaewon past midnight after the subway closes.
On weekdays, when things quiet down, office workers and middle-aged men will come in for a quiet drink and wind down, alone or among friends and partners. What always strikes me is that the person sitting next to you could be your team leader, your manager, or your co-worker. But momentarily, he is in his own world, out, and away from the usual gaze of judgement.
Judging by the nocturnal escapades that take place on weekends and the numerous bars in full public view, the Korean gay scene is not exactly hidden away, but most Koreans are completely oblivious to it. In that sense, Jongno is truly a world apart in the very heart of Seoul, in a country where the existence of homosexuality is acknowledged, but homosexuals are not. The fact that gay Jongno exists is comforting, a testament that homosexuals do indeed exist, are able to self-identify, and able to form a community despite the repressive society they live in. Jongno is a place of refuge, where one gets to confirm that he is not alone. Yet it is also unnerving that such a subculture remains completely invisible to the oblivious majority.
Indeed, invisibility can sometimes be a sad thing. Back in the office on Monday, colleagues often ask what I got up to during the weekend. I would love to share my Jongtaewon escapades but find it impossible to do so. My boss recently asked me over drinks where I like to hang out, to which I reluctantly replied, "Jongno." I got nervous, thinking he might be in the know and expose me. But he seemed to pay little attention and left it at that. Most Koreans think they "have never met a gay person" after all, and Jongno and its true meaning ring no bell to him.
Become a subscriber to access all of our content.