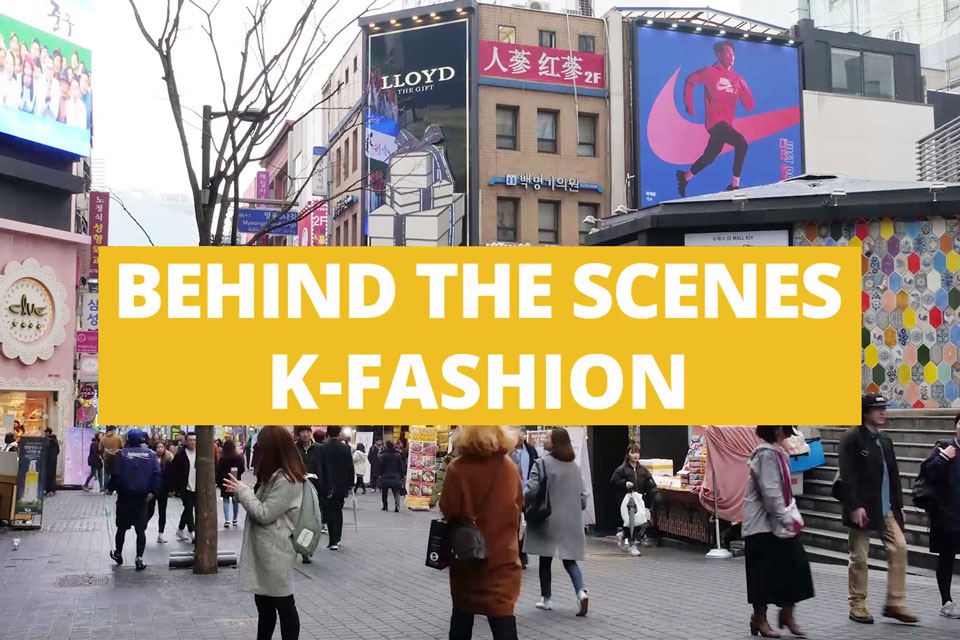 Evolution K-Fashion: From Dongdaemun Alleys to the World
Midnight on a Friday: A time when most office workers are going home after their work and evening hoesik. But in Dongdaemun's Shopping Town, the day is just starting. Giant malls like Nuzzon, whose only clients are wholesalers, come to life with the rising murmurs of the crowd. Wholesalers and 'purchasing uncles' — who deliver goods from the wholesalers to retail stores — travel from across South Korea to fill the midnight market.
Around 1,200 stores are clustered in Nuzzon, each covering a tiny area of around 6 to 10 square meters, from the second floor below ground to the sixth floor above. Dongdaemun alone is home to some 40 malls like Nuzzon, each containing over 1,000 stores that specialize in everything from clothing, shoes, jewelry, bags, and other fashion items. This is the hub and heart of K-fashion, the shopping industry riding the Korean Wave.
With the popularity of Korean dramas and K-pop, global buyers are actively seeking out Dongdaemun Shopping Town.
"Orders sometimes come directly from abroad," said Kim Sang-hee, who sells clothes in Nuzzon. "From clients in China and Taiwan, we get orders via LINE or Wechat [messaging apps]. New products that 'make it' abroad sell here like hotcakes. That jacket Song Hye-kyo wore in Descendants of the Sun was sold out for two months."
"Dongdaemun grasps the trend incredibly quickly and instantly releases new products," said Kim.
Where do all these clothes, targeting customers abroad, go from Dongdaemun? Offline, overseas consumers and buyers come directly to the night market to pick up retail or wholesale goods. But in recent years, the maturing e-commerce environment has led to the rise of online shopping malls selling to global markets.
Over the past four years, an increasing number of consumers outside South Korea have been ordering K-products straight from their homes. According to government data, the number of foreign consumers purchasing online goods from South Korea has increased dramatically — sales jumped by 4.3 times between 2014 and 2017, from around $600 million to $2.7 billion.
Sales of 'clothing and fashion-related items' also increased in the same period, from less than $200 million to nearly $400 million. An overwhelming majority of customers came from China, followed by Japan, the U.S. and ASEAN countries.
South Korea's online 'specialty mall' industry is the most vibrant in the world. When it comes to K-style fashion, consumer demand has gone beyond open market platforms like 11st to encompass specialty malls. Specialty malls get their name from specializing in specific product categories that target specific consumers.
For example, an online mall can focus on apparel for women in their twenties to thirties, or jewelry for teens. Many of these malls select their products at the Dongdaemun wholesale markets and style items in their own unique interpretations of K-style.
According to a 2016 report by Kantar TNS, at least 8 in 10 South Koreans had used online shopping, the highest rate in the world. Government data show that the gross merchandise value (GMV) of the country's online shopping grew by 40.2 percent in 2017 alone, reaching $86.4 billion. Within that figure, the GMV of online specialty malls take up over 30 percent with $27.3 billion, a 105.5 percent increase on the previous year.
Entrepreneurship in online fashion is booming in South Korea, thanks to an active online shopping environment, fashion infrastructures like Dongdaemun, and the emergence of e-commerce platforms. Well-known e-commerce, open marketplaces like 11st are easier to break into for rising entrepreneurs as they simply require the registering of products on the platform. But many entrepreneurs manage their own online shopping malls, for the sake of strengthening growth and brand recognition.
Founded in 1999, cafe24 is the oldest global e-commerce platform in South Korea, lowering the entry barrier for entrepreneurs into the market by offering a comprehensive 'solution' system. "As of 2017, over 1.5 million specialized online shopping mall accounts have been established through cafe24. About 60 to 70 percent of them are related to fashion," said a representative from cafe24.
The characteristically Korean emphasis on speed and efficiency is reflected in the country's e-commerce system. E-commerce platforms like cafe24 provide a one-stop solution for entrepreneurs, packaged with services including payment, shipping, customer service, marketing, and advertising.
cafe24 also offers offline support through its 30 SOHO Business Centers spread throughout South Korea in the form of affordable office space, e-commerce consultation, photo studios, Dongdaemun night market tours and more, to help fledgling entrepreneurs jumpstart their businesses. The company makes it easier for entrepreneurs to go global by offering assistance with country-specific marketing strategies, including translation and payment systems.
Non-Korean speakers express frustration with online shopping in South Korea. Among the regular inconveniences they face are inability to purchase items online without digital certificates that can only be issued from financial institutions in South Korea, such as banks and the post office. Businesses are now trying to create a standardized and more convenient shopping culture for foreigners by importing payment systems from abroad and allowing non-Korean customers to choose the payment option they find most convenient.
For example, cafe24 offers translation services for online malls to publish their sites in seven languages, including English, Chinese and Japanese, and teamed up with global payment service providers like Alipay and Paypal to make shopping easier for foreign customers. Numerous shopping malls have launched globally based on cafe24's solution: Hotping and Imvely are prominent examples of online-based specialty malls that expanded overseas within a decade of opening, even establishing offline stores in the U.S.
Local online malls like Ssong Salon, which Instagram stars like Kim Bora model for, are expanding globally. (Video produced and edited by Youjin Do for Korea Exposé)
These days, many newer shopping malls start by targeting the global market. Ssong Salon, an online womenswear mall for customers in their 20s to 40s, was already eyeing the English and Chinese-speaking markets a year and a half before its launch.
"I thought the domestic market was already saturated," said Ssong Salon CEO Chae Song-hee. "Targeting foreign customers is more challenging. Compared to when I'm just targeting South Koreans, there are a lot more factors to consider, like sizes and trends. There's no unified 'U.S. customer…individuals may prefer different designs."
"But I studied the different trends hard. Now 30 to 40 percent of our revenue comes from countries outside South Korea, like the U.S., Canada and China. Although it might make sense to reach global markets through global platforms like Amazon Web Service and Shopify, the domestic solution was convenient enough to make global marketing easier for us."
Some inconveniences remain for non-Korean customers shopping online from outside South Korea. Even when sites offer different languages, from time to time, one can find shopping malls where only the name of the product is translated while the rest of the details remain in Korean.
"We offer a shopping mall solution that provides a convenient consumer experience and minimal energy expenditure for entrepreneurs on petty tasks, one that can help businesses focus on the creative aspects of their operation," said Kwon Kye-young, director of cafe24's e-commerce Startup Consulting Institute.
"We need consistent follow-up management: efficient solutions for different entrepreneurial challenges, along with education about trends, marketing and customer satisfaction. Only then can the K-shopping mall boom continue to ride the Korean Wave."
This story was sponsored by cafe24. Korea Exposé collaborates with companies to highlight brands that provide an interesting glimpse into South Korean society. For more details on sponsored contents, go here.
Become a subscriber to access all of our content.