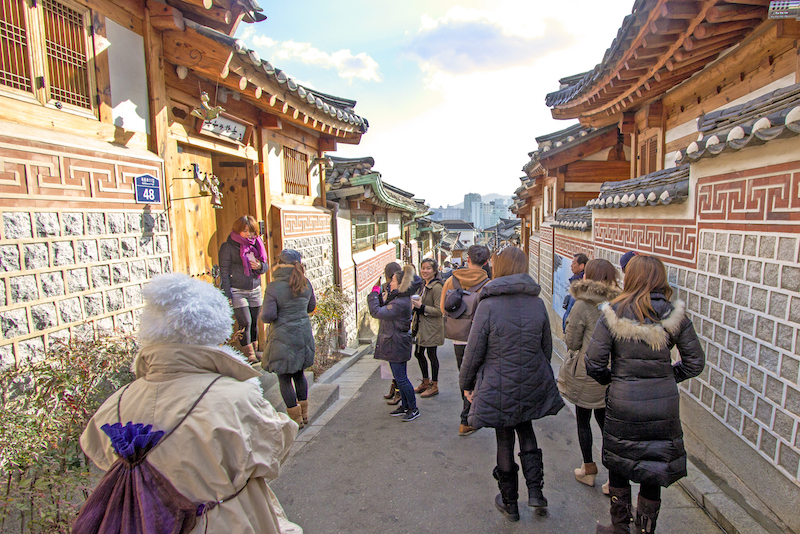 Bukchon: Seoul's Destruction of Heritage
Gahoe-dong — "the place where beauty gathers" — was the last district in Seoul with whole streets of wood-and-tile houses, preserving the ambiance of the city a century ago.
But after six hundred years at the heart of Korean cultural and social life, it has been relentlessly destroyed.
Gahoe-dong is part of Bukchon, a small area between two major historic sites: the Gyeongbokgung and Changdeokgung. The latter was added to UNESCO's World Heritage List in 1997.
Seoul city officials describe Bukchon as a "hanok village" and zealously promote it as a tourist destination. Little do most visitors realize that it is the city government itself that has contributed to a steady reduction in the number of old houses.
Most of these old homes, known as hanok in Korean, have now been bulldozed and replaced with two-story buildings, built mainly of concrete and topped by ersatz traditional architecture. Out go emblems of tradition and in come souvenir shops and cafés and the rich.
It didn't have to be this way.
In 1976, the neighborhood was designated as a Korean-style House Preservation District and put under the special care of the city, according to the city government's website. The government also designated the old hanoks as Local Cultural Assets on March 17, 1977, to protect them.
But strangely, hanoks kept on disappearing. In 1985, when the so-called Hanok District City Plan – a blueprint for "modernization" – was established, there were 2,756 buildings in Bukchon, of which 1,518 (55.1%) were hanoks. By February 2000, the number of hanoks had dropped to 947 (41% of all Bukchon buildings), or 63% of their 1985 number.
Over the years, the government itself played a decisive role in the hanok cull by authorizing construction projects such as the Constitutional Court, the Hyundai Construction headquarters, the apartments overlooking the Changdeokgung, the demolition of Gahoe-dong 1 district for Hanwha's luxury villas, and the widening of Bukchon-Ro and other roads.
Pressures from the many Bukchon residents, who wished to redevelop their hanoks into apartment blocks or see the property price rise, also led to some relaxation in regulations and more changes.
By 2000, only two Bukchon streets remained entirely populated with hanoks, both in Gahoe-dong 31. It was clear to all that the "hanok village" would soon be just a memory. Then the Seoul Government began to consider, however belatedly, how best to safeguard what little remained as part of plans for the continuing restoration of historic sites north of the Han River that bisects the capital.
In 2000, the city government conducted a detailed architectural survey of the remaining hanoks and, in December 2001, published the "Bukchon Plan" which outlined an 84.5 billion KRW project to protect, preserve, and restore Bukchon using authentic techniques and materials. Later, in 2006, Mayor Oh Sei-hoon pledged 370 billion KRW to preserve hanoks throughout Seoul.
Most of the attention went to Gahoe-dong 31, designated a "Special Protection Area" since it held the largest reservoir of well-maintained hanoks, many built in the 1930's.
I bear witness to the failure of this official plan: Gahoe-dong is also my home – my wife and I bought an old hanok in Gahoe-dong 31 in August 1988.
What followed the Bukchon Plan was the opposite of what was promised. In our street, my home is now one of only two surviving examples of historic architecture. Since 2002, seven have been demolished, replaced with modern concrete-and-wood hybrids.
Across Gahoe-dong, new buildings that have replaced hanoks have been financed partly via government grants and low-interest loans. In one situation, a new owner received a government grant of 30 million KRW for "hanok repair and redecoration." However, this money went to demolishing the hanok and erecting a modern two-story building, now worth much more than the earlier structure.
Very often, two neighboring old hanoks would be demolished to create a big plot for a larger, two-story hybrid. From the street, this is seldom evident since the additional story is excavated as a lower-level ground floor, hidden from the street.
Many of the new buildings lie empty. Some have been granted commercial licenses. One operates as a private hotel for wealthy foreign visitors.
While new owners were given funds and free rein, established residents who wished to retain and preserve their modest homes found, surprisingly, that they did not qualify for official support.
Some might say that the hanoks of Gahoe-dong, dating mainly from the Japanese colonial period, do not deserve stringent protection. But this ignores their unusual origin.
Our hanok was built in 1929, and like many original hanoks in our area was built by Jeong Se-gwon who owned one of the largest construction companies of his day.
Jeong was active in the independence movement and, like many people, was alarmed at Japanese attempts to supplant Korean culture with their own. At a time when Japanese-style architecture was rapidly dominating the landscape, he had a remarkable idea – that he should build affordable hanoks for ordinary Koreans in the belief that this would help preserve Korean values.
Jeong's homes were compact hanoks for small families that followed traditions of hanok construction. Since ordinary people then, as now, had little money, he extended loans on easy terms to help them buy their new Korean-style homes.
Jeong lived in our hanok awhile before selling it to the Korean family from whom my wife and I bought it in 1988. The celebrated South Korean auteur Kim Ki-Duk recognized its uniqueness and approached us in 2004 to film his movie Bin jip in our house, which he felt captured the "Korean spirit." Mr. Kim went on to win the Silver Lion for best director at the Venice Film Festival for his work on this film.
I do not object to the idea that hanok architecture should continue to evolve and embrace modern materials and techniques. But it is tragic when the remaining few old hanoks are singled out for destruction during this process. In post-development South Korea, architecture even only a century old is a rare commodity.
One of the principles of architectural preservation is that even ordinary buildings deserve to continue existing for their beauty, construction techniques, or insights they provide into history and the way people once lived. Ensuring their survival should be just as important as preserving famous works of art or winning UNESCO world heritage designations — about which South Korea cares a great deal.
Even some casual visitors see that Bukchon is not the old hanok village the Seoul Government touts it to be. Once I was stopped by a Chinese family who asked, "Where are the old hanoks?" One member of the group said, "All of these look very new." But their guide had lied to them that "all these hanoks were over 100 years old."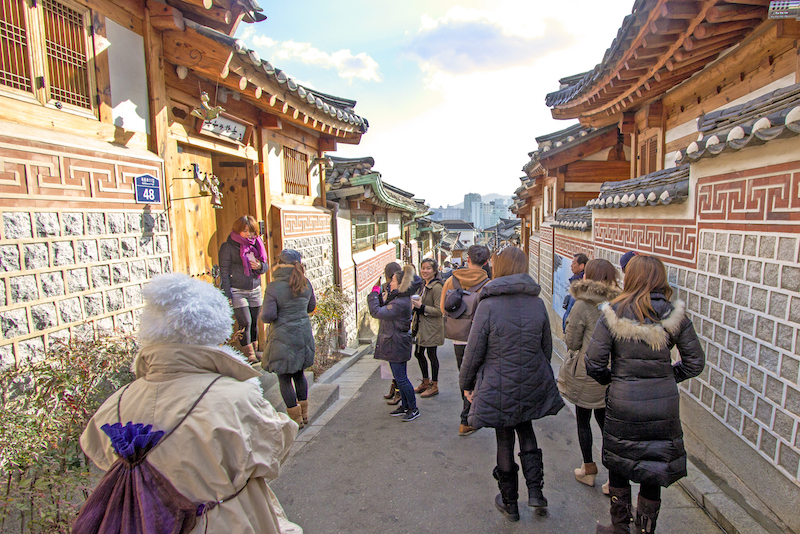 The famed Bukchon-Ro 11-Ra-Gil, lined with hanoks and leading to a hill-top view of the city, is a modern creation. Most of the buildings to the right are new, and the ones on the left in only a slightly smaller proportion. They have been built since 2002. Only a couple of hanoks there have been carefully restored by owners. At least one has been left to decay.
Perhaps it is not surprising that some South Koreans have lost touch with their country's traditions and culture. Japanese rule saw a determined attempt to eradicate Korean culture. The Korean War quickly followed, splintering families, destroying social order, and causing immense physical destruction. Next came South Korean military rule when economic growth was prioritized above all else.
The stated aim of the 2000 Bukchon Plan was to reverse this unfortunate trend:
"It is the experience of the old residential culture that everyone wants to find in Bukchon. Because most detached houses and side streets are replaced these days by apartments and multiplexes, we can experience our old dwelling pattern and culture in a village like Bukchon."
However, in implementing the Bukchon Plan, the Seoul Government destroyed the village culture of Gahoe-dong 31, reduced the number of old hanoks, and transformed the area from one providing homes for ordinary people to an enclave for tourists and the wealthy. The fate of budgets successive mayors created for "hanok preservation" remains a topic for speculation.
Be that as it may, the decisions made by today's South Koreans will determine whether anything will survive of Korea's distinctive architectural heritage for future generations to enjoy.
The last old hanoks standing have yet to fall.
Editor's note: If you wish to learn more about the city government's preservation bids in Bukchon, please visit Mr. Kilburn's website and watch his documentary "The Destruction of Kahoi-dong," available on YouTube.
Become a subscriber to access all of our content.