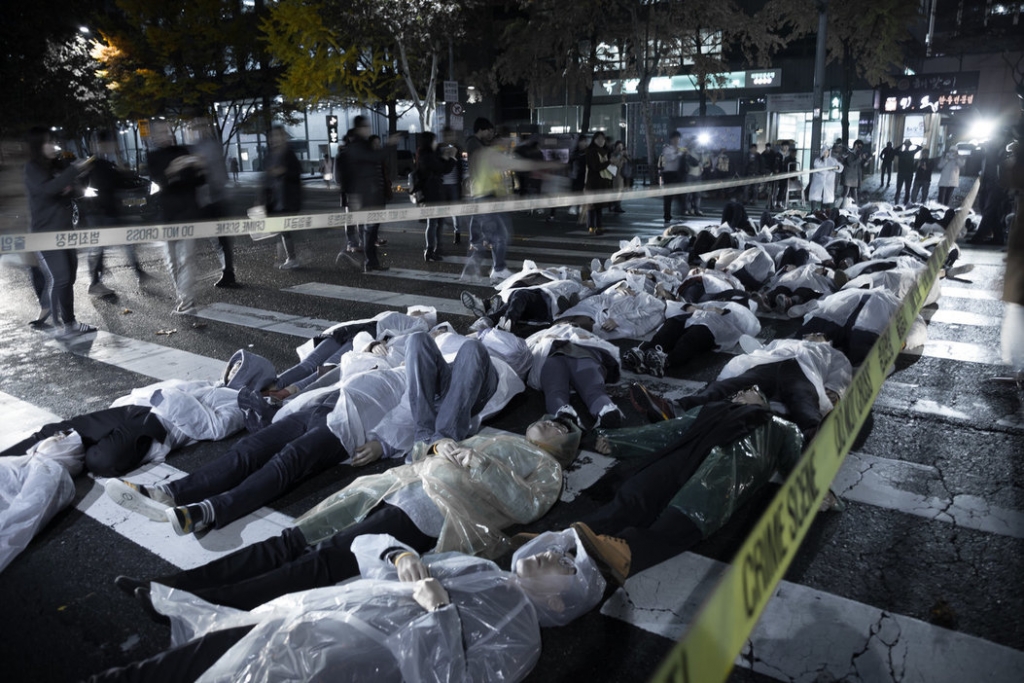 In Memory of Farmer Baek Nam-gi: Amnesty International Die-In Flash Mob Held
At 6:56 pm on the drizzly evening of Monday, Nov. 14, some 80 people stepped out in unison onto the pedestrian crossing at the Jongno District Office intersection in white raincoats and acted out the scene of falling to the ground. The white raincoats were reminiscent of those worn by participants at the People's Rally of Nov. 14, 2015, who were struck by police water cannon. Other participants erected police lines around the crime scene.
Amnesty International Korea gathered people at 6:56 pm on Monday, Nov. 14, one year on at the exact time and location at which farmer Baek Nam-gi was struck down by police water cannon, to perform a 'die-in' flash mob performance in his memory. A 'die-in' flash mob is a form of nonviolent action in which many people gather together in one location and symbolically act out dying together.
"After farmer Baek Nam-gi passed away, there were many attempts to distort the cause of death, but the fact is that farmer Baek Nam-gi was killed due to being struck by police water cannon cannot be hidden. This is the scene where a crime was committed by the police. Any law enforcement officer responsible for the use excessive use of force must face criminal punishment as is clearly stipulated in international human rights standards," said Catherine Heejin Kim, Amnesty International Korea director.
She explained that this performance expressed the message that, "There must be an immediate independent and impartial investigation. Any law enforcement officer found responsible for the excessive use of force in this incident must be brought to justice immediately."
Joining the performance under the slogan of "We are All Baek Nam-gi," Amnesty International Korea member, Park Jong-ok explained that, "The police officer responsible for firing the water cannon directly at a person must be punished in order for this kind of incident not to be repeated." Another participant named I-sang added that, "It is unjust that farmer Baek Nam-gi was killed by water cannon and participants want to express this by joining."
A participant from Canada named Catherine Christie also stood out in the crowd. She explained her reason for joining:
The death-sustaining injury to farmer Baek Nam-gi was a very shocking occurrence, and that no one has been punished, neither the policeman who fired the water cannon at the crowd, nor the official who ordered such a step, nor the government who approved such action, is unbelievable.
This is a press release of Amnesty International Korea. Please click here for the text in Korean and other images from the event.
Cover Image: Amnesty International Korea
Become a subscriber to access all of our content.