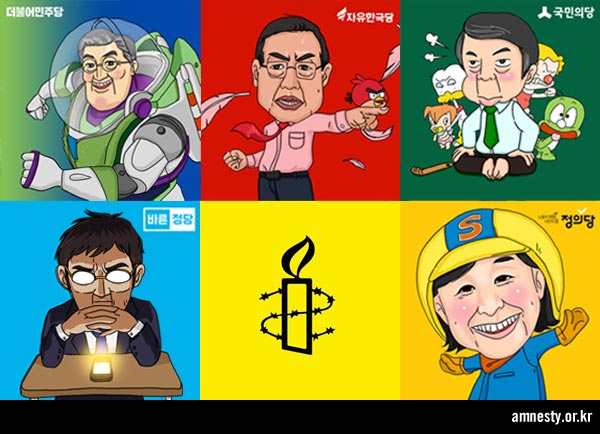 Prospects for Human Rights: Amnesty International Korea Compares Presidential Candidates
On Apr. 19, Amnesty International Korea (AIK) released the results of a survey assessing the human rights-related manifesto pledges of South Korea's five leading presidential candidates.
The veteran international NGO's local office grilled the camps of Moon Jae-in of the Minjoo Party, Ahn Cheol-soo of the People's Party, Hong Joon-pyo of the Liberty Korea Party, Sim Sang-jung of the Justice party and Yoo Seong-min of the Bareun Party on eight key human rights issues. They ranged from freedom of peaceful assembly to protection of LGBTI rights and abolition of the death penalty.
Intriguingly, the results of AIK's survey broadly echoed those of Korea Exposé's recent round-up of the same candidates' environmental pledges, with Sim Sam-jung scoring highest on most fronts and Hong Joon-pyo at the bottom of the class.
A summary of AIK's findings is as follows:
Yang Eun-sun of AIK explained that the eight issues were chosen based on recurring patterns in the Amnesty International Annual Report, published by the NGO's International Secretariat and covering 160 countries worldwide.
"Human rights are not getting enough attention this election," she said. "All eight issues require urgent action, yet they are generally given low priority. Some of them, like abolition of the death penalty and changes to national service laws, could be achieved through simple legal amendments if the will to do so existed. And it's highly regrettable that no candidate except Sim Sang-jung gave an answer on LGBTI rights."
Lawyer Han Ga-ram of civic group Korean Lawyers for Public Interest and Human Rights agreed. "Overall, awareness of LGBTI rights among the candidates seems very low," he said. "Many of them have made comments like 'I'm against discrimination but I don't support homosexuality.' You have to ask whether they're really thinking about the duty of the state to protect all minorities from discrimination."
Han speculated that some conservative Protestant churches may have influenced politicians with their strong hostility to the LGBTI community, but that this need not be the case. "Recent surveys show a large minority of the public is against discrimination," he said. "Lawmakers that openly advocated the abolition of Article 6 of Section 92 of the Military Criminal Act [a law often used to oppress homosexual personnel in the military] still won the seats they contested at the last general election. Conservative protestants are vociferous but there aren't enough of them to swing most elections."
As far as AIK is concerned, this survey is just the beginning of an ongoing drive to ensure that the next government protects human rights.
"Where candidates have made pledges, we believe they have a responsibility to act on them," said Yang. "We'll carry on campaigning to make sure they do so."
Cover image: Caricatures of South Korea's 2017 presidential election candidates. Clockwise, from top left: Moon Jae-in; Hong Joon-pyo; Ahn Cheol-soo; Sim Sang-jung; Yoo Seong-min (Source: Amnesty International Korea)
*
For more on the presidential elections, check out our coverage here:
Become a subscriber to access all of our content.