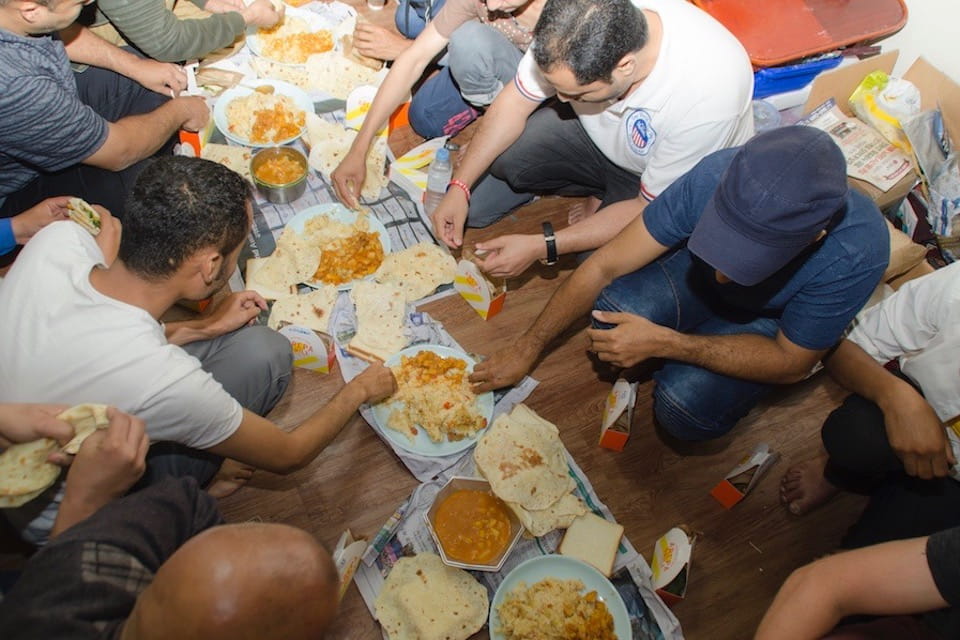 Yemeni Refugees Languish on South Korea's Holiday Island
Yemen, at the southwestern tip of the Arabian Peninsula, has been embroiled in a bitter civil war since 2015. As the conflict ravages the country, many Yemenis have been seeking asylum abroad.
To some Yemeni refugees, Jeju Island, one of South Korea's most popular tourist destinations, seemed ideal.
South Korea is a signatory to the 1951 UN Refugee Convention, guaranteeing protection to asylum seekers. Jeju, dubbed an "Island of World Peace" by the government, happens to be a visa-free zone for tourists from most countries.
During the first five months of 2018, some 500 Yemenis arrived on Jeju.
But it wasn't long after landing that many realized Jeju was not as advertised.
"I was surprised," said Hamas, a 33-year-old Yemeni refugee, who thought his 16-month journey to safety was over when his plane touched down at Jeju International Airport on May 4.
It was the afternoon of June 10, and he spoke while sitting in his small hotel room in Jeju City. The room had two single beds, and Hamas was sharing the space with four other men.
"When I submit my application for refugee status, after one week, two weeks, I expect to get permission to go to other place [in South Korea]. But I was surprised we can't go any place and can't get any job, can't get any support money. I feel very, very sad."
Like many of the Yemenis on Jeju, Hamas had plans to reach Seoul, where there is a larger Yemeni community and refugee services that Jeju lacks. But he has yet to receive permission to travel, unlike those who landed here before him, and he has yet to receive any government assistance. On the day of the interview, he was down to his last 84,000 won (about $77) and had only three more days on his hotel reservation.
"I have no solution right now," he said. "I have one choice. I take all my things and go to the park. That's the one solution I have."
Hamas's problem stems from a travel ban announced by the Justice Ministry on Apr. 30. The ban means Yemeni asylum seekers can no longer leave the island. Around a month later on June 1, the ministry added Yemen to the list of countries whose citizens require a visa to enter Jeju, eliminating the visa-free program altogether for visitors with Yemeni nationality.
Kim Seong-in, head of the Refugee Network's Jeju committee, said in a meeting on June 11 that the ministry's ban was meant to reduce the flow of refugees to South Korea before it became bigger.
South Korea may have signed the UN Refugee Convention, but it is still difficult for asylum seekers to receive refugee status. Since the South Korean government started accepting refugee applications in 1994, over 15,000 asylum seekers have applied, out of whom only 580 received refugee status. According to NANCEN, a refugee human rights center, South Korea had a refugee acceptance rate of 3.8 percent as of Dec. 31, 2015.
By June 11, 541 Yemeni had applied for asylum in Jeju, comprising around 53 percent of the total number of refugees in Jeju this year. In comparison, the island had only 42 Yemeni asylum seekers during all of 2017.
And now Hamas and the other Yemenis on Jeju Island are stuck here, languishing in cheap hotels or loitering out in front of Jeju's immigration office, while the little money they have is dwindling.
"At least in prison you get food and a roof over your head," said Alsoufi, 22, who shares the hotel room with Hamas. "Here it's like a prison without anything."
***
After the civil war broke out in 2015, over 267,000 Yemenis were registered as refugees globally in 2016, according to the UN Refugee Agency.
The war — fought between the forces of president Abdrabbuh Mansour Hadi and the Houthi movement — is "the world's largest humanitarian crisis," according to the UN.
Two in three Yemenis do not know where their next meal will come from; at least 8 million are at risk of starvation. Many schools and hospitals have been forced to close. A blockade around the country made the few open hospitals expensive and often ineffective due to a lack of medicine. Everything is in short supply, including food and drinking water.
"If you don't die from a bullet or from a rocket or from something that comes out of the sky, you will die of hunger," said Adnan, 29, a refugee and an unofficial spokesperson of the Yemeni refugee community on Jeju. "So you have a lot of options. You will die either way. I'm not sure which option will kill you but I'm sure one of them will."
Hundreds of thousands left the country looking for relief. Some went to the Middle East, including Saudi Arabia and Qatar. Hamas first went to nearby Djibouti, by boat. He stayed two weeks before going to India to study for 8 months. Once his student visa expired, he left for Malaysia.
All those interviewed for this article came to Jeju through Malaysia. It is one of the few places in the world that do not require Yemenis to have an entry visa, at least for the first three months.
It's also not the safest place for asylum seekers.
The Malaysian government is not a member of the 1951 Refugee Convention and doesn't offer an administrative framework to govern refugees and their rights. Refugees are "at constant risk of arrest, detention and exploitation," according to Asylum Access.
"Many [Yemenis] are in Malaysia as refugees because it was the only country they could go to without a visa," said Kim of the Refugee Network in Jeju.
Hamas was in Malaysia for eight months before he heard about Jeju Island.
He was at lunch with a friend when he was told that South Korea accepted refugees and that Jeju was visa-free for temporary visitors, which it has been since 2002 for citizens of most countries.
But what changed was AirAsia: In December 2017, the low-cost carrier opened a new flight route directly from Kuala Lumpur to Jeju City.
Though there are a few countries that grant asylum to Yemeni refugees, none were so easily accessible from Malaysia.
This was the direct shot many Yemenis had been waiting for.
"When I heard the news, I felt very happy because I knew that when I would arrive here I'd get all human rights," Hamas said, who flew to Jeju three days after he first heard the news. "I would get a job and I would get a salary and I would get a house. I was looking for a safe life."
Adnan, who landed on May 2, said he was in the air flying to Jeju from Malaysia within 6 hours of learning the AirAsia route existed.
"For us to have a country that accepts refugees, that signed the UN agreement, opened its doors for us, it's just — it's a big deal," Adnan said. "It's big news. It spreads. I don't know how. But for us, we were sitting in a restaurant and we heard people talking about it and I couldn't believe it."
Over Facebook, Twitter and by word of mouth, the news spread quickly.
And the Yemeni refugees came to Jeju Island.
At first, the numbers were small and the government wasn't concerned, said Kim. But then, they kept coming.
An estimated 15,000 to 20,000 Yemenis are in Malaysia, according to Kim. "Once more and more arrived, the government was worried they would all come," he said.
On June 1, the head of the National Human Rights Commission of Korea (NHRCK) issued a statement urging the government to protect the refugees' basic human rights, including providing lodging. "Empathizing with and accepting the desperate circumstances of the Yemeni asylum seekers is not a matter of choice. It's a promise we made with the international community," said Lee Seong-ho, the commission's chairperson.
When asked about the NHRCK's statement, a Justice Ministry spokesperson told Korea Exposé via email, "Refugee status isn't something that's granted in a lump to people from a particular country; it's decided through individual evaluations, based on the standards and procedures determined by the refugee law and the Refugee Convention."
Kim does not think this is the right approach, especially since all the Yemenis are forced to stay on Jeju indefinitely. "The problem is here," he said. "Jeju hasn't had any experience with refugees before. And there is no expert organization in Jeju. Also, there's no infrastructure for refugees."
***
Compounding this issue is that Jeju has traditionally been standoffish, to say the least, with outsiders, even with Koreans from the mainland.
Suspicion toward outsiders has intensified in recent years with news of crimes by some Chinese citizens, who comprise the bulk of the island's tourist traffic.
"Jeju natives see refugees in a negative light," said a South Korean reporter in Jeju who asked to remain anonymous, fearing a backlash. "Because once Chinese people started to come to Jeju, there were lots of illegal immigrants. Recently there have been several cases of serious crime by foreigners here. That's why islanders don't like them. Foreigners are all different: immigrants, refugees. There are various foreigners here, but Jeju natives see them as all the same."
Reactions from Jeju residents have been mixed. There was hostility, as seen in the anti-refugee protests on May 31, demanding the abolishment of the island's visa-free program and even South Korea's refugee law. But many islanders also responded with sympathy. Jeju's Red Cross branch provided cooking ingredients for over 150 refugees staying at one hotel; the non-profit Jeju Immigrant Center worked with the Justice Ministry to offer free Korean classes.
On the local level, one of the groups at the forefront of this issue has been Jeju's English teaching expat community.
A Facebook group called "Yemen Refugees in Jeju" was created on June 5 to organize a charity effort and has become one of the main hubs for donations, from both South Koreans and expats. The group is also providing various grassroots support services, including art therapy for refugee children. At the time of publication the group had over 1,000 members.
Alexis Oesterle, one of the participants of the Facebook group and a long-time Jeju resident from the U.S, is not sure exactly how much has been collected. But the donated items were enough to fill a small apartment in Jeju City.
"We have 20 tents, over 50 blankets. If you could see this apartment, it is crazy," she said, Sunday.
On June 11, the Jeju Immigration Office announced that they would issue work permits for Yemeni asylum seekers, effective immediately, waiving the usual 6-month wait period.
But for most Yemenis, reality still remains grim. Finding a job could take several weeks; in that time, more refugees will become homeless.
"They still need places to stay," Oesterle said. "They still need money."
But people like Adnan are thankful.
"We will never forget this," he said. "At a time when everyone closed their borders to us and stopped us from going to their countries, especially Yemen's neighboring countries, this country — they welcomed us and we haven't experienced any racism, and harassment, anything. They are warm people."
The travel ban, though, is still in place.
Editor's note: The names of the Yemeni refugees have been altered to protect their identities. Korean to English translations were by Lim Hyun Jeong.
Cover image: On June 10, Yemeni refugees broke their Ramadan fast with meals donated by Arepa Grill, a local Latin American restaurant. (Credit: Darryl Coote)
Become a subscriber to access all of our content.