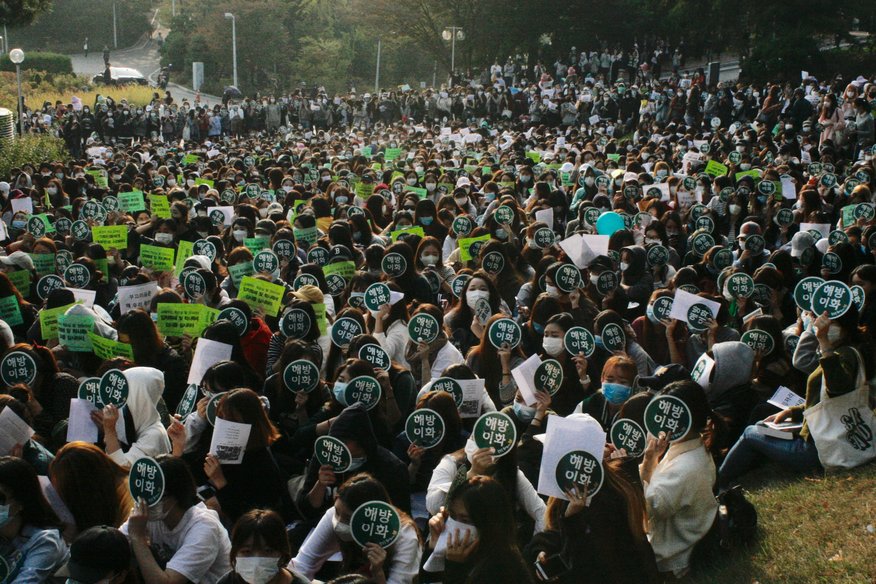 Weekly Brief: Oct. 17th - 23rd
Conscientious objectors to military service not guilty, appeals court rules.
In a rare decision, two conscientious objectors were found not guilty by an appeals court. Though lower courts have ruled similarly in the past, this ruling is a first at the appeals level. In South Korea, any man refusing to report for duty can serve up to 3 years in prison. The military refuses to offer any form of alternative service and has prosecuted over 5,000 conscientious objectors over the last 10 years.
The constitutional court is also expected to rule on the matter this year. The last time the constitutional court heard a case on conscientious objection was 2007 — there has been a gradual shift in attitudes since then. It's worth noting that the ruling* was made in a court in Gwangju, a southwestern city with a history of left-leaning political views and its own rather negative experiences with the military. The Gwangju government says it will appeal the ruling to the Supreme Court.
*English version of the ruling can be found by clicking on "영어전문 보기" at the bottom of the linked page.
If you can't buy one, make one yourself
An ex-convict killed a police officer on Thursday using a homemade gun. The man, required to wear a tracking anklet, had a longstanding hatred of police. He had 17 homemade guns in his possession when arrested, likely made following directions on the internet.
Sharing information online on making guns and explosives is punishable by up to two years in prison, but finding instructions in Korean is not difficult (not to mention in other languages). The availability of such information, and the police officer's death, raise concerns about how gun-free South Korea really is. (Individual ownership of firearms is banned in the country.)
Baek Nam-gi update — autopsy or no autopsy?
Police have yet to conduct an autopsy on Baek Nam-gi, who died on September 25. Baek was knocked down by a police water cannon in last November's labor protests, and fell into a coma for nearly a year. To deflect blame, the police have accused a 'man in a red raincoat' of attacking Baek after the farmer fell to the ground. Others say the force of the water cannon pushed the man in the raincoat on top of Baek. (Feel free to judge for yourself.)
The precise cause of Baek's death is hotly disputed. To resolve this, the courts issued an autopsy warrant on Baek's body nearly a month ago, but ambiguously worded the conditions of the warrant. It's uncertain whether Baek's family must give permission to conduct the autopsy; this uncertainty has forced the prosecutors' office to stall, lest the autopsy findings be deemed inadmissible later in court. Baek's family maintain their strong opposition to any autopsy. The warrant expires on Oct. 25, but the prosecutor's office might request an extension (Korean).
Sex work in China or give up children to enter S. Korea
North Korean women hiding out in China often end up marrying (or being sold to) rural Chinese men. This doesn't free them from their precarious existence, however. Many of them are forced into online sex work, most often for South Korean clients.
President Park has openly invited North Koreans to come to the South Korea where, she states, they will be welcomed with open arms. The reality is that women such as those in the story still have a difficult journey to South Korea. They also have to leave their Chinese-born children behind when fleeing China. The mother's illegal status often leave the children stateless. They're not always recognized by the Chinese government, and the South Korean government refuses to accept them, because it doesn't recognize them as North Korean.
Planned changes to abortion laws will be "re-evaluated"
The Health Ministry announced it will likely scrap plans to toughen abortion laws. This was after the plan was met with public outcry and large protests last weekend. Protesters hoped to invigorate a push for a decriminalization that would better reflect changing social attitudes. But since the Health Ministry backed down from its proposal, there has been no other development.
The ministry, which admitted it had not consulted doctors or women's groups, had originally proposed to extend the penalty for doctors caught performing abortions, by suspending their licenses for one year, from the previous one month. Abortion is currently illegal, but the laws are largely ignored. Few, if any, of the estimated 170,000 illegal abortions performed annually are reported to the police.
President Park's confidante at heart of growing scandal
A growing scandal, involving President Park and her confidante, has paralyzed the political process. Opposition politicians accuse the confidante, Choi Soon-sil, of using her influence to control two powerful foundations, with tens of billions of KRW in corporate donations. Critics say Choi then, you guessed it, uses the foundations' funds for her own means.
Choi's influence extends beyond herself. Her daughter also got accepted to the prestigious Ewha Women's University under questionable circumstances. Last Wednesday, Ewha students and professors protested, against not only the Choi scandal, but also the Future LiFE scandal that sparked a sit-in lasting over 80 days. A few hours before the protest, the university president resigned, but denied the allegations related to Choi's daughter.
In brief
The intensive schedules and pressure associated with being a K-pop idol wreaks havoc on the stars' physical and psychological well-being.
Up for debate: 'Ppalli ppalli' mentality is the solution to, not the cause of, structural problems in South Korean society.
Dose of positivity: Students at Pusan National University held a ceremony to thank the cleaning staff and security staff at their school. Both of these jobs are typically low paying and held by aging workers, and generally these staff are completely ignored by the students and faculty.
Statistics of the week
1 in 10: The number of elderly who report having suicidal thoughts
9 in 10: The number of voting age citizens who say they have a 'strong distrust' of politicians. Despite this though voter turnout has been steadily increasing.
1 in 3: The number of jobseekers with a post-secondary degree. Total unemployment is 3.6%, but for those aged 15-29 it's 9.4%.
Longer reads
Korea Exposé's Emily Singh looks at how the illegal drug scene has evolved  in South Korea, a country often thought to be 'drug-free' (if you don't count all that cheap soju and massive alcohol consumption…).
The practice of hosting a 'doljanchi' to celebrate an infant's first birthday often becomes a way for families to show off their wealth. It's yet another cultural tradition expected to undergo major changes as a result of the recent anti-corruption law.
South Korea has been running an ecological deficit since 1960, one that has yet to stop growing.
***
And that was the news from last week. We value your feedback. Send any questions, comments, errors, or omissions to weeklybrief@8d2.359.myftpupload.com.
Weekly Brief is a collection of the must-read articles regarding human rights and social issues in South Korea, produced in collaboration with the Korea Human Rights Foundation (KHRF / 한국인권재단). The views expressed here do not necessarily reflect those of KHRF.
Image/Video Credit: Haeryun Kang/Korea Exposé
Become a subscriber to access all of our content.