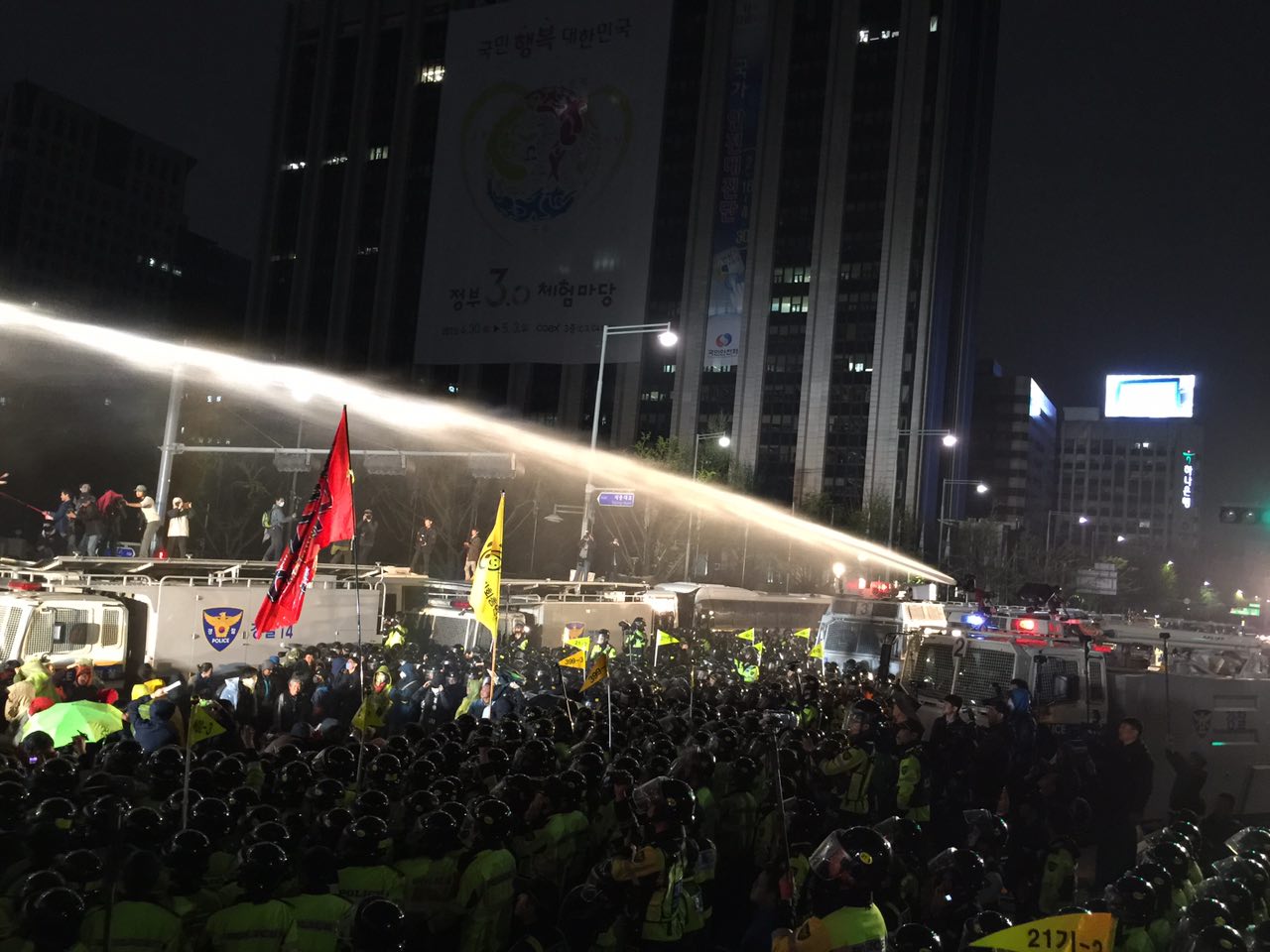 Weekly Brief: Nov. 14th - 20th
Protests: Water cannon trucks still on standby
Last year on November 14, police water cannons knocked an elderly demonstrator unconscious. Over a year has passed, but water cannon trucks are still being rolled out for every major protest.
Last week, a group of NGOs declared November 14, the "Day of Banishing Water Cannons." They called for an end to the use of water cannons. Not surprisingly, South Korean police have yet to make any promises on not using water cannons at future demonstrations, nor on adding teargas-like chemicals to the water they spray on protesters.
Meanwhile, Amnesty International held a one-year anniversary flash mob to commemorate Baek Nam-gi, who died in September after nearly a year of being in a coma.
Unmarried partners deserve recognition too
"Can't we have families outside the institution of marriage?" An NGO has proposed a draft law called the Partner Registration Act. The law would grant to unwed partners — not necessarily in a sexual relationship — the legal benefits that married couples enjoy.
Examples include medical decision rights, joint housing loans and insurance. The law would also give LGBT couples access to these same legal benefits, including adoption rights.
In a country where same-sex marriage is outlawed and there's a strong emphasis on traditional family structure, this would mark a major step forward in recognizing South Korea's rapidly changing social structure. So far over 1,000 people have signed the petition. This proposal isn't the first of its kind. A precursor to this draft law, both written by the Minjoo lawmaker Jin Seon-mi, was introduced and discussed at the National Assembly in 2014, but not passed.
Choi Soon-sil update: endless rallies, politicians playing politics
Last Saturday marked the fourth major rally in Seoul against president Park Geun-hye. Organizers estimated that hundreds of thousands called for President Park to resign, with 74% of the country supporting their call. Seoul may have been the biggest point of protest; but people were rallying nationwide. Organizers said the turnout was one million people, across roughly 70 cities.
Just yesterday, prosecutors named Park as a criminal suspect for "colluding" with Choi Soon-sil and others. A special prosecutor, if appointed by the president, will soon take over the case and have 120 days to investigate the president's office. Park, for her part, appears to be digging in for a protracted fight. And it's not clear whether she will appoint a special prosecutor at all given that she has refused to cooperate with the normal investigation currently underway.
Opposition parties are vowing to push for impeachment. Oddly enough, that might be Park's best option, primarily because of how long the process would take. The next presidential election will be held in Dec. 2017, and a failed impeachment attempt could embarrass the opposition parties at just the right time. The ongoing political chess game for the nation's top prize – the presidency – means a resolution shouldn't be expected to come anytime soon. The candlelight rallies will continue, but it's unclear if the demonstrators' demands will be met.
In brief
In depth
***
And that was the news from last week. We value your feedback. Send any questions, comments, errors, or omissions to weeklybrief@8d2.359.myftpupload.com.
Weekly Brief is a collection of the must-read articles regarding human rights and social issues in South Korea, produced in collaboration with the Korea Human Rights Foundation (KHRF / 한국인권재단). The views expressed here do not necessarily reflect those of KHRF.
Cover Image: "20150418_세월호참사1년범국민대" (CC BY-NC-SA 2.0) by 참여연대
Become a subscriber to access all of our content.