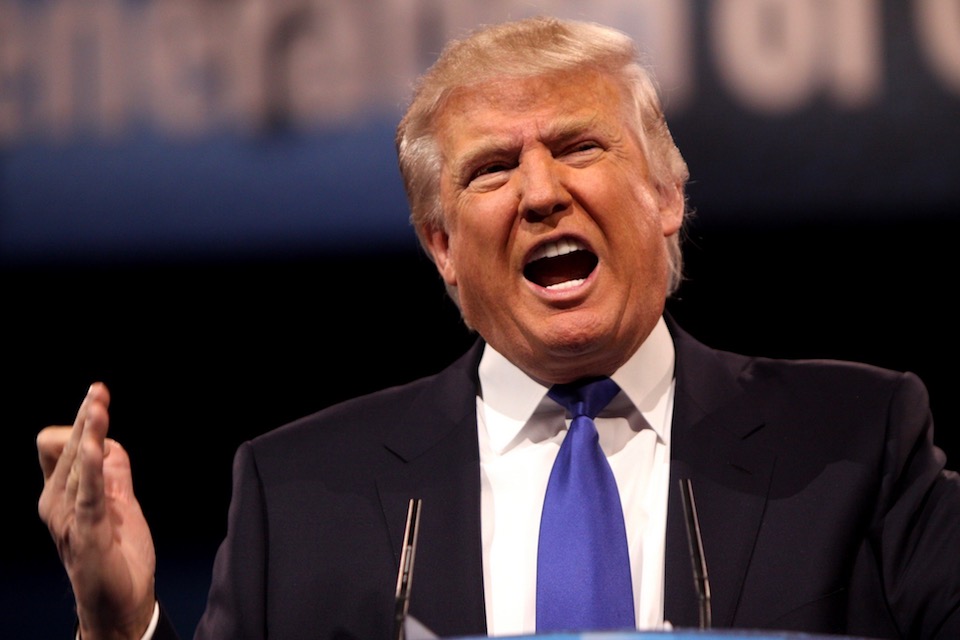 Donald Trump: A Merchant of Death
So it all comes down to arms sales.
First, Donald Trump threatened "fire and fury," prompting concerns that war was imminent on the Korean Peninsula. Then he said no one "should underestimate American resolve" and reaffirmed Washington's commitment to its allies. At last, Trump's 11-day Asia tour began on Nov. 5 with stops in Tokyo and Seoul, where he explicitly linked the North Korean situation to sales of American weapons, and "a lot of it."
There is a Korean saying for describing his antic: "Give a disease, then give some medicine." Trump certainly knows how to cause trouble in the first place and make money from the remedy.
North Korea has been a focus of Trump's attention since he became president in February. His highly inflammatory statements and tweets about North Korean leader Kim Jong-un are well-known. Pyongyang shot back with its own threats and name-calling, and South Koreans, normally cavalier about the North Korean situation, were rattled to say the least, not because North Korea was doing something new, but because Washington seemed to be on the verge of taking military action to curb the North's nuclear arms and missile development. It would mean widescale destruction and loss of lives on both sides of the demilitarized zone.
While things have calmed down considerably in the past month, and life goes on as before, Trump has made it a key point of his tour to underscore just how many weapons he expects Japan and South Korea to buy from the U.S.
This started on Sep. 4, with the White House press release announcing that "President Trump also provided his conceptual approval for the purchase of many billions of dollars' worth of military weapons and equipment from the United States by South Korea."
Then on the following day, Sep. 5, Trump tweeted that he was ever so generously "allowing Japan & South Korea to buy a substantially increased amount of highly sophisticated military equipment from the United States."
I am allowing Japan & South Korea to buy a substantially increased amount of highly sophisticated military equipment from the United States.

— Donald J. Trump (@realDonaldTrump) September 5, 2017
On Nov. 6, in Tokyo, Trump said Japanese Prime Minister Shinzo Abe "will shoot them [North Korean missiles] out of the sky when he completes the purchase of a lot of military equipment from the United States."
At the summit with South Korean President Moon Jae-in on Tuesday, Trump was even more blunt.
"We are making the finest equipment in the world, and you are buying a lot of it and we appreciate that. You will be buying a lot of our military equipment. There is nobody who comes close. Whether it's planes, missiles, ships, anything you want to talk about. There is nothing like what we do in that sense. And we appreciate your big purchase orders for our military equipment."
"We would like to do much more business with South Korea, where South Korea is going to order a lot more. But the good news is you will be ordering. I mean, we've already worked on that and through our representatives, the amount of equipment and things that you will be ordering from the united states will be very substantially increased and therefore we will be bringing our trade deficit way down."
"We appreciate that very much and what you are getting is the finest equipment anywhere in the world."
His remarks didn't completely escape the attention of the American press.
Trump: South Korea will be ordering "billions of dollars" worth of military equipment from the U.S., creating jobs for Americans

— Anna Fifield (@annafifield) November 7, 2017
The U.S.'s status as the world's number-one arms dealer is no secret, and South Korea has been its dutiful customer. South Korea was the number-one buyer of U.S. arms between 2006 and 2015, followed by the United Arab Emirates, Australia, Saudi Arabia and Japan, according to the Defense Agency for Quality and Technology, which is under the auspices of the Ministry of Defense.
During his May visit to Saudi Arabia, Trump heralded a weapons deal worth 110 billion dollars with the kingdom, which the U.S. Defense Department approved in June.
In East Asia, the perception that the North Korean threat is growing, one that Trump seems quite happy to feed, has been great for American arms manufacturers. And he isn't the only American who sees the advantage of marrying foreign policy and arms dealing.
Mark Lippert, former U.S. ambassador to Seoul who vacated his post in January, is now vice president of Boeing International, a unit of Boeing, which produces commercial jets as well as weapons. Investigative journalist Tim Shorrock wrote for Newstapa, a left-leaning independent media outlet, that "intense lobbying by powerful Washington-based think tanks linked to weapons makers" is an important part of the U.S.'s drive to get Seoul to spend more on American arms.
We are making the finest equipment in the world, and you are buying a lot of it and we appreciate that.
Trump's pressure on the Moon Jae-in administration comes as construction on expanding Camp Humphreys nears completion. (It was Trump's first stop after landing in South Korea on Tuesday.) According to a U.S. army report, Seoul paid for 92 percent of a total bill estimated at 10.8 billion dollars. Camp Humphreys, some 60 kilometers south of the capital, is often called the U.S. military's new "Northeast Asia hub" for its strategic value to the U.S. in countering Chinese influence in the region. It's a great deal, for the U.S., to get an ally to pay for a facility that serves its own interest.
Moon, ostensibly a liberal, capitulates to Trump's sales pitch for obvious reasons. As a center-left president often accused of being anti-U.S. by the conservative media, Moon had much riding on extracting favorable statements (and avoiding negative ones) from Trump. Moon certainly got plenty of goodwill both before the visit — Trump tweeted that Moon was "a fine gentleman" — and during, especially in Trump's highly publicized address at the National Assembly, where he spoke of South Korea's economy and political system in glowing terms.
Trump also made no overtly acrimonious comment about the trade imbalance between the U.S. and South Korea that he had fumed about prior to the Asia tour. He merely said all of that deficit would be taken care by South Korea's increased spending on American arms, which he presented during the visit as a done deal.
In a country that is still psychologically dependent on American protection, Moon undoubtedly scored a political victory with his handling of the Trump visit. Only a small number of media outlets on the left side of the political spectrum have raised questions about what appears to be imminent or already sealed deals to spend undetermined sums on yet more American military equipment. Mainstream media are just happy to report that Trump said the U.S. wouldn't sideline South Korea in making decisions about the peninsula's future.
And the burden is on the South Korean taxpayers to pay for this beautiful alliance with a merchant of death.
Cover image: Donald Trump speaking at the 2013 Conservative Political Action Conference (CPAC) in National Harbor, Maryland. (Credit: Gage Skidmore via flickr)
Become a subscriber to access all of our content.