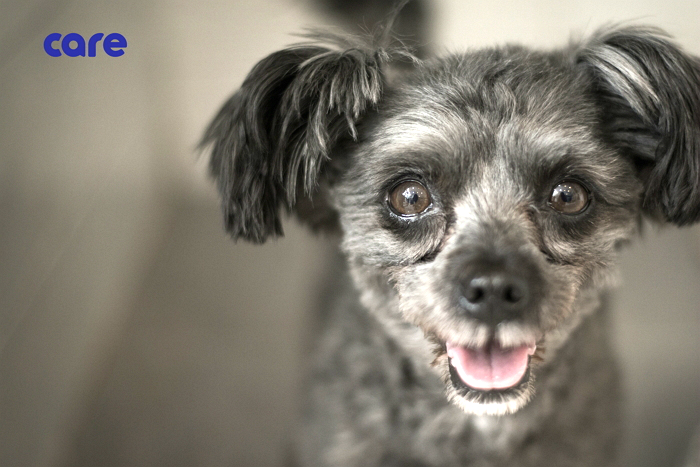 Meet Tory, South Korea's Potential First-Dog-To-Be
Tory is a South Korean mixed-breed dog whose fortunes may be about to change drastically. After being rescued from an abusive owner and given refuge in an animal shelter, Tory's next stop might just be the most prestigious home in the nation: that of newly-elected president Moon Jae-in.
While on the campaign trail, Moon pledged to adopt Tory if elected. The choice of pooch is a highly unusual one for a South Korean president. "Tory, by conventional standards, is an ugly dog covered in black hair. I will adopt him as 'first dog' in the belief that both humans and animals have the right to be free from prejudice and discrimination," said Moon on May 5, after animal rights activists suggested that whoever became the new president adopt a rescued dog.
True, Tory isn't the prettiest dog. With a mop of patchy gray and black hair, he doesn't conform to conventional beauty standards, which may explain why there haven't been more potential adopters eager to snap him up.
He is also a mixed-breed mutt, which many South Koreans consider "impure" or "dirty" in contrast to pedigree specimens. Previous South Korean leaders have adopted dogs with more classically good looks. Upon moving into the presidential residence, former president Park Geun-hye adopted two purebred Jindo dogs, with spotlessly white fur and indigenous Korean pedigree. But after her ouster from office, Park was criticized of abandoning the two dogs and their five puppies, enraging animal lovers. (The Blue House recently announced that the dogs now have new owners.)
More importantly, Tory is an abandoned dog. Dogs in shelters are stigmatized by many pet owners as not being as lovable. In South Korea, where many are reluctant to adopt rescued animals, Moon's talk of taking in an abandoned dog is drawing attention to a neglected issue: animals in shelters. According to a 2015 report by the Ministry of Agriculture, Food and Rural Affairs (MAFRA), over 42 percent of rescued animals either died naturally or were euthanized in shelters after not being adopted.
It's not only rescued animals that are unpopular in South Korea. There's widespread distrust when it comes to buying animals from pet shops or veterinary clinics where animals, often dogs and cats, are displayed in glass showcases. The distrust comes from the perception that the animals are not as healthy and clean. Instead, South Koreans acquire animals mostly through acquaintances. A 2013 Korea Consumer Agency (KCA) report shows that more than 50 percent of animals were adopted through friends or family, while only around 30 percent came from pet shops and vet clinics.
According to the same KCA report, only 5.2 percent of animals were adopted from animal protection shelters or directly from the streets. Rescued animals are often stigmatized by a general perception that they are unhygienic and more prone to disease.
More than 800,000 animals in South Korea were abandoned in 2015, a slight increase from the previous year. But this is part of a larger decline, says the MAFRA report. The peak was in 2010, when over one million animals were abandoned.
The Animal Protection Act specifies that abandoned animals, once found, are to be kept in designated animal care centers for ten days, then sent for adoption or euthanized if their owners fail to recover them.
Tory was rescued from his abusive owner and taken in by Care, an animal rights group, in October 2015. If he does move to the Blue House, his story will have been an incredibly rare one; akin to winning the life lottery.
Moon has not confirmed whether he will adopt Tory. But if he does, his action will promote awareness about abandoned and abused animals, while making a small gesture aimed at broadening standards of beauty.
But animal rights activists are hoping that the new president will do more than just raise awareness. "If Moon can raise Tory like a family member, he will set a good example for adopting animals instead of purchasing them like products," Cheon Jin-kyung, the executive director of Korea Animal Rights Advocates, an animal rights group, told Korea Exposé.
"But if we don't see concrete policies, [adopting Tory] will end up just being a image-making move."
Cover image: Tory, a mix-breed mutt rescued from an abusive owner in 2015, might become South Korea's First Dog if Moon Jae-in adopts him as he has pledged. (Source: Care)
Become a subscriber to access all of our content.