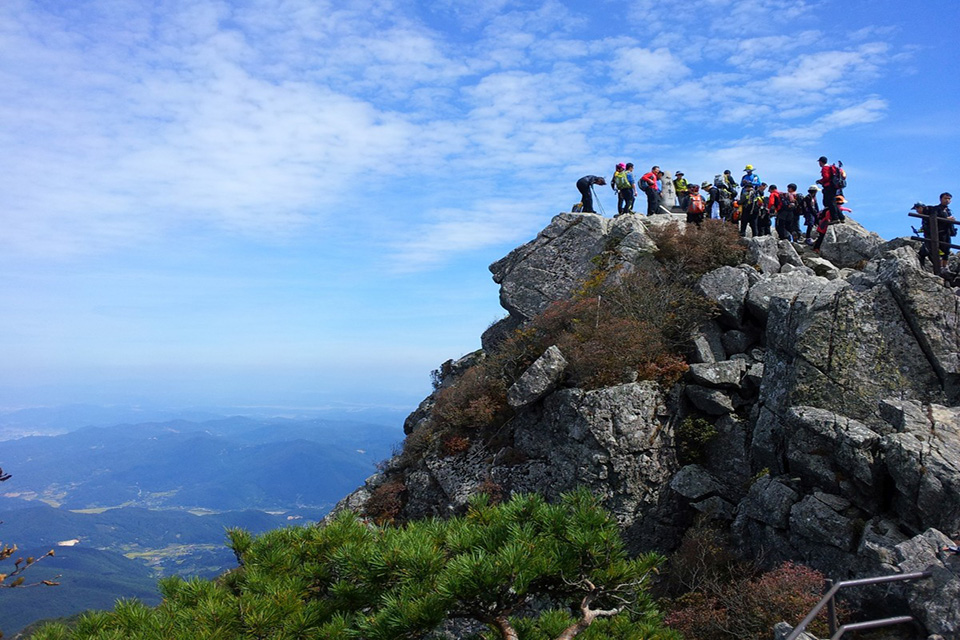 "I Think of the Mountain": History of Hiking in S. Korea
The CIA World Factbook describes South Korea as "mostly hills and mountains." 64 percent of the country's land is forest, according to a 2014 report by Korea Forest Service.
Given this geography, hiking naturally is a popular pastime in South Korea. Or is it so natural to assume so? The history of hiking — in its modern form as a popular leisure activity — is actually not that long.
"You first have to define 'hiking,'" said Nam Sun-woo, the vice president of Korea Alpine Federation, one of the biggest and oldest hiking associations in South Korea.
If hiking refers to climbing a mountain for any purpose, then Koreans have most likely been hiking since the beginning of their history. One of the earliest records of Koreans on a mountain is in Samguk Sagi, a historical record published in the 12th century, which mentions that sometime in 30 BCE, the princes from the ancient kingdom of Goguryeo climbed Bukhansan (in today's Seoul), to look for a place to settle.
Modern hiking has a more specific meaning, said Nam. It means the mountain isn't used as a means to accomplishing some specific objective, whether that be military, political, or economic — the mountain becomes the object of adventure and a path to self-discovery. Here's a 1986 poem by Lee Byeong-ju, "I Think of the Mountain," which captures this spirit of appreciation:
My life separates to

before and after

My encounter with Bukhansan

Every humiliation

I did unto myself

My devastation, my failures

The cause lies only within myself

…

All this I learned at Bukhansan.
This conception of alpinism first developed in Europe in the 18th century and spread to then-colonized Korea through the Japanese in the 1920s. The first recorded case of modern mountaineering in Korea was in 1929 by British and Japanese hikers who climbed, yes, Bukhansan, according to the National Mountain Museum.
Any widespread alpine activity after Korean liberation from Japan in 1945 was hampered by the Korean War in the 1950s. Until the late 1960s hiking was generally limited to experts and those who had leisure time. South Korea's first national park opened in Jirisan in 1967. (Today there are 21, all of which have been free to enter since 2007.)
"Alpinism spread more to the general public as the economy began to develop," said Nam from the Korean Alpine Federation. "The number of alpine groups increased." But widespread hiking in today's sense still didn't exist.
Hiking really took off in the 1980s, as South Korea became more prosperous. More and more South Koreans also began to hike overseas: Between 1962 and 1985, there were 81 South Korean expeditions to the Himalayas, but between 1980 and 1985 alone, there were 68 expeditions, according to the Encyclopedia of Korean Culture.
In 2004, the South Korean government shortened the workday from six to five days. This is often attributed to being a major turning point for the hiking culture. On the weekends, public transportation became packed with hikers. In a 2014 government study, hiking ranked as one of the top five leisure activities for South Koreans (television ranked first).
Cover image: Hiking is a popular pastime in South Korea. (Source: Via Pxhere, CC0 Public Domain)
Become a subscriber to access all of our content.