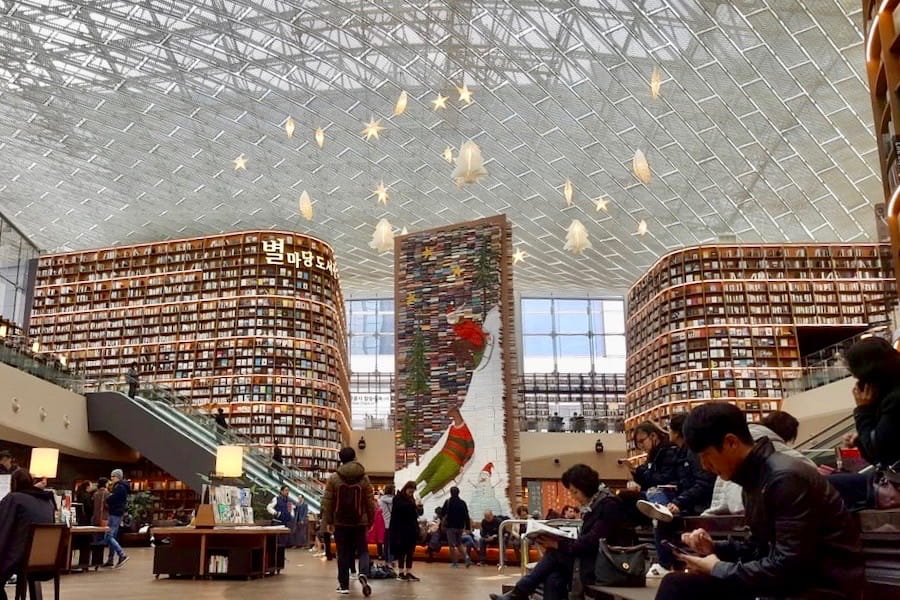 The Humanities Is the Next Frontier for South Korea's Chaebol
Designed with a Ghibliesque imagination and backed by ample funding in every step of its construction, Starfield Library in Gangnam, Seoul, instantly became a requisite tourist attraction when it opened to great fanfare in 2017. It may well also be the most instagrammed library in South Korea.
The 2,800-square meter space was built by the Shinsegae Group, a retail behemoth that owns E-Mart and Shinsegae Department Store—the country's equivalent of Walmart and Macy's respectively. (In the southeastern city of Busan, the company also runs a complex that is considered the world's largest department store.) The library is located at the center of Starfield COEX Mall—dubbed "the largest underground shopping center in Asia" in promotional literature and operated by, you guessed it, Shinsegae. And it is surrounded by such boutiques as Diptyque, L'Occitane, MCM, and Brooks Brothers. It is beautiful to behold.
One Sunday morning last year, I went to check out the hype for the first time. From one of many bookshelves full of glossy fashion magazines and pulp fiction, I pulled out a paperback and sat at one of the communal tables to read. But I failed to immerse myself in the book even for just one intimate moment because of COEX Mall's decidedly unfriendly acoustics. After all, COEX Mall is a mega shopping center, and with its upbeat background music and crowds of Sunday shoppers, maybe I was at fault for expecting a reading-friendly environment. So I went to the front desk to check out the book, only to hear a gag-triggering reply from the library staff.
"You can't borrow books from Starfield Library."
Only then did it dawn on me that Starfield Library functions much like movie theaters inside suburban shopping malls: honeypots that draw customers first and then naturally lead them to other spending options inside the mall, providing an unconscious and unplanned segue from a cultural activity to a consumerist one. Worse, it is no real library in the usual sense, unlike movie theaters where at least movies can be watched as they are meant to be. It unabashedly symbolizes how capitalistic desires are being imposed even on something as innocuous as a library in contemporary South Korea. And it's an illustration of where South Korean conglomerates are heading as they attempt to harness the power of culture to further their business agenda.
———
Chaebol—family-controlled South Korean conglomerates like Samsung, LG, and Hyundai—have held the reins of the nation's economy for decades. With state backing, such firms formed virtual monopolies over major industries, accruing massive wealth in the process. Secure in their power, they have been slowly extending their influence to the cultural sphere. In the beginning, this meant small ventures like establishing private art museums (which, coincidentally, can at times facilitate embezzlement) and, more ambitiously, taking over the country's top schools like Sungkyunkwan University (controlled and funded by Samsung) and Chung-Ang University (managed by Doosan).
But in recent years, chaebol have been actively appropriating and amplifying larger cultural trends—not least the growing focus on the humanities in social discourse.
Even though humanities majors face a difficult job market, the fad for the humanities has been in the making for some time: if you go to most bookstores, you would probably notice that in recent years "humanities education" has joined the glossary of fashionable terms—alongside "creative" and "influencers"—and appears even in business manuals. Perhaps one book that kindled all the enthusiasm across corporate South Korea was the 2010 bestseller whose title, if translated into English, would be Leading by Reading: How to Read Classics of the Humanities like the World-dominating 0.1%. Buoyed by that success, the author Lee Ji-seong went on to write a follow-up in 2015 called The Humanities for Thinking, which also became a top-seller that year. Naturally, other similarly titled publications have since flooded the market.
It may be no coincidence then that in 2013, Samsung Electronics opened up a niche job application track called the Samsung Convergence Software Academy to hire humanities majors and train them to become software developers. The program's stated goal is "to cultivate hybrid software talents who are capable of creative problem-solving." That same year, Hyundai Motors Company started asking its applicants to compose essays on history questions such as this: "Explain what the development processes of the Mongol Empire and the Roman Empire suggest for Hyundai's global strategies." And Samgsung and Hyundai haven't been the only companies to embrace humanistic learning as a job qualification. A 2014 article published in business daily Hanguk Gyeongje was blunt: "Don't even think about getting hired by big firms if you don't know history and the humanities!"
In their newfound obsession with the humanities, the big firms seemed to be latching onto the thinking—now perhaps a bit oversold—that Steve Job's calligraphy lesson at Reed College influenced Apple's design philosophy, and that many big-name American CEOs owe their success at least in part to humanities education. (Paypal co-founder and former CEO Peter Thiel famously majored in philosophy, Facebook CEO Mark Zuckerberg has been proud to show off his Latin, and both LinkedIn's Reid Hoffman and Slack's Stewart Butterfield studied philosophy in graduate schools.)
This trend of locating practical application in ancient learning, of course, isn't unique to South Korea. (Already in 1989, Chinese classic The Art of War by sixth-century BC philosopher Sunzi was being rendered into an English-language business manual for Western readers.) But in putting the spotlight on the humanities—whether by demanding it from incoming employees or summoning scholars to lecture managers on the subject—South Korean firms have been embracing wholeheartedly a belief that a humanistic pursuit could become a commercial pursuit. Finding themselves outpaced by more innovative global competitors, South Korean conglomerates are finally trying to address the long-standing criticism commonly leveled against them: that their employees are unimaginative robots, mere cogs in a deteriorating machine. Having identified the humanities as an antidote to their paralysis of innovation, these decades-old behemoths started selling lacquered rhetoric about the value of humanities education, and about the value of "culture" by extension.
Consuming Culture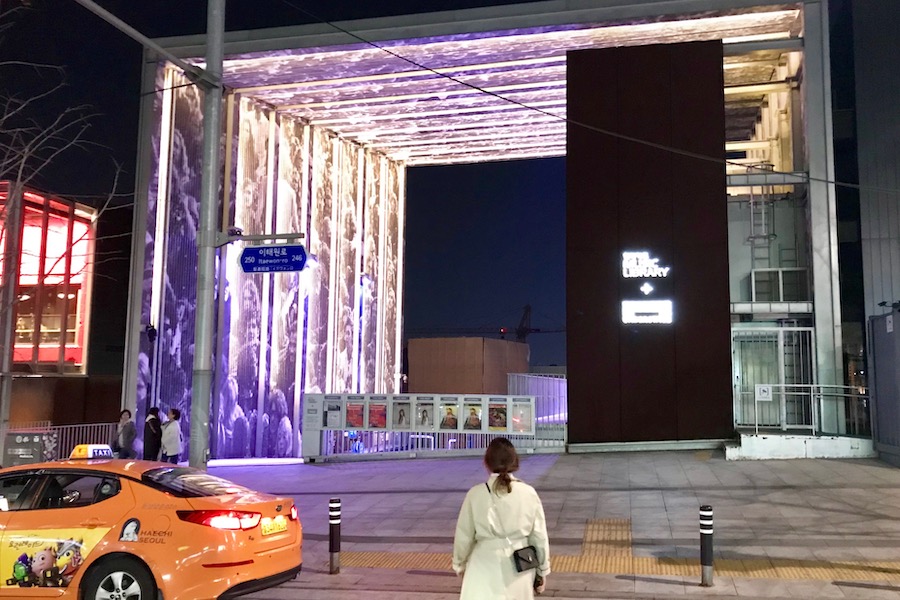 Hyundai Card CEO Chung Tae-young famously studied French literature at university before going on to earn an MBA from the Sloan School of Management at MIT. He married a daughter of Hyundai Motor Company's chairman and eventually took the helm of Hyundai Card in 2003—back then a lackluster side branch of the HMC empire.  
Chung is often credited with turning Hyundai Card into a success (though some might say the liberalization of the credit market in post-IMF crisis South Korea—where the government tried to pump up private spending by eliminating barriers to getting a credit card issued—also had to do with it). Domestic media is quick to label him an "innovator," not least for the cultural marketing strategy he adopted.
One of Chung's conspicuous projects for boosting Hyundai Card's profile has been to build four libraries around Seoul—each one dedicated to a specific cultural theme (travel, music, design and cooking)—and make access available only to its credit card-holders and their guests. Hyundai Card Music Library in particular—located in the über-fashionable Itaewon neighborhood—has become something of a landmark.
Starfield Library, on the other hand, is a brainchild of Chung Yong-jin (of no family relation to Chung Tae-young), current vice chairman of the Shinsegae Group. As the son of the chairwoman of Shinsegae and a grandson of Samsung's founder, Chung joined Shinsegae's board of directors and became its senior executive in his 20s.
As a relatively young member of South Korea's chaebol set, he has presented himself as being different from the more aloof business tycoons of the yore. He often posts seemingly casual photos of food and his dog on Instagram, to which his nearly 190,000 followers respond enthusiastically.
Since 2014, Chung has also given lectures at some of South Korea's most prestigious universities about the importance of studying the humanities. (The irony is that Chung himself dropped out of Seoul National University's Department of Western History to study economics at Brown.) In these lectures, he emphasizes with earnestness how it helps on their job applications to Shinsegae. Perhaps to one up Samsung Eletronics's recruitment effort, Chung created a special program named "The Order of Young Humanities Heroes," which is open to university students and offers participants scholarship and special exemption on certain requirements during Shinsegae's employee hiring process. To complete the program, students must, among other things, read one assigned humanities book, attend lectures and participate in a so-called "humanities camp."
Chung himself has spoken fondly of reading Victor Hugo's Les Misérables. And he urges others to read it as well, but not necessarily for the pleasure of reading: "Read many classics, not for the plot but to understand the characters," he said during one lecture before university students in 2014. "If you read Les Misérables, for example, compare yourself to Jean Valjean and reflect on yourself."
(Unmentioned, however, was that the supermarket chain E-Mart, a part of the Shinsegae Group, had been found guilty by court in 2013 of conspiring to spy on and use intimidation and violence against the labor union—rendering Chung's claim to understand the plight of Jean Valjean or proletariats not especially persuasive.)
Still, Shinsegae's pivot to the humanities deserves attention because the company's interest appears to go beyond just sprinkling its hiring process with obscure history questions. Chung himself said: "Our company aspires to create a happy lifestyle for our customers through the humanities, art and culture. That's why I hope that the humanities can continue to receive attention and spread."
Shinsegae's main business is in retail, and Chung Yong-jin's idea of providing "a happy lifestyle" naturally revolves around consumption, which he has opted to boost by deploying "the humanities, art and culture" as the other Chung at Hyundai Card has done with his own libraries. Despite its prime location, COEX Mall suffered from decreasing profits over the years, but within a year of its opening, Starfield Library—called a part of Chung's "humanities management" strategy—drove up the number of visitors to COEX Mall according to media reports. South Korea's news outlets have hailed Chung's blockbuster set piece as an architectural success and a rare distinction in a city whose past is fraught with urban-planning debacles and landscape is, to put it mildly, uniform and boring.
After the praises piled on the visually spectacular Starfield Library, Chung opened up this time an Instagram-friendly hotel—l'Escape—not far from Shinsegae Department Store chain's flagship location in the tourist-friendly Myeongdong area. It, however, is a failure in monetary terms—the occupancy rate has been dismal, hovering around 30 percent even during peak seasons, it has been said—and the hotel, self-described as a "Parisian escape in the heart of Seoul," has drawn mixed reviews for the "medieval European aesthetic" (even if its decor is actually more la belle époque).
Yet Chung's ventures say something about the current consumer zeitgeist in South Korea—characterized by a deep desire for projection of cultural capital (especially on social media), and skillfully exploited by corporations. Despite its titanic irony—a library that isn't conducive to reading—Starfield Library has become the most high-profile library in the country because Shinsegae understands that libraries (or public lectures on the humanities for that matter) exist not just to lend us books or teach us something but also to cater to our cultural vanities; and yet anyone can visit them (and take pictures of themselves there) for free. Just as many late-stage adulteries are less about having sex than feeling sexy, libraries can be as much about reading as they are about giving you (and your online followers) a sense of being well-read. Even the New York Public Library—with all respect to the NYPL—feeds such desires by issuing limited-edition membership cards and selling tote bags (which 'only' cost 25 dollars each), and allows even the less-than-rich to project affiliation with the august cultural institution.
———
I'll admit this: Starfield Library may be a real-life manifestation of the tasteless future forewarned by the Frankfurt School, but as seen by the Harvard Business School, it's a successful case study—a shiveringly neat solution to COEX Mall's years-long lackluster sales. And what's new about for-profits hijacking the realm of the non-profit anyway? It's no secret that oil companies green-wash their drilling with slogans like "sustainable energy," and Starbucks hand-waves its labor practices by cause-washing with Fair Trade-certified coffee. Likewise, those in the consumer product industry like Estée Lauder pink-wash their products by supporting breast cancer research. In a similar vein, Shinsegae merely has given its retail operation a literary varnish.
However, the other metric by which they measure Starfield Library's success—its financial contribution to a shopping mall—is deeply troublesome especially given Chung Yong-jin's own spiel about the importance of reading and learning. It's symptomatic ratiocination of what shouldn't so readily be metricized—in this case, the value of libraries.
Some South Koreans think that Starfield Library should be given some credit as a cultural space. Similar to the New York Public Library, which holds events like Author Talks and LIVE from the NYPL, Starfield Library has been offering free events where both established and young writers are given an open stage to be heard and build a readership.
But it's difficult to overcome the bittersweetness of the fact that this library—originally conceived as a means to boost Shinsegae's revenues—has become an influential resuscitator of South Korea's literary culture. It's a distressing sign that in order to survive, the literary scene needs patronage—a bailout, if you will—even in a form as superficial as Starfield Library. Meanwhile, South Koreans are reportedly reading fewer and fewer books, even as Starfield Library's profile has been rising.
Shinsegae continues to recruit Young Humanities Heroes, and the market's enthusiasm for "humanities education" appears to be ever strong. But it's worrisome that Chung—not to mention various chaebol firms—seems to earnestly believe the role of the humanities is to help business. The rhetoric, while sounding humanistic, is essentially capitalistic: it subjugates the humanities as an instrument of the commercial.
Become a subscriber to access all of our content.