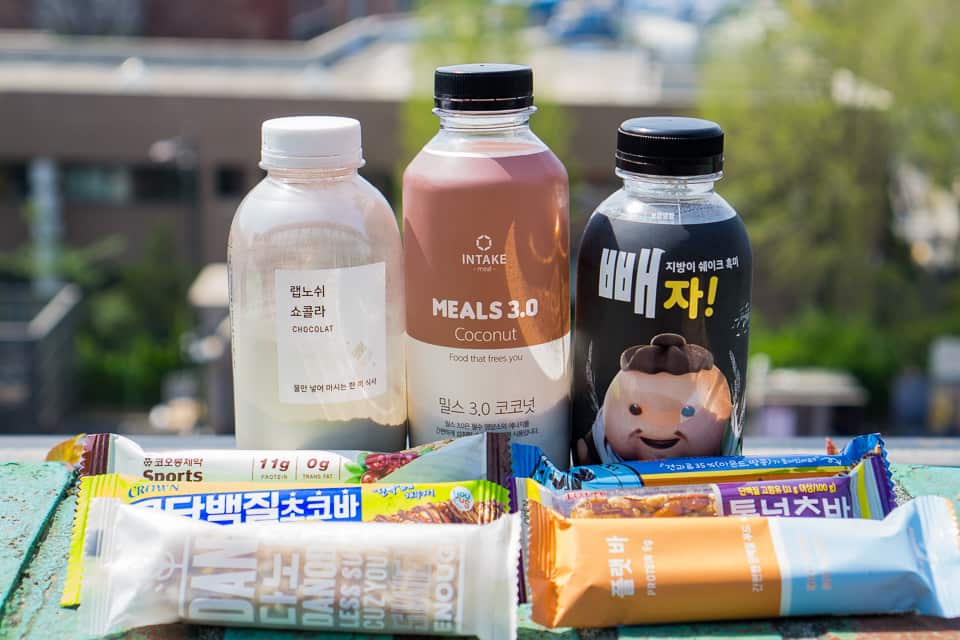 South Korea's Best Meal Alternatives
South Korea faces dietary dilemmas.
While government figures show that 16 percent of women below the age of 40 are underweight, the Korean Center for Disease Control (KCDC) and other bodies warn against the proliferation of "skinny obesity," a condition resulting from low overall body weight but high body fat mass.
Skinny obesity is often caused by low-protein diets, irregular meals, or unhealthy weight loss regimens.
Meanwhile, the South Korean food industry has been developing an array of quick meals and protein-rich products to meet the growing demand for healthier options.
In 2015, Korea Consumer Agency (KCA) found that the domestic market for weight loss products was worth more than 2.25 trillion won (roughly $2.1 billion).
As a follow-up to our pieces on health, the Korea Exposé office held a taste test of nine alternative meal products available in a local convenience stores to find the healthiest and best-tasting options. We've converted their nutritional contents to grams per 100g for easier comparison.
Sugars, which are included in the carbohydrate count, should be the biggest factor to avoid. Other than that, a good balance of carbs, fats, and protein is best.
The Shakes (nutritional content = per 100 grams)
Labnosh

, Chocolat (85 g/340 kcal per bottle):
Carbs: 56.4 g, sugars: 23.5 g, fat: 7.1 g, protein: 28.2 g, calories: 400 kcal
Taste: The powder mixes well, but the bottle needs turning upside down and shaking vigorously. The texture is smooth and does not cling to your throat, so feels clean after drinking. It's rather sweet and has a rich aroma, making it feel like condensed, less-sweet chocolate milk. The green tea cereal and honey corn flavors are also worth trying.
Intake

, Meals 3.0 Coconut (95 g/400 kcal per bottle):
Carbs: 51.4 g, sugars: 8.4 g, fat: 13.6 g, protein: 27.3 g, calories: 420 kcal
Taste: Intake has updated its powder shakes to "3.1" versions, but the nutritional balance remains similar. We were unable to find a 3.1 in nearby stores, so stuck with the 3.0 Coconut. It doesn't taste like coconut and is prone to clumping, despite hard efforts to de-clump it. This is the most filling and balanced of the shakes reviewed here, and thus a bit healthier. Compared to the Labnosh, you're trading about 15 g of sugar for 6 g of fat, making a bland but better-balanced meal.
GS 25 and 365 mc, Fatty Shake Black Rice (60 g/250 kcal per bottle):
Carbs: 74.7 g, sugars: 28.2 g, fat: 7.6 g, protein: 21.6 g, calories: 415 kcal
Taste: The sweetest of the bunch. For a 60-g bottle, this offers decent amounts of protein and fat, but is nowhere near a meal substitute. If you need a kick in the morning, maybe this is the right supplementary drink for you. Ironically, it's the least faithful to its diet-evoking name and packaging due to its unnecessarily high sugar content.
Verdict:
Fatty Shake leans heavily towards carbs and sugars, so is ranked lowest here despite its flavor. Intake is the most nutritionally balanced and filling, but the texture could be improved. Labnosh offers the most protein and the best texture. It also comes in the widest range of flavors.
The Bars (nutritional content = per 100 grams)
Kolon Pharmaceuticals, High Protein Bar White (50 g/225 kcal per bar)
Carbs: 50 g, sugars: 22 g, fat: 18 g, protein: 22 g, calories: 450 kcal
Taste: Ben Jackson calls the flavor "a yogurt-ish comfort but artificial," while Raphael Rashid labels it "floury and dry." Se-Woong Koo says the coating "smells like banana candy," and that the flavor does not fit the healthy-looking packaging.
Crown, High Protein Chocobar (32 g/127 kcal per bar)
Carbs: 59.2 g, sugars: 24.9 g, fats: 9.36 g, protein: 18.7 g, calories: 396 kcal
Taste: Ben enjoys the coconut and chocolate flavor, while Se-Woong calls the flavor "discernable." He says it looks too much like a chocolate bar; Raphael calls the packaging "flashy and in your face." Despite its name, this bar does not lead the protein charts.
EBT Inc., Dano Bar (30 g/145 kcal per bar)
Carbs: 56.6 g, sugars: 16.65 g, fats: 23.3 g, protein: 13.3 g, calories: 482 kcal
Taste: I appreciate the low sugar content. Se-Woong says the flavor is generic, while I found it to be very predictable: It's mostly nuts, puffed rice, and dried berries. It tastes like nuts, puffed rice, and dried berries.
Orion, Dr. You Energy Bar (40 g/183 kcal per bar)
Carbs: 52.5 g, sugars: 30 g, fats: 22.5 g, protein: 15 g, calories: 457 kcal
Taste: Raphael says this bar has the best flavor, and the team agrees that it has the most distinctive taste, undoubtedly due to its high sugar content. The nutritional balance is fair, and it is functionally true to its "energy bar" name.
Lotte, Whole Nuts Bar Vanilla Almond (30 g/165 kcal per bar)
Carbs: 36.6 g, sugars: 16.6 g, fats: 36.6 g, protein: 16.6 g, calories: 549 kcal
Taste: Ben says this bar has "almost zero" flavor, and that the texture is nutty and crunchy. His observation says it all: it is composed mostly of nuts. Se-Woong also says the flavor is too generic.
Labnosh, Flat Bar (35 g/140 kcal per bar 
Carbs: 54.15 g, sugars: 14.2 g, fats: 8.8 g, protein: 25.6 g, calories: 399 kcal
Taste: Jieun Choi praises this bar for its pleasant puffed rice texture, but Raphael is disappointed by its lack of flavor. Its simple packaging fits its function well: it tastes "flat" due to its relative lack of sugar and is nutritionally the best balanced. 
Verdict:
The bars all taste mediocre, but the most distinctive products are from Orion and Crown. Nutritionally, the best would be Flat Bar from Labnosh thanks to its low sugar and high protein content. The best option is probably to eat the nut-based bars in moderation, and not to rely on these bars in general as a replacement for meals.
Become a subscriber to access all of our content.