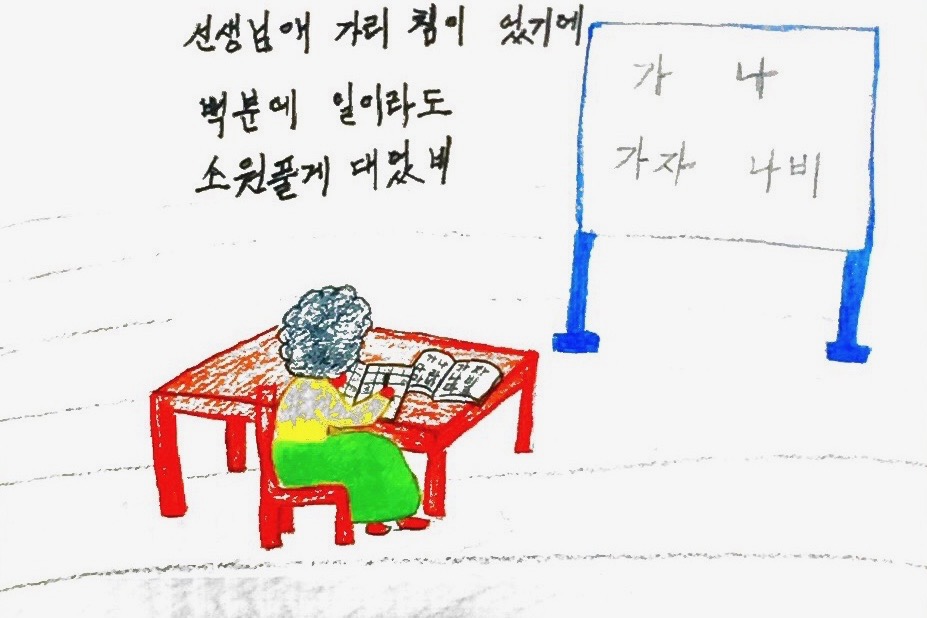 Poems From South Korea: Halmeonis Learn Hangul for the First Time
My halmeoni — "grandmother" in Korean as she is affectionately called — never studied beyond elementary school. In her family, education was reserved for the eldest male child; she helped out with farming and domestic duties.
For most of my life, I didn't even know she was literate. All the letters I had ever received from my grandparents while I was in college were written by my grandfather, who went to high school. I had never even seen her handwriting until a few years ago, when I asked her to write anything she wanted in my journal. She wrote, "I love you, granddaughter." In her eighties, she wrote in a wobbly and childlike way.
So when I received a copy of this book, Literacy: Life Blossoms With Words, it was hard for me to get through it without crying. Literacy, published last month by the Andong city government, is a collection of poems from 68 halmeonis, mostly in their 70s and above, who have recently begun to read and write. 
I selected seven of my favorite poems for Korea Exposé. While translating, I thought about my grandmother and her handwriting. How she preferred television to reading, because she had never really done the latter. How she let her husband write all letters on her behalf, because she wasn't good at it, because she never had the chance to be good at it.
The women in Literacy, like my halmeoni, were "born in an era when it was hard to eat or dress properly, when learning to read and write was regarded as a luxury," said Jin Jae-gyung, director of the Hangul Delivery Classroom in Andong. Since 2014, Andong has dispatched — or 'delivered' — instructors to rural villages under its jurisdiction, teaching Hangul (the Korean alphabet) to around 280 seniors, mostly women.
General illiteracy and lack of access to education were huge problems when most of them were children. In 1942, 2 out of 3 girls in the country were not attending elementary school (and 1 out of 3 boys), wrote historian Lee Jun-sik in his book Society and Culture During Japanese Colonialism. After liberation in 1945, general illiteracy was so high — nearly 80 percent — that South Korea's first president Syngman Rhee started a highly successful nationwide campaign to eradicate it.
Today, South Korea doesn't even have a census on illiteracy because it is so low, thought to be around 1 percent. But this mythical number is dubious: What is literacy? The bare ability to recognize letters, or the fluency in processing and producing words? If literacy means the latter, illiteracy in South Korea may be much higher. According to Jin, at least 30 percent of Andong's seniors, in their 70s and above, still don't know how to read or write Hangul. It's not clear how the numbers differ in other areas.
Sadly, my translation doesn't quite capture the beautiful awkwardness of the poems in Literacy, which are full of spelling errors and funny idiosyncrasies. The selected poems provide an interesting glimpse into these women's past and present, and demonstrate the frightening power of literacy, whose absence can render a person helpless in a modern society.
Cabage Fielld
by Ryu Deuk-hee
Early morning in the cabage fielld / I puled out weedes. / Sudenly I thought of / The word cabage fielld so / I wrote it / With my hoe on the ground / Cabage fielld, cabbaje feild / Which is the right one? / I'll cleen up quickly and go to school / And ask my teacher
Jeombang*
by Park Geum-jo
*A jeombang is a mom-and-pop store, which typically also has small rooms the owners live in.
I am Ajumma No.55 at the jeombang house / My household name is Seongju / but everyone calls me No.55 / that's the number of my house / Before chain stores came / this precious place was / where our five children were raised / But now nobody / visits our jeombang / My bad legs and old body are like the jeombang, and I am sad
Wish
By Lee Gu-ja
I did not know / A woman's journey in life / Would be this weary / Eighty years and not knowing letters / All the words inside me / I could not voice / But my teacher's teachings / Grant me at least / One hundredth of my wishes
Child from the Mountains
by Lee Sun-ja
The poor child from the mountains / never reached the school gate / Neither words nor numbers did she know / Far past seventy years / she goes to school now / writing correctly the three syllables of her name / Hospitals and banks / she goes by herself / My eyes are at last open / The world is bright and beautiful
Mother-in-law
by Kwon Young-su
My dear beloved mother-in-law / Living together was nice but / Now that you're gone / I am so so lonely I can't live / With my husband I lived for fifteen years / With my mother-in-law over seventy five / Now that she's not in this world / It's like sitting alone in the Manchurian plains / I can't bear When I think of mother-in-law / I cry evrytime
Happy Day
by Lee Sun-yeon
Two months after I was born my mom / Passed away so I don't know mom's face / Grandma raised me and then stepmom came /She didn't send me to school so I blame her a lot / Not learning letters became my sorrow Learning letters became my wish / Now I'm 89 years old / I study Hangeul in class I'm so happy / It's so fun / Going to school is my happiest day / But Hangeul studying is only Tuesdays Thursdays / I want to do it everyday everyday……
My Life
by Jeong Ok-su
My life gets harder all the time / Clear water from steep mountains, deep valleys / That's all I drank my whole life but what comes is only sickness / My husband is sick so he stays in the house / I can't sleep either from gout / Everything is irritating Being a burden to my children / makes me anxious so to forget all this for a moment / I started coming here but I'm sick / again and absent again today Sorry teacher
The collection of poems, titled 문해, 인생에 글자꽃이 피어나다 in Korean, was published this year by the Andong city government. It is unfortunately not available for sale. 
Correction: A previous version of the article mistakenly translated '배추' as lettuce, not cabbage. 
Become a subscriber to access all of our content.