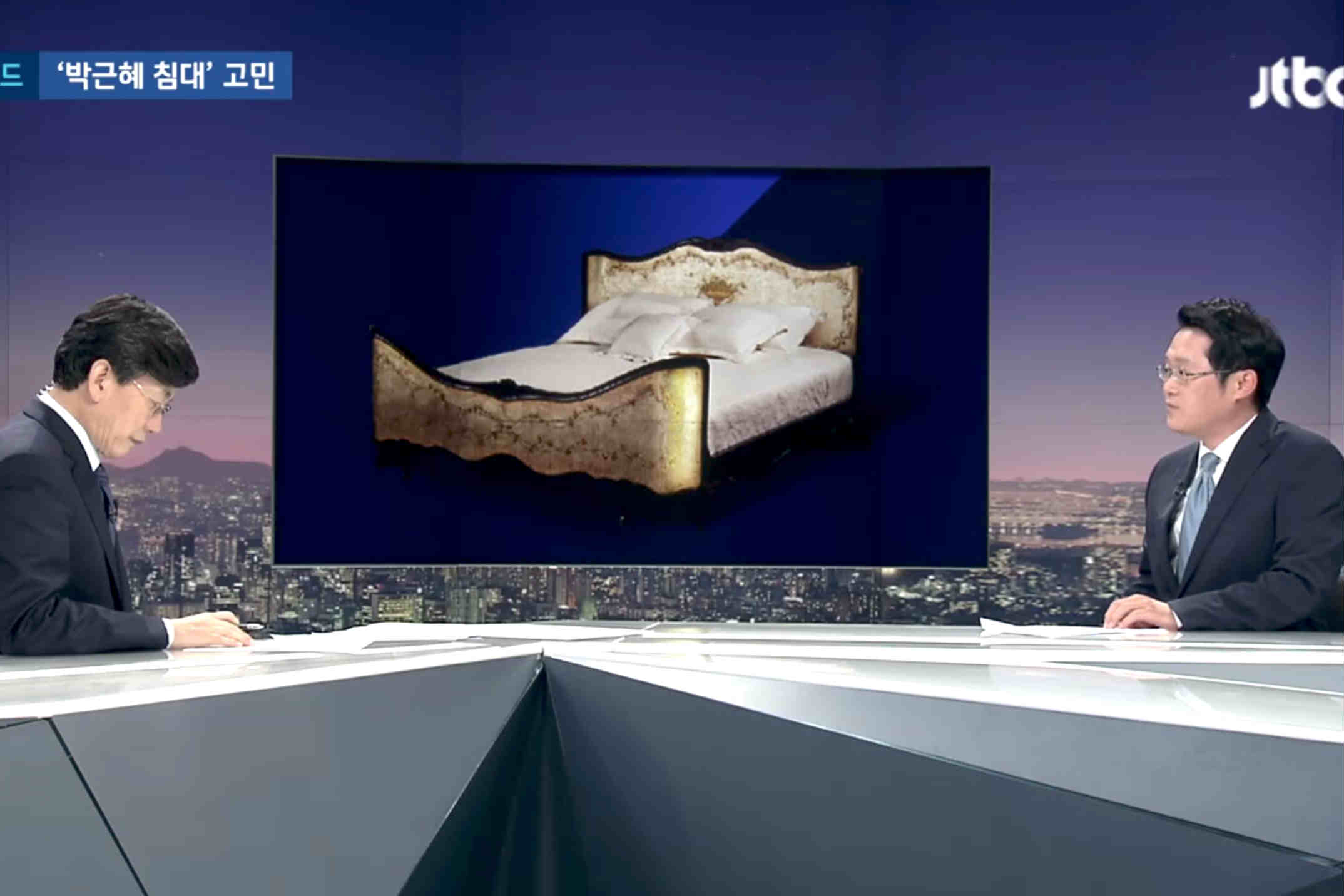 Park Geun-hye Has Made Her Bed. Now, Who Will Lie in It?
Former president Park Geun-hye's administration has come under fire recently for documents it left behind in the presidential office. But now it turns out she left something else behind too: three rather expensive beds.
During her presidency, Park purchased the beds with taxpayers' money at a total cost of 12.8 million won (approximately 11,400 U.S. dollars) — all within just six months. The most expensive bed was an handmade Italian-inspired antique-style bed, in shades of silver and gold and imported by Korea Furniture. The 'Argento Bed' cost a whopping 6.7 million won, or 6,000 dollars, according to government records obtained by JTBC News. Korea Furniture confirmed that the bed is indeed theirs but declined to name the price when contacted by Korea Exposé.
When Park was ousted from office in March, she left her beds behind, causing the new administration a bit of a headache, according to an anonymous official at the presidential office cited by numerous South Korean outlets. It's unclear whether she simply forgot about them, as was allegedly the case with the Jindo dogs she had adopted upon taking office in 2013. But even if Park had wanted to bring the beds to her private home, she'd have faced the same regulations that are now encumbering current president Moon Jae-in.
Government rules stipulate that any article purchased with state funds be used a certain number of years. In the case of beds this period is nine years.
Moon has already bought a new bed with his own money, in accordance with an earlier announcement that he would pay his own living expenses, including food for both his family and his pets, while in office. But because Park bought her beds using taxpayer money, the situation has become more complicated for Moon.
Now, one of Park's family members may have offered Moon a helping hand. Shin Dong-wook, the former president's' brother-in-law and founder and leader of the minor Republican Party (which idolizes Park's late father and notorious dictator Park Chung-hee), has offered to take the burden off Moon's shoulders, or office at least, by relocating the bed to Shin's country home.
박근혜 침대 처리 딜레마, 놔둘 수도 버릴 수도 팔수도 없다면 제부인 저에게 주시오. 시골집에서 침대로 사용하겠습니다. 가족이 인수를 했으니 청와대는 앓는 이를 뽑은 꼴이고 저는 침대를 구한 것이고 서로가 원하는 것을 얻었으니 묘책 중에 묘책 아니오. pic.twitter.com/pZLBAKZBlA

— 공화당 총재 신동욱 (@cheo8854) July 17, 2017
"If a family member takes [the bed], the Blue House gets rid of a pain in its ass, I get to have a bed, and we both end up with what we want. So isn't this an ingenious plan."
According to Yonhap News agency, the presidential office is considering displaying the bed as a relic of Park's presidency later on. Selling the bed was also an option it considered, but the second-hand bed looked unlikely to fetch a high enough price, and it was deemed inappropriate to sell an article used by the former president anyway.
Some South Korean netizens are suggesting that the presidential office hold an auction to sell the bed, which they assume would attract scores of eager Park supporters to bid hefty sums of money.
A presidential spokesperson told Korea Exposé that his office had no comment regarding Park Geun-hye's sumptuous headline-making beds. Neither could he confirm the identity of the Blue House official quoted by South Korean media.
Cover image: 'Argento Bed' is a handmade Italian-inspired antique-style bed that costs a whopping 6.7 million won, or 6,000 dollars. (Source JTBC News)
Become a subscriber to access all of our content.