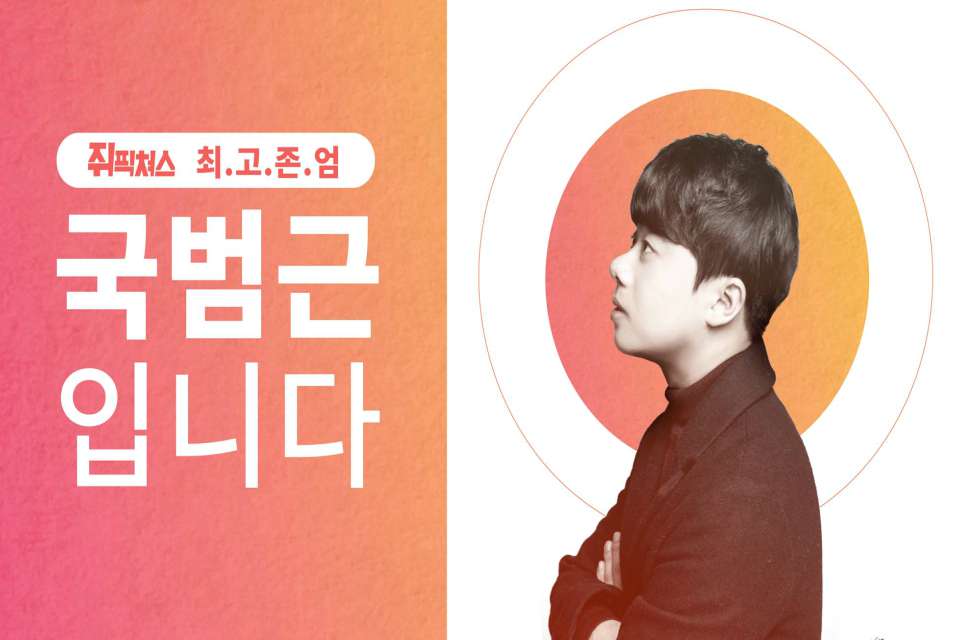 This Foul-Mouthed 20-Year-Old is Changing South Korea's Millennial Media
Guk Beom-geun has a message for you, and he's happy to phrase it in the bluntest possible terms. In a video, while digging in to a bowl of spicy ramen, he addressed the question on everyone's lips, "What the Fuck is North Korea's Problem?"
"North Korea's firing missiles, testing nukes, and yapping about war all the time," Guk says to the camera, in a tone of exasperation. "I mean, doesn't he have any better shit to do, after stuffing his face?" Guk asked about North Korean leader Kim Jong-un.
Such fouled-mouthed talk is common for South Korean "new media" personalities, but the depth of Guk's topics aren't. He talks about North Korea, the Korean War and political polarization, but he's not a grizzled Korean War veteran speaking from experience. He's a 20-year-old sociology major with a bowl cut.
"What the fuck is Jong-un's problem?"
Guk's online persona isn't just bluster; he does his homework. In the video above, he breaks down the intricacies of North Korea's missile program and motivation for developing nuclear weapons. After five minutes of analysis, he provides viewers with a boiled-down takeaway: "North Korea wants to develop the nukes, fire missiles and coolly talk to the U.S. while holding everyone else on the Korean peninsula hostage."
Guk is the face of and brains behind G-Pictures, a video media startup aimed at South Korean millennials. The company's bread and butter is explainer videos, like the one referenced above, helmed by Guk, that rack up thousands of views on YouTube by breaking down some hefty topic in digestible form.
South Korea's media landscape is still dominated by a handful of legacy broadcast and print outlets, but is also a mobile haven — more than 80 percent of those accessing news more than five days a week do so via smartphone.
In conceiving of G-Pictures, Guk said he felt like the mainstream South Korean media was falling short when it came to appealing to people his age. "Most Korean media present facts in a way that assumes the audience is already interested in the content. They don't provide much context to show why things matter," Guk told Korea Exposé in an interview.
Guk is not alone, but is one of the more visible actors in a move among Korean youth to tackle serious topics in a lighthearted way. "Young people tend to combine participation in social and political affairs with play, parody, humor, wit, and caricature to express their feelings and opinions rather than direct criticism," writes HyeRyoung Ok, a cultural studies researcher at the University of Oregon.
'Just go to college and everything will work out'
In South Korea, nearly all interactions are governed by norms of age-based hierarchy. Young people are generally expected to carry themselves as humble sponges for their seniors' wisdom and not speak out against convention. Though Guk is quiet and polite off-camera, in his online videos, he adopts the brusque style of the middle-aged Korean man, lecturing with a persona that strikes a tenuous balance between condescending and nurturing.
At his young age, he has leveraged his unique approach into a moderate but growing audience. He started G-pictures with a couple of friends at the end of 2013, and is self-taught when it comes to video editing and shooting, learning techniques from online tutorials. G-pictures currently has Guk and one other full-time member, as well as a part-time designer.
Guk declined to get into financial specifics, but said that the revenue from YouTube ads is keeping G-pictures going, and that the outfit has gotten investment from Mediati, an incubator that provides limited funding to innovative media startups run by young people. (Disclosure: Mediati is also an investor in Korea Exposé.)
All over the world, media companies and advertisers are trying to figure out how to reach millennials; Guk and his collaborators have built an audience by speaking to their peers in their own language, and presenting content with color and humor.
They have made a bunch of more cinematic kinds of videos. In one particularly popular series, they pitted figures from Korean history against each other in rap battles. In those videos, Korean independence activists and scholars cut each other down with lines such as, "Keep reading and blabbering while we kickin' Japanese asshats."
Guk says people his age are busy with school and don't have time to read and slowly build their knowledge of history or current affairs. "The fact is, students are too focused on getting into college that they don't have time to think about other things. They don't have the opportunities to think about who they are or to shape their perspectives. Students who are fixated on studying suddenly don't know what to do when they reach adulthood," Guk said.
"Until then, they were given specific directives, like 'just study' or 'just go to college and everything will work out' which they could simply obey. But when they actually go to college, they're responsible for their own actions and consequences," said Guk.
Stuff they don't teach you in school
Guk doesn't just cover politics in explainer videos. He's trying to develop online communities for teenagers to vent about teachers, school administrators, and yes, sex. He has recently even developed a card game to foster more open conversation about sex.
Each "Jellyple" card contains a range of questions about sex, sexuality and love: "Have you ever faked it?" "What's the difference between 'like' and 'love'?" "There are [Korean] slang words for male masturbation, but can you invent one for female masturbation?" Players who can't answer must drink.
One of Guk's personal favorites is one about how to help someone suffering from depression. "Depression isn't like a cold, something you can just get over on your own," Guk says in the video. "If you don't get the appropriate treatment, it is something that can continue for years."
He says that the video is an example of G-pictures content that explains an important, relevant issue that isn't covered in school. Talking to Guk, it's easy to get the sense that he sees himself as picking up the slack of Korea's education system, which, like most education systems around the world, focuses more on information retention than life skill development.
Read "An Assault Upon Our Children: South Korea's Education System Hurts Students"
Guk is currently taking a semester off from university to focus on his work with G-Pictures, and is unsure of the extent to which his studies will prepare him for the kind of future he wants.
Most young South Koreans with dreams of working in media don't take the kind of approach Guk has taken. Media companies hire entry-level staff through annual recruitment, which requires aspiring journalists to fill out detailed applications and sit for standardized tests. While in most Western countries, young people seek to get their foot in the door by interning, freelancing and building an online profile through personal projects, those ways of getting media have yet to make significant inroads in South Korea.
Naturally, not everyone is thrilled with a young person adopting the role of opinionated explainer. G-Pictures videos get dozens of comments, most of which are from viewers thanking Guk for presenting some issue in an edutaining way, but some castigate Guk for having the temerity to hold forth on some issues he doesn't have direct experience with. Also, in seeking to present the news in tidily consumable form, he runs the risk of oversimplifying, or presenting a biased take on, complex issues.
Like, what could he possibly know at his age? "People say that all the time, stuff like, 'Who are you? What do you know about this," Guk said. "But I pay no attention to it."
Cover image: "The Supreme Leader of G-pictures: I am Guk Beom-geun." (Source: G-pictures, designed by Kim Do-yeon)
Become a subscriber to access all of our content.