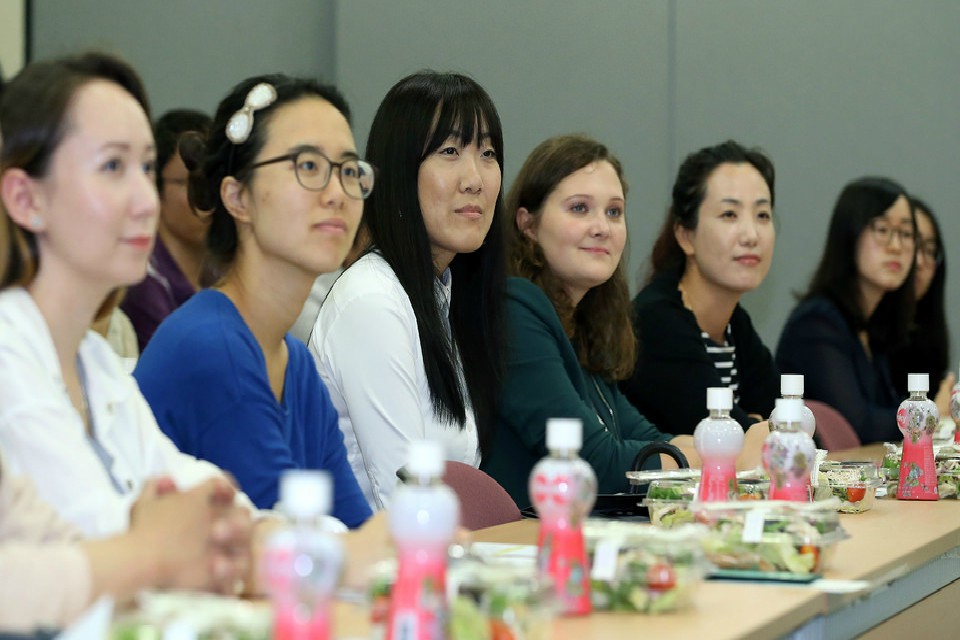 Is South Korea Ready for All Its International Students?
In August, Bernadette had dropped out of her summer classes and found herself repeatedly Googling 'how to die painlessly.'
She was in her third year at Dongguk University in Seoul, far from her family and friends in her native Philippines. Having been in South Korea since 2014, she hadn't managed to build a steady group of friends in the revolving-door procession of international students who came and went from her university, and felt isolated.
"At any moment, these clouds of darkness would come over me," Bernadette said. "One day I took a knife and started stabbing the wall [of my room]."
Her studies at Dongguk's film studies program were going nowhere. She told her parents she wanted to return home to Manila. At least there she would be among loved ones and could more easily get psychiatric treatment. But Bernadette, 23, was already in her second run at university — she studied at the University of the Philippines for three years before dropping out to accept a South Korean government scholarship. If she left South Korea without finishing her degree, all her studies would be for naught, and her parents didn't have the money to put her through school back home. She felt stuck and was wallowing in deep depression.
Feeling like she had nowhere else to turn for assistance in finding psychiatric care, she went to the Dongguk University Office of International Affairs. "They literally just ignored me. Like I went there crying…crying for help. But I didn't get any," Bernadette said.
She took a two-week trip back to the Philippines, to rest and spend time with her family, hoping to recharge and return to her studies in a better state of mind. Back home, she began taking escitalopram, an anti-depressant.
One side effect of that drug is a risk of increasing suicidal impulse. Upon returning to South Korea in the last week of August, her depression didn't improve; she only felt more hopeless. "I felt like a failure. I came here with this grand idea of pursuing my dreams and that stuff, but it didn't live up to any kind of expectation I had."
About a week later, she decided she was done struggling. In her room in Seoul's Daehangno area, Bernadette swallowed around 20 escitalopram capsules in a suicide attempt. Immediately after downing the medication, she sent her boyfriend, a French student studying in Seoul, a text message saying, "I took the pills. I took them all."
Study abroad in Korea
Universities in countries all over the world make efforts to attract students from abroad. International students pay higher tuition, and are therefore a plum revenu stream.
In an era where branding and international rankings are ever more important to universities, large and growing numbers of international students are one metric universities use to cast themselves as sought-after, global institutions.
The number of international students in South Korea has increased from 12,314 in 2003 to 104,262 today, according to data from the Ministry of Education. Visit Korea, a government-run website, trumpets South Korea as an ideal destination, saying "Korea continues to attract international students who are inspired by the beauty and traditions of Korea or want to deepen their knowledge about the country."
But Bernadette's case highlights a situation where South Korean universities doggedly pursue international students, but don't always have the infrastructure to help them adjust to a traditionally homogenous society where proficiency in foreign languages is not widespread, and even big institutions like universities don't have long histories of integrating outsiders.
Rennie Moon, an Associate Professor at the Underwood International College at Yonsei University and co-author of "Internationalizing Higher Education in Korea," describes the South Korean government's push for higher numbers of international students as "more practical and instrumental rather than genuinely motivated."
"For financially struggling universities, international students fill declining Korean student quotas. For all universities in Korea, they help to reach quantitative internationalization targets (such as the number of foreign students) to raise both international and domestic rankings," Moon told Korea Exposé.
A mixed bag
It's unwise to generalize about the experiences of international university students in South Korea. People come here to study from many different countries, with different goals, and have a mixed bag of experiences. Some come for a semester or two to study Korean language; others, like Bernadette, accept government scholarships for four-year degree programs. Still others come for Master's and PhD programs.
In South Korea there is a great diversity of universities, from highly-ranked, competitive institutions like Seoul National University and KAIST, to backwater universities that can barely stay open due to falling admissions.
International students' experiences therefore vary significantly according to their goals for study in South Korea, and what kind of universities they land at.
Cassandra Schachenmeyer, a senior in the University of Nebraska at Kearney, studied twice in Seoul, once at Hankuk University of Foreign Studies (HUFS) and once at Chung-Ang University, two universities with different systems to assist students' adjustments. Schachenmeyer told Korea Exposé that during her summer study at HUFS, she was able to adjust easily due to help from student volunteers, who even provided her with a prepaid SIM card.
While at Chung-Ang, Schachenmeyer said one Korean student was assigned to assist 12 international students. Foreign students were left on their own to get visas, buy insurance, open bank accounts, and figure out the nuts and bolts of their classes and the grading system.
Henri Eloranta, who came to Keimyung University in Daegu for the spring 2016 semester, described his stint in South Korea as the best time of his life, and said adjusting was not a problem. "The international affairs office took care of us no matter what. One of them even invited every international student to dinner to celebrate their newborn daughter," Eloranta told Korea Exposé.
Joanna Christine Chua, an Ewha Womans University undergraduate film and television studies major, said whether one is an exchange student or degree-seeking student is a key variable. "They do a lot to help exchange students, but degree-seeking students, we have to do more things on our own," Chua said.
Nellie Sung came to Yonsei University in Seoul to study in 2000-01, and said that when it came to help adjusting, "There wasn't anyone other than the friends I made in the international dorm…. [Yonsei] did have a host family program that I really enjoyed. They matched international students with a local Korean family who would take them around."
But Sung also questioned the need for a robust infrastructure to help international students. "Isn't that kind of the point of being an international student? Learning to adjust to a new culture, environment, etc is part of the international educational experience."
Fits and seizure
After receiving Bernadette's text message, her boyfriend came to her room, where after she didn't answer his knocks, he broke the door knob and forced his way in. The massive dose of escitalopram caused her to seizure. He urged her to induce vomiting to get the pills out of her system, but she refused. "I insisted I was feeling fine, just dehydrated and needed rest."
But by the next morning, her condition had worsened. "I was in a daze. Non-stop shaking from head to toe," she said during an interview at a coffee shop in Seoul on a sunny October morning.
Bona Mae Sinba, a friend of Bernadette's since 2014 and an international studies major at Ewha Womans University in Seoul, received a phone call from Bernadette, seeking help. With one more mutual friend, Sinba got a taxi and picked Bernadette up. "We were scared because she said she was shivering, feeling cold and hot at the same time," Sinba said.
They took her her to Yonsei Severance Hospital in western Seoul. At the hospital, Bernadette recalls watching her fingernails turn blue due to oxygen deprivation. She underwent fluid resuscitation and was discharged a day later.
"Once I got a bit stable, my parents called me and everyone was crying on the other end."
Dongguk
Dongguk University's spacious, tree-lined campus occupies prime real estate in the middle of Seoul, in the shadow of Namsan Mountain. The university was founded by Buddhists, and has a large, ornate temple on campus. On a late October morning, Buddhist monks with shaved heads, dressed in religious garb, walked among the students scurrying to class. With the trees in varying stages of autumn bloom, a group of young Chinese men stood smoking cigarettes outside the Office of International Affairs.
Inside, several young staff members sat behind a counter. According to the its website, the Office "will do its best to provide a one-stop service for international students."
A staff member confirmed that Bernadette had visited, and said that staff had made her an appointment for counseling, that Bernadette failed to attend. Bernadette confirmed the appointment, and said she didn't attend because she wasn't comfortable with the professor she was assigned to meet with. The Office has not yet officially responded to a request for comment from Korea Exposé.
Moon, the co-author of "Internationalizing Higher Ed," said that South Korean universities are generally not equipped to provide students like Bernadette with the assistance they need. "When international students bring up problems, all of them are simply directed to a generic office of international affairs where professionalized services like mental health counseling are not available," said Moon.
"Nothing against my school"
Bernadette is currently taking time off school until March, when the next semester starts at Dongguk. She has three more semesters to complete before graduating.
After that morning interview, she sent a text message elaborating on how she now feels about her experience seeking support from Dongguk, and her time studying in South Korea generally. "I have absolutely nothing against my school and the ones who gave me the scholarship…they tried to help me eventually after all." She said she is grateful to Dongguk for allowing her to take time off without revoking her scholarship.
"I just wish they were more available at the time I needed help the most and when I clearly asked for it," she wrote.
"Lots of people want to study here [in South Korea] so bad but they have no idea what they're getting into."
Cover image: South Korea wants to attract more international students to its universities. But do the schools have the infrastructure to accommodate their different needs? (Source: Ministry of Culture, Sports and Tourism, CC BY SA-2.0)
Become a subscriber to access all of our content.